printer friendly version
Manage multiple sites with Paxton10
Issue 3 2021
Access Control & Identity Management
The combined access control and video management system developed by Paxton recently received a new update which makes it more powerful and scalable than ever before. Thomas Faith, the Paxton10 product manager, discusses how installers and end-users can now benefit from Multi-site management functionality.
What was the inspiration behind the latest release for Paxton10?
Paxton10 is an ever-evolving system, developed through feedback from our installers and their end-users. Their wants and needs are the inspiration behind these new updates. Multi-site is a feature that has been highly anticipated by many existing and potential new Paxton10 users.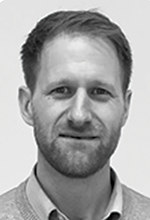 Thomas Faith.
Our overall vision will always be the driving force to continue developing the system, which is to make Paxton10 the simplest access control and video management system in the world.
So a single Paxton10 system can now work across multiple sites. Can you explain what the benefit of this is?
Multi-site management capability is applicable to many customers in the key markets that use the Paxton10 system. A lot of these businesses or organisations require the ability to extend access control across multiple locations. This could be two buildings on one site, or 100 buildings spanning multiple continents and everything in between. Now they can achieve this easily, with no complications and less expense than ever before.
Can you explain how the new Multi-site feature is setup within the Paxton10 online interface?
Traditionally, when installing access control and video surveillance across multiple sites in different locations, all buildings need to be connected via a WAN and often a VPN.With Paxton10, all you need is an Internet connection in each location and we handle the complexity.
All the installer needs to do is bind a controller from each remote site to Paxton10 using an activation code and serial number provided on the product. Then the controller becomes a local server and handles the discovery of all other Paxton10 equipment on the new site.
There is no licence to pay and it is completely backwards compatible. Meaning any Paxton10 Server already installed can be used to manage up to 100 sites and up to 1000 doors.
What does Multi-site mean for end-users?
For the end-user, Multi-site means no complication and no extra infrastructure. This makes it a cost-effective solution, as no networking experts are required to link sites together. Paxton10 Multi-site is effectively wide area networking made simple for access control and video surveillance.
If you have access to a keyboard and an Internet browser, you can achieve and maintain Multi-site with Paxton10.
Credit(s)
Further reading:
Paxton opens first experience centre in South Africa
Paxton News Access Control & Identity Management
The new Paxton Experience Centre in Johannesburg is now open and welcoming security installers and end users who want to see Paxton's products in action.
Read more...
---
Securing a luxurious residential estate
Turnstar Systems Residential Estate (Industry) Access Control & Identity Management
Turnstar Systems recently partnered with Balwin Munyaka Residential Estate to secure the entrance to its Crystal Lagoon, ensuring only authorised residents and guests can access the site.
Read more...
---
Visitor management via QR code
ATG Digital Access Control & Identity Management Products
ATG Digital has launched its QR Code Reader to enhance access control's security and efficiency. The new QR Code Reader enables seamless, contactless access control, creating an efficient user journey.
Read more...
---
District secures activity centre
Paxton Access Control & Identity Management Products
Paxton's Net2 access control solution is a user-friendly and flexible networked access control system, which made installing and managing access control security at an activity centre straightforward.
Read more...
---
GardaWorld partners with Gallagher
Gallagher Access Control & Identity Management
Access control via facial recognition was at the top of GardaWorld's wish list, and Gallagher's integration with IDEMIA's VisionPass played a crucial role in delivering a seamless experience.
Read more...
---
ZK-IWB Series
ZKTeco Products Access Control & Identity Management
Experience the ultimate virtual meeting solution with ZKTeco's ZK-IWB system. Featuring a built-in 13-megapixel UHD camera and 6-microphone array, the solution ensures clear audio and video experiences with an 8 metre pickup distance.
Read more...
---
Security for critical industries
ZKTeco Government and Parastatal (Industry) Access Control & Identity Management
The traditional reliance on human observation and physical presence for security is being complemented and, in many cases, replaced by biometric technology to enhance risk management and ensure comprehensive protection.
Read more...
---
Access to nuclear plants
Suprema Access Control & Identity Management
Korea Hydro & Nuclear Power was in need of a fully redundant access control system that should provide enhanced performance while still being able to interoperate with existing equipment.
Read more...
---
Secure your site during outages
Paxton Access Control & Identity Management
The PaxLock Pro range is our collection of wireless, battery powered smart door handles. They are efficiently designed to consume minimal energy to operate, and the batteries generally last around two years.
Read more...
---
Securing data centres and control rooms
Access Control & Identity Management
The demand for data centres and control rooms to store and manage digital information is at an all-time high, however, the rise in cyber threats and physical security risks has raised concerns about how companies can effectively protect these vital infrastructures.
Read more...
---