printer friendly version
Creating a safe retail environment
Issue 1 2021
Retail (Industry)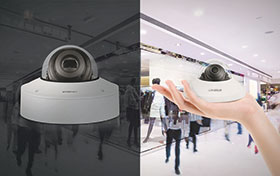 Stores generally draw heavy foot traffic, making it a challenge for retailers to keep customers and employees safe from unexpected incidents.
"The ability to promptly react to accidents and events is another priority to consider when choosing a retail surveillance solution. Hanwha Techwin's Wisenet Retail Solution can help retailers provide customers and employees with a safe environment while offering customers a pleasant and relaxed shopping experience," says Clifton Greeff, national surveillance business manager at Duxbury Networking, a distributor of Hanwha Techwin's security technology in South Africa.
Wisenet cameras can be paired with Wisenet business intelligence solutions to collect in-store data for efficient store management. Strategies incorporating customer data can help increase sales and reduce costs, leading to a higher operating revenue. Some of the features of the Hanwha retail solution include:
• Customer traffic pattern analytics that collect meaningful in-store data.
• Customer flow and retention time analytics that help plan effective product displays.
• Customer queue analytics that allow effective employee allocation.
Wisenet retail solutions include the Q mini series which is extremely compact, aesthetically pleasing and unobtrusive. At just 99 mm, the Q mini lineup is approximately 40% smaller than its predecessor.
Tamper-proof Q mini cameras have business intelligence features, including people counting, that help retailers to run their stores more effectively. By integrating the cameras with Hanwha's Retail Insight software, users can analyse data collected from multiple stores and gain insight for successful store operation and resource investment.
Wisenet Retail Insight not only counts the number of visitors in real time, but also offers age and gender analytics (when integrated with an AI P-series camera), providing insightful information to store owners. "Wisenet Retail Insight allows retail store owners to plan their marketing campaigns according to their customers' gender and age group. Together with the Q mini cameras, this platform provides retailers with the tools they need to increase turnover and decrease losses," says Greeff.
Credit(s)
Further reading:
Helping retailers optimise monitoring and security
Guardian Eye Retail (Industry) CCTV, Surveillance & Remote Monitoring
From a smart retail perspective, it is crucial to understand that monitoring stock and other assets through camera surveillance and a variety of Internet of Things (IoT) sensors stretches further than the stores themselves.
Read more...
---
The right security solution removes the opportunity
Asset Management, EAS, RFID Retail (Industry)
South African retailers are facing a multitude of challenges, including economic fluctuations, changing consumer behaviour, increased competition, supply chain disruptions, regulatory changes and the need to adapt to digital transformation, not to mention theft.
Read more...
---
Improved control with electronic keys
Retail (Industry) Access Control & Identity Management Products
By adopting an electronic access system, retailers can equip all employees with a Yebotech Key to enhance their ability to assist customers more effectively, leading to increased sales.
Read more...
---
Four intelligent ways to bring shoppers to your mall
Hikvision South Africa Retail (Industry) CCTV, Surveillance & Remote Monitoring
In this digital age, when footfall is declining and ecommerce is growing, the challenges for shopping malls seem bigger than ever; the fact is, customer experience is critical for retailers to attract more shoppers.
Read more...
---
Retail security and patrol systems
OnGuard Retail (Industry) Security Services & Risk Management Products
OnGuard patrol systems provide electronic solutions that help security personnel monitor and manage their patrols within the retail space, typically consisting of handheld devices or mobile applications that allow guards to record their presence at checkpoints.
Read more...
---
PoE makes surveillance sense
Duxbury Networking CCTV, Surveillance & Remote Monitoring Products
Power-over-Ethernet simplifies IP camera installation, with both power and data carried over a standard network cable, and it means less modification to your premises, requires no electrician or building permit, and will need less maintenance.
Read more...
---
Personnel changes at G4S and Deposita
Deposita News Security Services & Risk Management Retail (Industry)
Over the past 36 months, there has been significant volatility across markets and sectors worldwide. In response to these market fluctuations, cash has become an increasingly important payment instrument.
Read more...
---
Making cash management more intelligent
Deposita Retail (Industry) Asset Management, EAS, RFID Products
By using state of the art SaaS cash and payment management solutions, keeping a close eye on the situation is a breeze. In fact, it'll save you loads of stress, time, and overhead costs.
Read more...
---
Malls require unique fire detection designs
Securiton Retail (Industry)
One of the primary fire safety concerns for large open spaces and open plan areas within buildings is the potential for rapid spread of fire and smoke, early alarm is therefore paramount to both life and building safety.
Read more...
---
Cloud for security and operational optimisation
Secutel Technologies Retail (Industry) CCTV, Surveillance & Remote Monitoring Integrated Solutions
With the abundance of services available to retailers, SMART Security Solutions asked Andre Vermeulen, GM at Secutel Technologies about what the company's SecuVue cloud services can do for this market.
Read more...
---