printer friendly version
Moving to mobile
Access & Identity Management Handbook 2021
Access Control & Identity Management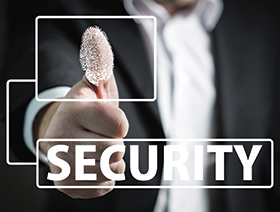 Mobile access control has shown good growth over the past few years, albeit from a small base. Omdia made a comment in 2019 that while growth of mobile-based access would continue, the primary market for this technology is new installations. Apparently, a mass migration from cards/fobs to mobile is not on the cards, but many newer installations are taking advantage of the benefits of access control via the user's mobile device.
Of course, when referring to using mobile devices for access control, we include the residential (or consumer) market as well as the commercial and enterprise market as there are many solutions available for smaller and home installations. The question is, are South African consumers and organisations making the move to mobile access? If they are, what are their options and can they make the move gradually without a massive replacement project that would cost a fortune?
Wouter du Toit, regional director, Salto Systems Africa says digitalisation and new technologies are transforming the world, including the access control market. "We continue to get requests for mobile credentials in Africa. Mostly, NFC/BLE (near-field communications/Bluetooth Low Energy) projects are new installations. With Salto's new generation of BLUEnet hardware, BLE/NFC is built into the technology by default, making it future proof for any client to convert to mobile in the future if they are not ready to implement it immediately."
Hayley Elwen, business development director, Africa at ASSA ABLOY agrees, noting that many companies using standard readers are now requesting mobile credentials. "We have found around 15% of sites are now asking for mobile credentials compared to traditional systems. With Wi-Fi already installed in many buildings, mobile access makes for an easy conversion and saves long-term costs on lost physical credentials.
"Another advantage we see for building owners is that with ASSA ABLOY's SMARTair solution with Openow, you no longer require hubs. The software loaded onto the server connects directly to the mobile phone and SMARTair's wireless door locks. Not only does this make for a more cost effective solution, but means a simple no-fuss installation, which is appealing in existing buildings wanting to upgrade from keys to an access control solution."
Pros and cons
As with almost everything in the world related to technology today, one of the questions around mobile credentials is whether employees will be happy to load an app on their smartphones, an app their company controls. Some could even ask what other information the app might share without the user's knowledge.
Most mobile smartphones have a number of secure features to protect your data and the phone, such as password, PIN and even biometric authentication, making it very secure even if lost or stolen, according to Du Toit. Moreover, he adds that Salto does not ask for any information when the user downloads the application. "We are also GDPR compliant to enforce our stance on people's privacy. Where we do collect data, we acknowledge it and it is shared with us willingly."
Elwen echoes this and adds that flat batteries and data connectivity are also concerns to some. However, she says that as data has become more affordable and accessible, this is less of a concern. In addition, in an emergency, flat batteries can be managed by card override functionality on many devices. There again, the majority of users will be disinclined to allow their batteries to run flat and be out of communications except in unusual circumstances.
As far as the benefits of mobile access are concerned, Du Toit continues: "Assigning and revoking access has never been easier and convenient without sacrificing security; gone are the days that a card must be encoded and then distributed to a user in person, with mobile technology it is done on the go. This makes it a lot simpler for remote workers to get access on the go. There is no need to be in contact with the user when assigning access as you can send new or updated credentials OTA (over the air).
"It makes multi-site management easier for the operator and more user friendly for users. It can be used with wired, wireless and battery-operated standalone solutions. It also transforms offline readers into semi-online devices. In areas where a networked reader is not possible nor needed, the phone becomes the carrier to the server with OTA services and it can update the blacklisting on the device and also retrieve the battery status and transaction log. This creates a very cost-effective solution in terms of issuing credentials."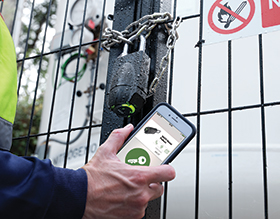 Moreover, the company can also easily cancel a user's access when they leave or when a smartphone is lost or stolen with the click of a button.
Facility managers get through their access management workload much faster when they replace traditional card or tag credentials with mobile credentials, notes Elwen. Because solutions like Openow and the SMARTair TS1000 software handle everything, delays in issuing or revoking keys for sensitive doors no longer jeopardise site security or company efficiency.
"Essentially, there are no physical credentials to handle or track, no card encoders to buy and no queues at reception for staff or visitors awaiting credentials being issued. And of course, mobile credentials provide a more sustainable offering – no plastic cards being manufactured or lost," she continues.
Looking at the hotel industry, Elwen mentions that mobile access offers a simpler way to provide multiple credentials for one room. Should a family be staying together, it is easy to generate mobile credentials for all those staying in a specific hotel room, with no potential loss of cards and the costs associated with that. "And of course, there is no manual check-in required. Within 24 hours, you do a mobile check-in and access is sent directly to the guest's phone. Upon arrival, the guest simply presents their phone to the room door lock to get in – easy and convenient."
A secure ecosystem
Further to the security question, Du Toit points out that Salto is certified according to the Secure Digital Applications Kitemark Certification for the organisation's JustIN app and web services. According to the BSI, the BSI Kitemark certification "independently tests websites or apps to make sure they have the security controls in place for the information they are handling. It requires a website or app to undergo rigorous and independent testing." (Read more at www.bsigroup.com)
"This provides further reassurance to Salto customers that its entire access control ecosystem has the appropriate security controls in place," he states.
Similarly, Elwen says ASSA ABLOY's mobile solutions use end-to-end encryption to protect communications between the phone and the server to ensure users are protected. Mobile phones also have additional layers of security against physical credentials: a screen-lock adds an extra layer of security. Additionally, with phones, multi-factor authentication is baked into the credential.
"And how quickly would you notice if a plastic keycard went missing? Nowhere near as fast as you'd spot your smartphone was gone," she notes.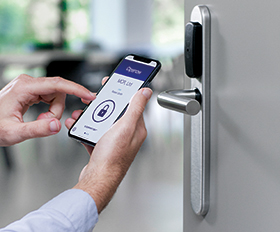 Salto's solutions
In describing his company's solutions, Du Toit says Salto is continuously improving its hardware and software solutions and part of this development always includes mobile credential and functionality with convenience and security.
"Our main on-premise access control solution, Salto ProAccess Space, uses JustIN Mobile as a carrier option for Android and iOS. This solution also ties back to our hospitality solutions using the same JustIN Mobile application."
SaltoKS is a cloud-based access control and hospitality solution with mobile credential support. This solution features more than just opening the door; users are also able to interact from the mobile device, managing certain aspects of the solution. Danalock cloud-based residential and SME solutions also feature a mobile offering for management and interaction with the door opening.
"Gantner recently became part of the Salto family and adds a host of mobile solutions that tie into locker management, T&A; and ticketing solutions," he concludes.
ASSA ABLOY's solutions
Elwen says ASSA ABLOY provides two different mobile access control offerings to suit a range of applications. One is the Openow mobile functionality offered with the SMARTair commercial and hospitality access control solution, and the other is the range of Aperio locks offered with SEOS mobile credentials, which integrate into most access control systems.
SMARTair Openow: SMARTair is a full access control system using wireless door locks and hubs. It offers various levels of access control management in a single wireless system. With different offerings geared at commercial and hospitality installations, it provides flexibility for the end user, with easier installation.
Openow is the mobile solution for SMARTair wireless locking systems. Users store their validated digital keys securely in the Openow app. To open a SMARTair lock, they simply tap their phone against its inbuilt RFID reader. An encrypted (HTTPS/AES-128) Bluetooth connection connects the phone and locking device to quickly validate or deny an unlock request.
Aperio with SEOS mobile credentials: SEOS is the next generation of credential technology that provides the ideal mix of security and flexibility for any organisation. It is an advanced encryption and software-based infrastructure; it secures trusted identities on any form factor and can be extended for applications beyond physical access control. This solution integrates with existing infrastructure and is secure, portable and adaptable to multiple applications.
---
Benefits of mobile access - By Wouter du Toit, Salto.
• Increased flexibility and improved security. Easy, efficient and intuitive automated key delivery to create a keyless experience.
• Proven mobile and secure technology to create a keyless experience anytime, from anywhere and on any device.
• Send or receive a secure key to open any door. Issue, cancel, and restrict keys to specific times and locations.
Credit(s)
Further reading:
From the editor's desk: A sad but exciting goodbye
Technews Publishing News & Events
      Welcome to the final monthly issue of SMART Security Solutions. This is the last issue of the year and the last monthly issue we will print. We are witnessing digitisation across all industries, and ...
Read more...
---
Gallagher Security releases Command Centre v9
Gallagher News & Events Access Control & Identity Management Integrated Solutions
Richer features, greater integrations, with the release of Gallagher Security's Command Centre v9 security site management software designed to integrate seamlessly with various systems and hardware.
Read more...
---
Paxton's Net2 secures medicinal cannabis facility
Paxton Access Control & Identity Management Healthcare (Industry) Videos
Paxton's Net2 access control has been installed at Highlands Grow, a fully licensed industrial-scale cultivator, producing cannabis for medicinal and recreational use.
Read more...
---
Lock down your access control with Alcatraz AI
C3 Shared Services Healthcare (Industry) Access Control & Identity Management AI & Data Analytics
Alcatraz AI, represented in South Africa by C3 Shared Services, changes access control by harnessing the power of artificial intelligence and analytics at the edge, where facial recognition becomes the essential credential autonomously.
Read more...
---
All aspects of data protection
Technews Publishing Editor's Choice Information Security Infrastructure AI & Data Analytics
SMART Security Solutions spoke to Kate Mollett, Senior Director, Commvault Africa, about the company and its evolution from a backup specialist to a full data protection specialist, as well as the latest announcements from the company.
Read more...
---
Effective access control
Flow Systems Access Control & Identity Management Products & Solutions
Flow Systems has introduced its new Extra Heavy Duty Industrial Rising Vehicle Barrier, which provides a high level of protection. It is a traditional-looking control barrier with the benefits of high-level physical protection.
Read more...
---
Newport Aquarium replaces traditional locks and keys
Paxton Access Control & Identity Management Entertainment and Hospitality (Industry)
Newport Aquarium wanted to replace its old security system with an easy-to-use and high-security access control solution to keep the animals, visitors, and staff safe. The solution was Net2, a PC-based access control system that offers centralised administration.
Read more...
---
Securing easy access
Suprema neaMetrics Access Control & Identity Management
Securing access to hospitals and healthcare institutions presents a unique set of challenges, because these facilities operate 24/7, have highly 'open' access in public areas and require a strict level of security.
Read more...
---
Reliable mass notification
Access Control & Identity Management
The use of voice alarm and voice evacuation systems within the healthcare industry ensures a safer and more reassuring environment in the event of an emergency.
Read more...
---
Identity verification and management trends
Technews Publishing Information Security
Insights into what we can expect from identity fraudsters and the industry next year, ranging from criminal exploitation of AI and digital IDs to multi-layer fraud protection and the need for more control over personal information sharing.
Read more...
---