printer friendly version
The changing face of access control
Access & Identity Management Handbook 2021
Access Control & Identity Management
Buzzwords like 'social distancing', 'self-quarantining' and 'hand washing/sanitising' became part of our daily lives after lockdown was announced in March 2020. Along with these constant reminders to 'flatten the curve' by remaining compliant with government regulations, we have seen an interesting move to one of the traditionally costlier access control technologies: facial recognition.
According to Alex Penhaligon, South Africa Business Department: project sales manager at Hikvision, there has been a sudden and direct move away from fingerprint technology during the past few months. "It's safe to say that fingerprint biometric technology was predominant in the pre-COVID-19 era. However, in an effort to enforce decreased unnecessary contact with public and shared surfaces, touchless technology is stepping up to the plate in the access control and T&A; (time and attendance) arena."
He explains that facial recognition technology not only allows contactless recognition to take place, but is also extremely useful in assisting with social distancing. "Fingerprint technology, by its very nature, means that you are required to place your finger onto the reader's surface. Therefore, every time a person uses a fingerprint reader they are potentially providing an optimal environment for the transmission of germs or microorganisms related to COVID-19 and other communicable diseases."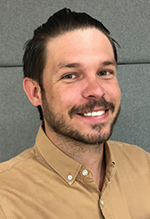 Alex Penhaligon.
Penhaligon believes that the momentum created in the adoption of facial recognition technology will continue after COVID-19 as society seeks acceptable ways to coexist in the 'new normal'. As more organisations deploy facial recognition technology, the cost of this technology will also be substantially reduced as a result of increased demand in the marketplace, making it a more affordable option for organisations.
He adds that as artificial intelligence (AI) technology organisations continue to develop increasingly sophisticated algorithms, so the gap between facial recognition technology and fingerprint biometric technology will narrow. Algorithm-enabled facial recognition terminals featuring advanced deep learning technology increase the accuracy of facial recognition to over 99%, with verification speeds of under 0,2 seconds – even in darkness.
Different countries have various requirements in terms of access control. Amongst other benefits, AI will allow the development of a rule or engine to recognise people from different areas, based on these exceptions and requirements. Hikvision's 19000-strong R&D; team has used this opportunity to take the existing facial recognition readers and deepen the technology offering, resulting in lowered false recognition rates.
"Our R&D; team didn't have to start from scratch with the development of AI and facial recognition algorithms. This technology already existed, we have merely made refinements that encapsulate the changing environment and the demands of compliance with COVID-19 reduction methods, allowing us to very quickly refine our solutions. This decrease in false recognition has resulted in our facial recognition reader technology now being ideally suited not only to access control, but importantly, also to T&A," says Penhaligon.
Glenn Noome.
"Due to Hikvision's open protocol and the work done by their R&D; team we are able to retrofit Hikvision facial recognition devices into existing access control systems. So, upgrading from access cards/biometric systems to facial recognition systems is not a brand new installation but rather an upgrade, which is more cost effective," says Glenn Noome, director at Smart Integration.
"Facial recognition technology is not only used for access control but can ultimately be used as a personal verification method. If the databases are shared, it may be used at Home Affairs or even in the healthcare environment to make things more efficient, reduce fraud and add security," says Noome.
There is a happy marriage between facial recognition technology and thermal imaging cameras, with the latter extending from its more traditional surveillance role into one that assists in pinpointing higher-than-normal body temperatures in humans. Thermal cameras provide clearer imaging and more accurate temperature measurement, to advanced intelligence that allows for accurate behaviour analysis.
As organisations wrestle with the altered behavioural demands imposed by lockdown, the widespread implementation of AI-driven facial recognition technology, together with synergistic technologies such as thermal body imaging, will definitely provide some relief from the stresses of these necessary adjustments.
Credit(s)
Further reading:
From the editor's desk: A sad but exciting goodbye
Technews Publishing News & Events
      Welcome to the final monthly issue of SMART Security Solutions. This is the last issue of the year and the last monthly issue we will print. We are witnessing digitisation across all industries, and ...
Read more...
---
Gallagher Security releases Command Centre v9
Gallagher News & Events Access Control & Identity Management Integrated Solutions
Richer features, greater integrations, with the release of Gallagher Security's Command Centre v9 security site management software designed to integrate seamlessly with various systems and hardware.
Read more...
---
Paxton's Net2 secures medicinal cannabis facility
Paxton Access Control & Identity Management Healthcare (Industry) Videos
Paxton's Net2 access control has been installed at Highlands Grow, a fully licensed industrial-scale cultivator, producing cannabis for medicinal and recreational use.
Read more...
---
Lock down your access control with Alcatraz AI
C3 Shared Services Healthcare (Industry) Access Control & Identity Management AI & Data Analytics
Alcatraz AI, represented in South Africa by C3 Shared Services, changes access control by harnessing the power of artificial intelligence and analytics at the edge, where facial recognition becomes the essential credential autonomously.
Read more...
---
All aspects of data protection
Technews Publishing Editor's Choice Information Security Infrastructure AI & Data Analytics
SMART Security Solutions spoke to Kate Mollett, Senior Director, Commvault Africa, about the company and its evolution from a backup specialist to a full data protection specialist, as well as the latest announcements from the company.
Read more...
---
Effective access control
Flow Systems Access Control & Identity Management Products & Solutions
Flow Systems has introduced its new Extra Heavy Duty Industrial Rising Vehicle Barrier, which provides a high level of protection. It is a traditional-looking control barrier with the benefits of high-level physical protection.
Read more...
---
Newport Aquarium replaces traditional locks and keys
Paxton Access Control & Identity Management Entertainment and Hospitality (Industry)
Newport Aquarium wanted to replace its old security system with an easy-to-use and high-security access control solution to keep the animals, visitors, and staff safe. The solution was Net2, a PC-based access control system that offers centralised administration.
Read more...
---
Securing easy access
Suprema neaMetrics Access Control & Identity Management
Securing access to hospitals and healthcare institutions presents a unique set of challenges, because these facilities operate 24/7, have highly 'open' access in public areas and require a strict level of security.
Read more...
---
Reliable mass notification
Access Control & Identity Management
The use of voice alarm and voice evacuation systems within the healthcare industry ensures a safer and more reassuring environment in the event of an emergency.
Read more...
---
Identity verification and management trends
Technews Publishing Information Security
Insights into what we can expect from identity fraudsters and the industry next year, ranging from criminal exploitation of AI and digital IDs to multi-layer fraud protection and the need for more control over personal information sharing.
Read more...
---