printer friendly version
Stafix opens new training centre in Johannesburg
Issue 9 2020
Training & Education
As the lockdown rules ease up and more South Africans get back to work as normal, Stafix Electric Fence and Security Centres has announced that its new training centre is now open for business. The new college is situated in Harmelia, a suburb close to Jet Park and Oliver Tambo International Airport.
Shaun Williamson, MD of Stafix, believes that knowledge is power, and when dealing with products such as JVA and other brands available from Stafix, namely Dahua CCTV systems, Roboguard and Askari beam systems, and Centurion automatic gate motors, the knowledge imparted by the training centre will enable Stafix partners to deliver service excellence to their customers.
The new Ndlovu College is a state-of-the-art training centre that offers classroom training, supported by hands-on learning in the centre's new demonstration area. Specifically, the facility boasts a well-equipped lecture room, a room containing fences for COC (Certificate of Compliance) training and candidate evaluation, a room fully equipped for camera and CCTV training, and areas specialising in gate automation, Roboguard systems, and agricultural and wildlife fencing.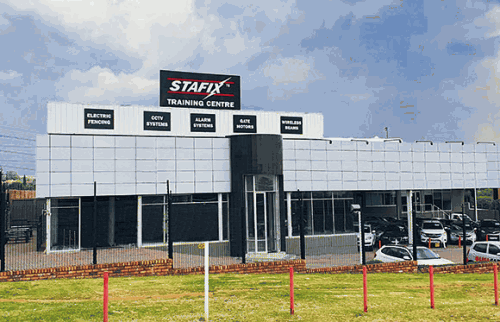 The college also has a fully functional security control room, providing trainees with the opportunity to gain experience in integrating the diverse ranges of security products, and security and animal control electric fence monitoring systems marketed by Stafix. The training provided empowers students to deliver complete security solutions that serve customers' needs.
Training available
There are many courses available, each including lunch, refreshments and a comprehensive set of course notes, apart from the hands-on training. Some of the courses available at the new centre include:
Basic Electric Fence Training: This is a full-day course covering the basics of electric fencing. The course starts with an agricultural background and explanation of electric fencing, moving more into security as the day progresses. The course covers topics such as agricultural electric fencing, wall-top electric fencing, freestanding electric fencing and, if required, some game farm electric fencing. Current laws are discussed as well as solar powered electric fencing.
Advanced Electric Fence Training: Supplementing the Basic course, this is a product-specific course aimed at teaching the use and setup of the latest and most advanced systems that JVA has to offer. This course will give you the basic knowledge to be able to install and network JVA Z range energisers plus advanced amperage and low-voltage based monitoring through the JVA ZM20 20-sector amperage monitoring system and the JVA ZLM4, a 4-zone low-voltage monitor system ideal for adhering to the electric fence COC requirements. Advanced networking is also covered using point-to-point Wi-Fi and fibre options to network electric fencing over large geographical locations, and much more.
Basic and Advanced CCTV Training: These courses are offered over two days; the Basic course is delivered on the first day and the Advanced on the second day.
The first day covers the basics of CCTV, analogue CCTV, Dahua product knowledge, live product demonstrations, basic IP CCTV, IP CCTV product knowledge and basic wireless applications. Completion of the course will aid the delegate in a better understanding of CCTV and the multitude of applications available. On the advanced CCTV course, the theory module covers basic networking which will allow a user to understand how to assign and work with IP addresses needed on DVRs, NVRs and IP cameras.
Once the basic understanding of networks is achieved, delegates move on to how to connect products to the Internet and allow remote access through a smartphone. While using the Stafix practical facility, students learn how to crimp BNCs on to RG59 coaxial cables as well how to crimp RJ45 LAN cables for IP cameras.
Finally, students will be taken through Stafix's extensive video wall technology to learn how a CCTV control room operates and the components needed to set this up.
Roboguard Training: Stafix offers a one-day Roboguard training course presented by Lucas Scheepers, Roboguard product manager. This is a comprehensive and detailed course covering all aspects of Roboguard features, benefits and installation, to ensure that the installer has the opportunity to become a knowledgeable expert on Roboguard. No prior knowledge is necessary.
Successful candidates will receive a certificate once test results have been moderated (normally about 2-3 weeks later).
Certificate of Compliance Training: Electric fencing legislation was implemented in December 2012. Since then, new electric fences need to be certified as compliant by a qualified and registered electric fence system installer. If you have the required RPL (Recognition of Prior Learning), which includes having attended an introductory course and providing five reference sites, you may enrol for the 3-day professional Certificate of Competency course in association with Ndlovu College, an authorised service provider.
This EWSETA-approved course covers an overview of all prevailing legislation contained in SANS 10222-3: 2016 (Edition 5) regulations as applicable on the installation of electrified security fences, as well as the OHS Act, 1993 (Act No 85) including the Electrical Machinery Regulations of 2011.
Training material includes modules such as elementary electronics, electrical trade theory as well as cabling methods and basic business skills. Candidates submit their Portfolios of Evidence for assessment and moderation after completing both formative (classwork) assessments and summative (final) assessments, leading to formal qualification in seven unit standards, with 41 credits, after which registration with the Department of Labour is concluded on its national database of accredited installers.
Including remote learning
While the eased lockdown restrictions allow one-on-one training, Stafix is aware that many companies have adopted remote work, including remote learning, as standard. Ndlovu College has therefore also made its training courses available via Zoom and has adapted its training to cater for remote students.
To gain some insight into the new training centre, view the video online at http://stafix.co.za/ndlovucollege.html. The same site will provide more information about the courses and dates the various courses will be run.
To find out more about the training and to book a course, please contact your local Stafix Security Centres branch or contact Johanna at johannad@stafix.co.za
Credit(s)
Further reading:
Noise and vibration detection for perimeter security
Residential Security Handbook 2021: Smart Estate Living , Stafix , Perimeter Security, Alarms & Intruder Detection
Perimeter security is a complex affair. Most technological solutions available today are reliable when it comes to detecting attempted breaches and alerting security management of when and, in many cases, ...
Read more...
---
The value of the intelligent perimeter
Residential Security Handbook 2021: Smart Estate Living , Stafix, Gallagher, Technews Publishing , Perimeter Security, Alarms & Intruder Detection
Perimeters are the first line of physical defence for estates and it therefore makes sense for security operations to ensure they have an integrated, intelligent perimeter solution that adds value and works with the complete estate security solution.
Read more...
---
Increasing access to cybersecurity knowledge
Issue 9 2020 , Training & Education
In response to widening cybersecurity skills gap and strong demand, Fortinet continues offering self-paced network security training at no cost, for the foreseeable future.
Read more...
---
Can you monitor employees without losing their trust?
Issue 9 2020 , Security Services & Risk Management, Training & Education
Monitoring employees who are working remotely can be a tricky task if you want to ensure productivity and commitment without destroying trust and morale.
Read more...
---
Dealing with human risk in cybersecurity
Issue 9 2020, iFacts , Training & Education
The human element in cyber risk is often ignored while systems are given priority over consistent education and training.
Read more...
---
JVA radio frequency interface
Issue 9 2020, Stafix , Products
Roboguard has partnered with Pakton Technologies to create a new interface for the Roboguard wireless outdoor detector beam.
Read more...
---
JVA Cloud Router
Issue 9 2020, Stafix , Products
The JVA Cloud Router provides a portal to route communications between the administrators and owners of security electric fences and their devices in the field.
Read more...
---
DIY solution to early-warning, wireless, outdoor security
Issue 9 2020, Stafix , Products
The Askari Scout and Spy obscure outdoor detectors, with their double beam passive infrared sensors, detect changes in light, heat, and movement.
Read more...
---
CCTV surveillance skills and body language training
Issue 9 2020, Leaderware , News, Training & Education
Omega Training Academy in conjunction with Dr Craig Donald are holding a CCTV Surveillance Skills and Body Language training course for company sponsored delegates.
Read more...
---
Touchless access control conference
Issue 8 2020, Hikvision South Africa, IDEMIA , Suprema, Technews Publishing , Access Control & Identity Management, Conferences & Events, Training & Education
Hi-Tech Security Solutions hosted an online conference in mid-August to highlight the new trend towards touchless access control. The conference hosted speakers with experience in the access control, ...
Read more...
---