printer friendly version
Silent security guard for safe cities
Issue 9 2020
CCTV, Surveillance & Remote Monitoring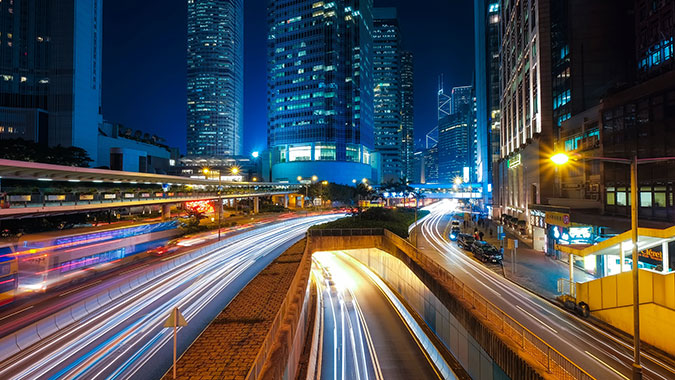 Cities represent the very centres of economic vitality and public life. The right use of effective communication and information technology helps cities become smarter.
"By connecting various kinds of data collecting devices such as sensors, cameras and other complementary equipment, cities can manage their infrastructure, resources and urban planning. In a smart city, though, video surveillance goes far beyond simple monitoring. Video surveillance now acts as an analytical tool as well as an indicator for city operations," says Clifton Greeff, national surveillance business manager at Duxbury Networking, a distributor of Hanwha Techwin's Wisenet security technology in South Africa.
To meet the new challenges in changing times, Hanwha Techwin has developed optimised solutions for wide-area surveillance and data analysis. City-dedicated product line-ups include wide area monitoring, omni-directional monitoring, intelligent ANPR (automatic number plate recognition) solutions and traffic management/public monitoring.
"Surveillance equipment can, for example, be used to monitor the elderly, children and women to ensure enhanced personal safety. This is achieved by using technology to detect specific sounds (such as screams) and recognise events, then to automatically notify security centres when an event is taking place. Additionally, they can be used to detect fires, using thermal imaging cameras," says Greeff.
Wide-area monitoring for 24/7 reliable operations
This is provided with full HD to 4K ultra high-resolution cameras that deliver clear video. For dark or high-contrast areas that are also prone to criminal activities, high-resolution cameras with IR and WDR should be used for round-the-clock monitoring.
Their vandal-resistant camera housing makes these cameras suitable for use in outdoor environments and the 37X zoom full HD IR outdoor PTZ helps users to identify a person farther than 350 metres away in complete darkness. It also has the ability to automatically track any person entering high-risk crime areas at any time of the day.
For maximum adaptability, configurable fixed-focus lens/CMOS sensor modules are available in multiple fields of view which can be easily installed onsite. Hallway view aspect ratios are also supported for monitoring of long, narrow areas. Both cameras allow for individual on-screen displays and a full suite of video analytics identifies loitering, directional detection, fog detection, tampering, motion detection, and objects entering or exiting an area.
Typically, most surveillance cameras are static, with the exception of the PTZ type. Even with wider viewing angles of close to 180°, cameras are prone to blind spots, which provide just the opportunity that criminals are looking for. In order to resolve this critical weakness, Hanwha Techwin offers various types of multi-sensor, multi-directional and fisheye cameras with up to 360° coverage. Multi-directional cameras have four sensors in one camera and are able to monitor multiple directions, simultaneously, with complete elimination of blind spots.
The Wisenet panoramic camera supports ultra-high-quality images, with a wide 180° angle of view using four 2-megapixel sensors, providing clear, high resolution in places such as city surveillance, parking lots, public places, and airports. With 6-megapixel, 360° degree images and on-board de-warping, the XNF-8010RV offers a variety of alternative viewing modes, including single panorama, double panorama and quad views.
Enhanced mobility with intelligent ANPR
The most common disadvantage of living in a city is heavy traffic, followed by lack of parking spaces. Although urban living is convenient for many people with its easy access to shops, schools and facilities, its high density impairs mobility. Thus, many city managers try to increase mobility by managing traffic, ultimately enhancing the overall productivity of the city.
Hanwha Techwin's intelligent ANPR system detects traffic violations, allowing the automatic issuing of fines. It also identifies and tracks vehicles used in crimes by automatically reading the licence plate to enable easy access control. "Hanwha's ANPR system-installed cameras eliminate the need for separate system installation, helping you to achieve a cost-saving infrastructure as well as provide efficient traffic management," says Greeff.
He adds that Hanwha Techwin's city surveillance solutions provide city management with a number of benefits that help to deter pick pocketing, shoplifting and violent crimes; and provide remote visibility before dispatching officers to the sites. In addition, they can help to enhance operational efficiency by means of:
• Intelligent video analytics that increase the level of security and simplify officers' day-to-day workload.
• Smart Search, which reduces the time spent searching for a crime scene or suspects.
Credit(s)
Further reading:
Turkish university installs IDIS surveillance
CCTV, Surveillance & Remote Monitoring Products
IDIS video streamlines complex surveillance systems for learning institution, upgrading a 350-camera system with 24/7 control room monitoring to transform security for Social Sciences University of Ankara (ASBU).
Read more...
---
Brighter, greener, and smarter
Dahua Technology South Africa Products CCTV, Surveillance & Remote Monitoring
Dahua Technology released its new Dahua CH II Series Indoor Fine Pixel Pitch LED display, providing visual clarity and promoting energy efficiency and sustainability.
Read more...
---
Smart water management
Axis Communications SA CCTV, Surveillance & Remote Monitoring Integrated Solutions
South Africa is currently facing a water crisis, with scarcity and inefficient water management posing significant challenges to sustainable, consistent access to water. Smart technology and powerful partnerships may offer a proactive solution to SA's water crisis.
Read more...
---
Helping retailers optimise monitoring and security
Guardian Eye Retail (Industry) CCTV, Surveillance & Remote Monitoring
From a smart retail perspective, it is crucial to understand that monitoring stock and other assets through camera surveillance and a variety of Internet of Things (IoT) sensors stretches further than the stores themselves.
Read more...
---
Empowering Istanbul's public transportation
Dahua Technology South Africa CCTV, Surveillance & Remote Monitoring Integrated Solutions
Dahua's intelligent transportation solution, using technologies like DSM and AI-based passenger flow counting, has facilitated an intelligent system upgrade for nearly 6 400 minibuses and electric buses in Istanbul.
Read more...
---
Smart manufacturing redefined
Hikvision South Africa CCTV, Surveillance & Remote Monitoring Industrial (Industry)
AI and intuitive visualisation technology allows managers to monitor manufacturing sites, production, and operational processes, and to respond in real time in the event of an issue – helping to drive efficiency and productivity.
Read more...
---
AI is getting smarter, and critical infrastructure is set to benefit
Axis Communications SA CCTV, Surveillance & Remote Monitoring
With technology advancing at an astonishing pace, AI has emerged as a defining trend in today's business arena. Enterprises across all sectors are prioritising this technology, embracing its transformative potential to drive change and growth.
Read more...
---
Collaboration delivers integrated and holistic security
Guardian Eye CCTV, Surveillance & Remote Monitoring News Integrated Solutions
Guardian Eye and Lytehouse have partnered to integrate their speciality solutions and provide a holistic security offering that overcomes the fragmentation of security systems and services.
Read more...
---
Manage security systems remotely
Hikvision South Africa CCTV, Surveillance & Remote Monitoring IT infrastructure Products
Hikvision launched a new generation of smart managed switches that, in conjunction with the Hik-Partner Pro mobile app, enable installers to remotely deploy and configure security systems with comprehensive operation and maintenance capabilities.
Read more...
---
Synology enhances functions for advanced surveillance integration
Technews Publishing CCTV, Surveillance & Remote Monitoring IT infrastructure Products
With the capability to function as both an API client and server, Surveillance Station offers a versatile platform for integration, whether it's embedding video streams into other platforms or overlaying external data onto recorded video.
Read more...
---