printer friendly version
A contact-free hotel experience
Issue 7 2020
Access Control & Identity Management
Hotel Sky is a futuristic hotel operating in Sandton and the Cape Town City Bowl, and has been designed to offer a unique and seamless guest experience with the most technically advanced convenience possible. The hotel retained Bright Horse IT to enable a sleeker guest arrival experience and to provide access to their rooms, without having to stop at reception, even going as far as obtaining their electronic room key autonomously making use of a mobile guest app and online self-service check-in.
Speaking to Hi-Tech Security Solutions, Bright Horse IT's directors, Fernando and Tony Maia explained how the location provides a next-level guest experience, including having robots able to facially recognise and assist guests. Using a combination of imported products and their own development team, the solutions Bright Horse provided include a mobile guest app, online/physical kiosks and a range of other services the hotel (and other hotels) can offer guests.
Describing the experience, Fernando Maia explains that once a guests have made a reservation at Hotel Sky, they will be able to check in 24 hours before they arrive via any mobile device, and can even pay their bill in the same way. In this scenario, when they arrive at the hotel, they can go to a kiosk and identify themselves via a QR code that has been sent to their mobile and pick up their room cardkey/s, or they can use the app to obtain an electronic key on their mobile device. The kiosk is extended with a card reader for secure payments. The hotel has a 2 pm check-in time and due to cleaning schedules, guests are assigned their rooms two to four hours before then and are also notified of their room number via SMS or email.
Additional services
In the case of Hotel Sky, the mobile guest app also includes soft phone which will serve as the guest's extension number for the duration of the stay. Besides the soft phone, the mobile app can also be used to order room service, contact housekeeping, check out early and more.
If the guests agree to an electronic key on their mobile, they can skip the kiosk and go directly to their room when they arrive. The check-in experience is the same whether using the online check-in facility or on the kiosk, the only difference is that when online you could receive a mobile key if you so wish, whereas at the kiosk a cardkey would be issued to you.
The app can be downloaded by anyone (guest or not) and used to find information about the hotel, but once a guest has checked-in he / she can sign in and receive the full set of services: hotel facilities, local attractions, offers and promotions, in-room menus with interactive ordering, etc.
Robotic service
While Hotel Sky still has human staff, it has also employed a number of robots – from Bright Horse partner Questek, which have been enhanced to meet the needs of the Hotel Sky guests. These robots stand about 1,4 m tall and are programmed to interact with guests. These robots can act as a porter, concierge or even do room service where appropriate.
Guests can ask the robot questions and receive a verbal reply, which can be supported by the 1080P display on the robot. This can be used to, for example, inform guests on COVID-19 sanitising procedures and/or ask guests for permission to store their image for future recognition. If the robot cannot answer a question, it will apologise and refer the person to a member of staff.
The Sanbot is complete with cameras for visual recognition of their environment, as well as facial recognition of guests, as well as distance sensors to ensure they don't bump into guests. For clients that want a full robotic experience, the Sanbot can analyse guest sentiment and through facial recognition greet guests by name. Depending on the model chosen, the robots could include a microphone, HD colour camera, 3D camera, touch sensor, HD camera, PIR, ultrasonic, gyroscope, infrared, pressure sensor, magnetic sensor and RFID card reader on board.
The robots will eventually also be able to deliver room service and can even act as Master of Ceremonies at events held in the hotel's conference venues.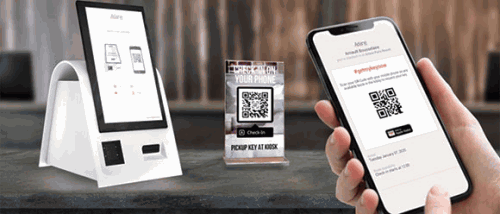 Other services
In as far as Hotel Sky is concerned, Bright Horse has also provided all other IT services, including IT infrastructure, wired/wireless networks, Internet Protocol TV to the room, CCTV, AV/VC for conference facilities, LED/LCD big screens, etc. The company has also provided interactive white boards (the Samsung Flip), which allows users to import via USB, smartphone, One Drive, etc. and/or export to USB, printer, One Drive and other means, including recording what was written during the conference.
There is even a grand piano that can be played or play itself in the lounge of the hotel.
While Hotel Sky is the latest hotel to make use of the technology services available from Bright Horse IT, the company has provided IT solutions to a number of greenfield hotels in South Africa. Key to Bright Horse's success has been its ability to localise solutions, an example being a self-service check-in/out solution which is able to scan SA passports, SA smart identity cards and SA driver's licences.
For more information, contact Bright Horse IT, +27 87 094 8986, [email protected], www.brighthorse.co.za
Credit(s)
Further reading:
Is the smoke beginning to clear for password security?
Access Control & Identity Management Security Services & Risk Management
The password problem is the result of bad habits, and they can be hard to break. But ask anyone that has done it and they will not tire of telling you the benefits.
Read more...
---
Solving coworking front-desk drama
Access Control & Identity Management Products
Flexible, shared and coworking offices have taken off with great success, but because occupational churn is high, the front-desk can be a difficult place to manage.
Read more...
---
Are you your insider threat?
Technews Publishing Editor's Choice Security Services & Risk Management Commercial (Industry)
Insider threats are a critical aspect of risk management today, but what happens when it is the owner of the company acting fraudulently and making sure none of his staff can catch him?
Read more...
---
Powder coating provides durable finish
Turnstar Systems Access Control & Identity Management Industrial (Industry)
Turnstar's powder coating line provides corrosion resistance, high-quality surface finishing and a long-term environment-friendly impact for all access control components the company manufactures.
Read more...
---
Passion, drive and hard work
Technews Publishing Editor's Choice CCTV, Surveillance & Remote Monitoring Security Services & Risk Management
Colleen Glaeser is a leader in the security market, having made her mark in the male-dominated security industry through determination and hard work, along with a vision of making the world a safer place.
Read more...
---
System integrators and surveillance
Technews Publishing Stallion Security G4S Secure Solutions SA Integrated Solutions
Hi-Tech Security Solutions asked two system integrators if they are seeing an upturn in the market and if projects are back on track despite the economic slowdown and supply chain chaos?
Read more...
---
Leaning into the edge
Technews Publishing Axis Communications SA Forbatt SA Hikvision South Africa Editor's Choice CCTV, Surveillance & Remote Monitoring Integrated Solutions IT infrastructure
Video storage and analytical processing, with the help of artificial intelligence on the edge, is simple today with the powerful and advanced camera technology we have available.
Read more...
---
From the editor's desk: The last CCTV Handbook
Technews Publishing News
Welcome to the CCTV Handbook 2022, I hope the headline caught your eye. This really is the last CCTV Handbook Hi-Tech Security Solutions will ever produce, but it is not the last handbook about surveillance ...
Read more...
---
Tracking surveillance into the future
Technews Publishing Bosch Building Technologies Cathexis Technologies Axis Communications SA Arteco Global G4S Secure Solutions SA Editor's Choice CCTV, Surveillance & Remote Monitoring Integrated Solutions
Hi-Tech Security Solutions asked six industry experts to join us around a table to discuss the state of the surveillance industry and where it is going.
Read more...
---
Supply chain woes
Masc Solutions Technews Publishing CCTV, Surveillance & Remote Monitoring
Hi-Tech Security Solutions asks Mark Kane from Masc Solutions about the supply chain issues the industry has been facing for far too long.
Read more...
---