printer friendly version
Avenar fire alarm panels
Issue 7 2020
Fire & Safety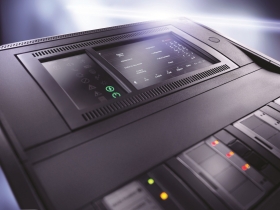 Bosch Building Technologies has introduced Avenar, a new generation of fire alarm panels. The new panel series supports the transformation of building technologies driven by the Internet of Things (IoT). Fully backwards compatible with current fire alarm system components, the new Avenar panel 2000 and 8000 series presents significant improvements in terms of scalability, integration, and processing power. It offers a new level of safety, control and efficiency to security managers and building operators.
"We're building upon our leadership in fire alarm systems that are trusted in applications across the globe to position Avenar as a major step into the future of connected and smart building technologies," said Kristof Vandenberghe, product manager for Fire and Evacuation Systems at Bosch Building Technologies.
The new Avenar panel 2000 replaces the Fire Panel 1200 Series from Bosch as the key solution for smaller projects. It supports up to four loops instead of the previous two, thereby extending the applications from small projects to medium projects with up to 512 detectors and call points. The Avenar 2000 panels can connect to a panel network, allowing customers to distribute the intelligence of the fire system in the building while saving cabling costs. Furthermore, the new panel simplifies the planning and purchasing process for system integrators, as it comes as a complete fire alarm panel kit, expandable in modular fashion.
For larger-scale installations, the Avenar panel 8000, the successor of the Modular Fire Panel 5000 Series, allows for up to 32 loops and a total of up to 4096 detectors and call points per panel. Both panels support the current generation of fire detectors based on Local Security Network (LSNi) connections, as well as call stations and other critical system components.
The new panels can be installed alongside existing network architectures such as the Modular Fire Panel 5000 Series from Bosch. The possibility to build one common network around Avenar panel 2000 and 8000 as well as Avenar keypad 8000 and Modular Fire Panel 5000 Series enhances network efficiency and utilises its backward compatibility. It also keeps costs for extensions down and retrofits to a minimum.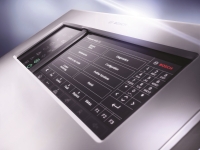 Modular system built for scalability and connectivity
Both panels support an Ethernet architecture with fast 100 Mbit connectivity. Four external Ethernet ports are available to link Bosch fire panels and Bosch voice alarm systems on a network, connect to building management systems or other safety systems, and also enable remote services for cloud-based control and maintenance.
As a technical novelty, the eMatrix graphic user interface (GUI) offers full control via a 7-inch screen. The intuitive interface provides a clear status overview of connected fire protection equipment and evacuation zones. eMatrix also controls voice alarm, door control as well as heating, ventilation and air-conditioning (HVAC). It enables safety managers to optimise protection by monitoring automatically triggered evacuations and offers the possibility to interfere manually when required.
Seamless integration of voice alarm
Right out of the box, Avenar fire alarm panels integrate with voice alarm solutions from Bosch. This integration supports advanced functionality such as guided evacuation by building zones, allowing operators a high level of situational intelligence and optimised response times. Additionally, the solution significantly reduces installation time and costs by minimising cabling requirements.
"The computing power and connectivity of these new panels provide a foundation for the next generation of smart building and IoT solutions. It's exciting to think that new features will become available seamlessly via a simple firmware update as we innovate the future of fire safety," said Vandenberghe. The new Avenar panels are available in all EN-54 markets.
Credit(s)
Further reading:
Different types of fires
Fire & Safety
Fire is a powerful force of nature; according to SafeQuip, a distributor of fire-related equipment; understanding the different types of fires and how to combat them is essential for safety and protection.
Read more...
---
SafeQuip introduces lithium fire extinguishers
Fire & Safety Products & Solutions
With the use of Lithium batteries increasing in many types of portable devices and battery storage solutions, SafeQuip, in partnership with AVD Lithex, is introducing a fire extinguisher aimed at suppressing and extinguishing, and also preventing re-ignition of lithium fires.
Read more...
---
Modern warehouses come with added fire risk
Fire & Safety Transport (Industry)
Along with increased investments in modern warehousing in Africa, there is also a need to focus on protecting warehouses from crime, however, fire can arguably be a greater danger to business continuity.
Read more...
---
How to prevent solar inverter short-circuits and fires
Fire & Safety
With many South Africans installing inverters as part of solar power systems to mitigate the impact of load shedding in homes and at businesses, users need to be aware of the potential fire risks.
Read more...
---
Bosch Building Technologies to focus on SI business
Bosch Building Technologies Editor's Choice
Bosch Building Technologies, which includes the security division, aims to "consolidate its capabilities to achieve a globally leading position in the systems integration market", a move that will include selling most of its product business.
Read more...
---
Fidelity SecureFire steps into critical fire response space
News & Events Fire & Safety
With the majority of fire stations around the country being crippled by a lack of resources to offer effective responses, Fidelity Fire Solutions has launched its own 'first responder' model, Fidelity SecureFire.
Read more...
---
Long-distance connectivity with Simplex ES Net Life Safety
Johnson Controls Global Products Fire & Safety Products & Solutions
ES Net Network Bridge allows fire alarm system data to be transmitted across distant buildings via a customer's existing network infrastructure, improving system-wide monitoring and control in facilities and campuses where life safety networks are often widely dispersed.
Read more...
---
Elvey Group and Technoswitch part ways
Elvey Security Technologies Fire & Safety News & Events
The Elvey Group (a division of the Hudaco Group of Companies) is relinquishing its distributorship of the Technoswitch brand, following Hudaco's acquisition of Brigit Fire.
Read more...
---
From one month to 10 minutes
Dahua Technology South Africa Fire & Safety
Dahua has integrated technology with the inspection mode of the photovoltaic power station in order to create a robust system that can monitor the fire situation in the power plant and its surrounding areas 24/7.
Read more...
---
Protecting poultry processing plant
Technoswitch Fire Detection & Suppression Fire & Safety
Grain Field Chickens, based in Reitz in the Orange Free State Province, features all the typical fire detection challenges one would expect to encounter in a food processing facility.
Read more...
---