printer friendly version
Where to from here?
November 2001
News & Events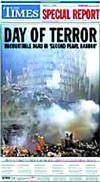 Security is never a single-faceted problem. It is always multifaceted and places a burden of responsibility on the person tasked with selecting the correct, effective security solution to a particular problem.
So says Dr Bennie Coetzer, Managing Director of Thales Advanced Engineering. According to Coetzer, companies often make the mistake of delegating the responsibility for their security arrangements to outside companies without first ensuring that these companies have the necessary know-how to implement the best possible system for a particular problem. "The precise security needs of the company has to be determined before a system is installed particularly in big projects," he says.
Coetzer further emphasises the need for systems integration when determining security arrangements. "A system, which is properly integrated, can be used to raise the profile of security as more sophisticated and complex systems can be used within the building, its perimeter and even through the process and production areas," he says.
In a nutshell, Coetzer is talking about a factor that Hi-Tech Security Solutions has been a strong advocate of - providing a complete security solution. Such a solution includes utilising the most suited products and technologies together with the most important link to the chain - the human factor. By and large, security has become part of a complete business module with any such implementation made with the view of yielding good profit margins. The role of security manager has evolved from being merely a protector of assets and personnel to a key decision maker in both small businesses and large corporates with much emphasis being placed on risk management and loss prevention.
No doubt, recent decimating world events have also brought security into the limelight, making many around the globe reevaluate their own security arrangements and policies, all of which spell good growth for the industry as a whole. And as we head into 2002, Hi-Tech Security Solutions will continue to bring you the latest industry news, technologies and trends as the journal for security professionals and business leaders.
Hi-Tech Security Solutions comes up tops
At the recent Magazine Publishers Association of South Africa (MPASA) PICA awards evening, Paradigma Publishing, publishers of Hi-Tech Security Solutions scooped awards in three business-to-business categories. Hi-Tech Security Solutions emerged as a winner in the Safety and Security category whilst the Hi-Tech Security Buyers' Guide also scooped top honours in its category. In addition, sister publication, eSecure received a highly commended award in the Information Technology category. We at Paradigma Publishing would like to thank all those who contributed to our success over the past year and ensuring that we remain at the forefront of publishing excellence in the security arena.
Till next year
Gerard Peter
Associate Editor
Further reading:
Helping South African university students and staff to stay safe
News & Events
Buzzer is a free mobile app that allows users to quickly and easily report incidents of crime, violence, or harassment to campus security and other relevant authorities.
Read more...
---
Tech developments lead hologram growth in 2024
News & Events Security Services & Risk Management
Micro-lenses, micro-mirrors and plasmonics are among the rapidly-emerging optical devices that have evolved on the back of holographic and diffractive technologies, and are seen as part of the natural evolution of optical science by R&D teams.
Read more...
---
Trellix detects collaboration by cybercriminals and nation states
News & Events Information Security
Trellix has released The CyberThreat Report: November 2023 from its Advanced Research Centre, highlighting new programming languages in malware development, adoption of malicious GenAI, and acceleration of geopolitical threat activity.
Read more...
---
People are craving connection
News & Events
As 2023 nears its close, global security manufacturer Gallagher Security is sharing key observations from some of the year's biggest industry events, chief among them the rising importance of community building these events facilitate.
Read more...
---
ePSiRA online system
PSiRA (Private Security Ind. Regulatory Authority) News & Events
[Sponsored] As part of the digitisation of the security industry, the Private Security Industry Regulatory Authority (PSiRA) introduced the ePSiRA online system, which allows clients to transact online.
Read more...
---
New generation of cyber-focused controllers
Gallagher News & Events Access Control & Identity Management Products & Solutions
The C7000 gives users an opportunity to leverage their hardware and firmware to build a platform designed to catapult their organisation into the future, with cybersecurity baked in from inception.
Read more...
---
New T&A terminal features revolutionary AI technology
Suprema News & Events Access Control & Identity Management AI & Data Analytics
Suprema has launched BioStation 2a, the world's first deep learning-based fingerprint recognition solution, providing powerful access control features and an improved ability to extract templates from low-quality fingerprints.
Read more...
---
South African Cyber Risk Survey 2023
News & Events
Aon South Africa has released its 2023 Cyber Risk Survey for South Africa, providing insights on current trends in cyber risk governance practices being deployed by South African companies in various market segments.
Read more...
---
Africa Online Safety Fund announces grant winners
News & Events Information Security
The Africa Online Safety Fund (AOSF) has announced the winners of this year's grants; among them are five organisations operating in South Africa to educate people about online risks.
Read more...
---
From the editor's desk: Convergence is real
Technews Publishing News & Events
      SMART Security Solutions has been talking about convergence for a long time; in other words, the intersection and even integration between the physical and information security worlds. Before writing ...
Read more...
---