printer friendly version
Hi-Tech Security Solutions' makeover
June 2012
News
Welcome to the June issue of Hi-Tech Security Solutions. We are rather excited about this month's issue since, as you may notice, Hi-Tech Security Solutions has had a makeover. You will still find the best in security news, views and interviews from an editorial side, but we have had our production team listening to subliminal creativity messages all month in order to come up with a new look.
Suffice to say, we think they did a great job, so well done to Bev and her team. Who knew such a classy design could come out of Durban? Next they will want to host the Olympics.
In this issue you will also find our IFSEC SA preview. It is no surprise that our first new-look issue comes out just in time for IFSEC. The magazine will be on our stand at the show so if you need extra copies to frame you can pick one up there, and have a coffee while you are at it.
We will also be looking at security in the mining sector, the never-ending issue of skills and the lack thereof, and my new favourite word, integration.
I recently returned from IFSEC in the UK and it was a hectic, yet interesting show, again. While I will write a few words on the UK show for our next issue – for some reason they do not run the shows at times that coincide with Hi-Tech Security Solutions deadlines – but one of the biggest issues that struck me was integration. We have all heard about integration before, but almost every company I spoke to in Birmingham quickly got onto the topic of integration and how much work they are doing on it.
As can be expected, some of the larger companies feel that integration means integrating all the products in their stable so they play nicely together. When pushed they grudgingly admit they may actually work with third-party products as well. But the smaller companies, or those focused on a single product seem to have caught the integration bug and say they have a renewed focus on integrating with whoever the customer has in their infrastructure.
They seem to understand that it is not only about integrating cameras from different vendors, or different brands of biometric or card readers, but about the whole caboodle. Whether they were just saying what they wanted me to write remains to be seen, but I suspect proprietary manufacturers are in for a tough year.
There was also a bunch of management platforms on the show, which may have something to do with the integration focus. Sadly, our locally developed platforms were not there to show how they compete, but maybe we will see some interesting happenings at the local show. If you read last month's issue you will already have seen some interesting happenings on that front, with more to come.
I hope you enjoy the new issue and format, feel free to send me any comments you may have. Or simply let someone on the Hi-Tech Security Solutions stand at IFSEC SA know while you are getting your coffee. Also, if you are doing anything interesting at IFSEC SA, let me know so I can make a point of visiting your stand. The address, as always, is andrew@technews.co.za.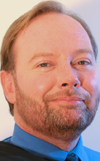 Andrew Seldon
Editor
Credit(s)
Further reading:
Online fleet management system
Issue 1 2020 , News
Fleet Domain's online Fleet Management Information System is reducing operating costs and improving safety for South African logistics firms.
Read more...
---
Digital insurance bundle for assets and devices
Issue 1 2020 , News
My CyberCare is a specialist provider of personal, and SMME online cyber insurance, cyber detection and cyber monitoring solutions for both local and global consumption.
Read more...
---
IDEMIA to supply Morocco's national electronic ID cards
Issue 1 2020, IDEMIA , News
IDEMIA will supply Morocco with national electronic ID cards and introduce a secured digital identity online services platform.
Read more...
---
Rockwell Automation to acquire Avnet
Issue 1 2020, Rockwell Automation , News
Rockwell Automation announced it has signed an agreement to acquire privately held Avnet Data Security, an Israeli-based cybersecurity provider with over 20 years' experience providing cybersecurity services.
Read more...
---
The instruments for investigation
Issue 1 2020, Technews Publishing , Security Services & Risk Management
Regardless of the reason for investigation, the investigation is only as good as the investigators.
Read more...
---
Do we really want simplicity?
Issue 1 2020, Technews Publishing , News
Everything today has to be simple, easy and fast. Even access to your bank account has to fit these adjectives and banks spend significant time and money trying to ensure their web and mobile interfaces ...
Read more...
---
Longse Distribution to become LD Africa
Issue 1 2020, LD Africa , News
Brendon Whelan, sales manager for Longse Distribution, announced that the company officially changed its name to LD Africa as of 20 January 2020.
Read more...
---
Three expos in one
Issue 1 2020 , News
Looking ahead to 2020 Vision: combined Securex South Africa, A-OSH EXPO and Facilities Management Expo 2020 promises to be even bigger and better.
Read more...
---
Security events you can't miss in 2020
Issue 1 2020, Technews Publishing , News
Hi-Tech Security Solutions will host a number of focused events in 2020 to highlight the latest in security technology and the operational benefits they deliver.
Read more...
---
David Shapiro to chair ESDA
Issue 1 2020, ESDA (Electronic Security Distributors Association , News
The Electronic Security Distributors' Association (ESDA), established in 1989, has elected David Shapiro as its chairperson for 2020.
Read more...
---