printer friendly version
Business benefits for Actom
Access & Identity Management Handbook 2012 Access Control & Identity Management, Industrial (Industry)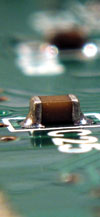 A modern, automated time management solution solves major problems, cuts time and saves money.
Based in Knights, Germiston, Actom MV Switchgear is a local designer, manufacturer and supplier of equipment, systems and services for medium voltage (MV) electricity distribution.
Describing the challenges created by the company's manual attendance system, Donovan Stevens of Actom says, "We were using a manual clock card system which created endless problems in managing our workforce of over 700 people. Our difficulties ranged from various issues relating to buddy clocking, through to disputes about time worked and the extensive admin work that was continuously required to complete our wage calculations.
"To make matters worse, maintaining the manual clocking stations in good order was difficult, expensive and time-consuming."
Accuracy in time management
A number of companies were approached as part of Actom's search for a solution to the recurring costs that were being caused by the clock card system. Jarrison Systems were selected on the basis of its particular expertise in configuring and installing automated time and attendance solutions. Stevens says that Jarrison assisted from the outset by providing advice as to the sort of solution that would best address the challenges Actom was facing in terms of bringing stricter control to the whole issue of time management and reporting.
For Jarrison Systems, it was important to propose a solution that would be particularly strong in its ability to accurately identify all the users at Actom. Jarrison's Jason Matthews says that Morpho fingerprint scanners deliver this ability more effectively than any type of card-based system: "It does not make the slightest bit of difference whether you are using manual clock cards or slightly more modern swipe cards. They are all susceptible to the same level of abuse and can so easily be shared amongst members of the workforce, enabling people to clock for one another."
In a situation like the one at Actom, Matthews stresses the importance of eliminating all the uncertainty around who is actually clocking in and out. He says, "Once we can establish certainty concerning a users' identity, we can then build from there in terms of automating the process of recording all the clocking transactions."
At Actom, this recording is managed on the Jarrison Time software platform that captures time-based data at the Morpho clocking stations. The software also provides attendance data that can be used to provide real-time management information to the system's seven administrators on issues such as absenteeism and latecomers.
Securing support for the solution
Stevens acknowledges the importance of consulting with the Actom workforce concerning the solution and the reasons that motivated its introduction. "The workforce's concerns about the fingerprint-based system and its implications were most effectively addressed by running the new replacement solution for two months in parallel with the old manual system.
"Our people needed to see that this comparatively advanced technology would actually work and that it would work better than the old manual system. For me, gaining support for the new system was one of our most important tasks in ensuring its successful implementation."
According to Stevens, "Jarrison System's system played a vital role in all aspects of the project. It provided us with valuable information and advice in setting up reports that meet our requirements and it completed each phase of the project in keeping with our agreed scheduled on implementation milestones."
Fact file
Sector: Manufacturing in the electrical engineering sector
Scale of project: Enterprise, 700+ personnel
Key elements: Morpho MA500 Fingerprint scanners operating on Jarrison Time management software
Benefits: Highly accurate time management, delivering cost savings across all aspects of T&A
Solution supplier: Access Control & Time and Attendance, Jason Matthews, Jarrison Systems, +27 (0)83 556 9259
Client details
Company: Actom MV Switchgear a division of Actom (Pty) Ltd
Contact person: Donovan Stevens
Business sector: Manufacturing
Tel: +27 (0)11 820 5111
E-mail: donovan.stevens@actom.co.za
Further reading:
Facial access control for ministry
Issue 1 2020, ZKTeco , Access Control & Identity Management
The Ministry of Culture in Saudi Arabia has adopted ZKTeco's facial recognition technology and fingerprint biometrics to manage access control into its building.
Read more...
---
New Door Pilot app from dormakaba
Issue 1 2020, dormakaba South Africa , Access Control & Identity Management
With new dormakaba Door Pilot, automated doors can also now be operated on the basis of remote control technologies. The system, comprising the Door Pilot app for smartphones and a Wi-Fi interface for ...
Read more...
---
Identity lifestyle
Issue 1 2020, Suprema , Access Control & Identity Management
Once the technology of the future, biometrics has quietly snuck into our daily lives through smartphones and access controls into our places of work.
Read more...
---
Securing BP's new head office
Issue 1 2020, ISF SFP , Access Control & Identity Management
ISF SFP was awarded the contract to secure the first development phase for Oxford Parks, the new head office for BP South Africa.
Read more...
---
Combining aesthetics and access control
Issue 1 2020, Turnstar Systems , Access Control & Identity Management
Prestigious law firm Bowman Gilfillan recently upgraded its physical security with the addition of four Turnstar Speedgate Express access control lanes.
Read more...
---
Video doorbells from Ring
Issue 1 2020 , Access Control & Identity Management
Ring has a number of video doorbells available in South Africa that run off batteries or power and enable users to answer their doors from anywhere.
Read more...
---
Centurion to unveil new product
Issue 1 2020, Centurion Systems , Access Control & Identity Management
Centurion Systems will be hosting its third Access Automation Expo this year, with dates confirmed for Durban, Johannesburg and Cape Town.
Read more...
---
Looking ahead with mobile access technologies
Access & Identity Management Handbook 2020, Technews Publishing, HID Global, dormakaba South Africa, Salto Systems Africa, Suprema, Gallagher , Access Control & Identity Management, Integrated Solutions
Given the broad use of smartphones around the world and the numerous technologies packed into these devices, it was only a matter of time before the access control industry developed technology that would ...
Read more...
---
Mobile access is more secure than card systems
Access & Identity Management Handbook 2020 , Access Control & Identity Management
The ability to use mobile phones as access credentials is one of the biggest trends in a market that historically has been slow in adopting new technology.
Read more...
---
This is the future. This is what we do.
Access & Identity Management Handbook 2020, ZKTeco , Access Control & Identity Management
ZKTeco has created a unique range of visible light facial recognition products combined with a flexible Android platform.
Read more...
---