printer friendly version
Business benefits for Actom
Access & Identity Management Handbook 2012 Access Control & Identity Management, Industrial (Industry)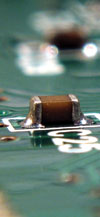 A modern, automated time management solution solves major problems, cuts time and saves money.
Based in Knights, Germiston, Actom MV Switchgear is a local designer, manufacturer and supplier of equipment, systems and services for medium voltage (MV) electricity distribution.
Describing the challenges created by the company's manual attendance system, Donovan Stevens of Actom says, "We were using a manual clock card system which created endless problems in managing our workforce of over 700 people. Our difficulties ranged from various issues relating to buddy clocking, through to disputes about time worked and the extensive admin work that was continuously required to complete our wage calculations.
"To make matters worse, maintaining the manual clocking stations in good order was difficult, expensive and time-consuming."
Accuracy in time management
A number of companies were approached as part of Actom's search for a solution to the recurring costs that were being caused by the clock card system. Jarrison Systems were selected on the basis of its particular expertise in configuring and installing automated time and attendance solutions. Stevens says that Jarrison assisted from the outset by providing advice as to the sort of solution that would best address the challenges Actom was facing in terms of bringing stricter control to the whole issue of time management and reporting.
For Jarrison Systems, it was important to propose a solution that would be particularly strong in its ability to accurately identify all the users at Actom. Jarrison's Jason Matthews says that Morpho fingerprint scanners deliver this ability more effectively than any type of card-based system: "It does not make the slightest bit of difference whether you are using manual clock cards or slightly more modern swipe cards. They are all susceptible to the same level of abuse and can so easily be shared amongst members of the workforce, enabling people to clock for one another."
In a situation like the one at Actom, Matthews stresses the importance of eliminating all the uncertainty around who is actually clocking in and out. He says, "Once we can establish certainty concerning a users' identity, we can then build from there in terms of automating the process of recording all the clocking transactions."
At Actom, this recording is managed on the Jarrison Time software platform that captures time-based data at the Morpho clocking stations. The software also provides attendance data that can be used to provide real-time management information to the system's seven administrators on issues such as absenteeism and latecomers.
Securing support for the solution
Stevens acknowledges the importance of consulting with the Actom workforce concerning the solution and the reasons that motivated its introduction. "The workforce's concerns about the fingerprint-based system and its implications were most effectively addressed by running the new replacement solution for two months in parallel with the old manual system.
"Our people needed to see that this comparatively advanced technology would actually work and that it would work better than the old manual system. For me, gaining support for the new system was one of our most important tasks in ensuring its successful implementation."
According to Stevens, "Jarrison System's system played a vital role in all aspects of the project. It provided us with valuable information and advice in setting up reports that meet our requirements and it completed each phase of the project in keeping with our agreed scheduled on implementation milestones."
Fact file
Sector: Manufacturing in the electrical engineering sector
Scale of project: Enterprise, 700+ personnel
Key elements: Morpho MA500 Fingerprint scanners operating on Jarrison Time management software
Benefits: Highly accurate time management, delivering cost savings across all aspects of T&A
Solution supplier: Access Control & Time and Attendance, Jason Matthews, Jarrison Systems, +27 (0)83 556 9259
Client details
Company: Actom MV Switchgear a division of Actom (Pty) Ltd
Contact person: Donovan Stevens
Business sector: Manufacturing
Tel: +27 (0)11 820 5111
E-mail: donovan.stevens@actom.co.za
Further reading:
Securing a luxurious residential estate
Turnstar Systems Residential Estate (Industry) Access Control & Identity Management
Turnstar Systems recently partnered with Balwin Munyaka Residential Estate to secure the entrance to its Crystal Lagoon, ensuring only authorised residents and guests can access the site.
Read more...
---
Smart manufacturing redefined
Hikvision South Africa CCTV, Surveillance & Remote Monitoring Industrial (Industry)
AI and intuitive visualisation technology allows managers to monitor manufacturing sites, production, and operational processes, and to respond in real time in the event of an issue – helping to drive efficiency and productivity.
Read more...
---
CHI selects NEC XON as trusted cybersecurity partner
News Cyber Security Industrial (Industry)
CHI Limited, Nigeria's leading market player in fruit juices and dairy products, has engaged in a strategic cybersecurity partnership with NEC XON, a pan-African ICT systems integrator.
Read more...
---
Visitor management via QR code
ATG Digital Access Control & Identity Management Products
ATG Digital has launched its QR Code Reader to enhance access control's security and efficiency. The new QR Code Reader enables seamless, contactless access control, creating an efficient user journey.
Read more...
---
District secures activity centre
Paxton Access Control & Identity Management Products
Paxton's Net2 access control solution is a user-friendly and flexible networked access control system, which made installing and managing access control security at an activity centre straightforward.
Read more...
---
GardaWorld partners with Gallagher
Gallagher Access Control & Identity Management
Access control via facial recognition was at the top of GardaWorld's wish list, and Gallagher's integration with IDEMIA's VisionPass played a crucial role in delivering a seamless experience.
Read more...
---
ZK-IWB Series
ZKTeco Products Access Control & Identity Management
Experience the ultimate virtual meeting solution with ZKTeco's ZK-IWB system. Featuring a built-in 13-megapixel UHD camera and 6-microphone array, the solution ensures clear audio and video experiences with an 8 metre pickup distance.
Read more...
---
Security for critical industries
ZKTeco Government and Parastatal (Industry) Access Control & Identity Management
The traditional reliance on human observation and physical presence for security is being complemented and, in many cases, replaced by biometric technology to enhance risk management and ensure comprehensive protection.
Read more...
---
Access to nuclear plants
Suprema Access Control & Identity Management
Korea Hydro & Nuclear Power was in need of a fully redundant access control system that should provide enhanced performance while still being able to interoperate with existing equipment.
Read more...
---
Secure your site during outages
Paxton Access Control & Identity Management
The PaxLock Pro range is our collection of wireless, battery powered smart door handles. They are efficiently designed to consume minimal energy to operate, and the batteries generally last around two years.
Read more...
---