printer friendly version
Business benefits for Actom
Access & Identity Management Handbook 2012 Access Control & Identity Management, Industrial (Industry)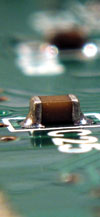 A modern, automated time management solution solves major problems, cuts time and saves money.
Based in Knights, Germiston, Actom MV Switchgear is a local designer, manufacturer and supplier of equipment, systems and services for medium voltage (MV) electricity distribution.
Describing the challenges created by the company's manual attendance system, Donovan Stevens of Actom says, "We were using a manual clock card system which created endless problems in managing our workforce of over 700 people. Our difficulties ranged from various issues relating to buddy clocking, through to disputes about time worked and the extensive admin work that was continuously required to complete our wage calculations.
"To make matters worse, maintaining the manual clocking stations in good order was difficult, expensive and time-consuming."
Accuracy in time management
A number of companies were approached as part of Actom's search for a solution to the recurring costs that were being caused by the clock card system. Jarrison Systems were selected on the basis of its particular expertise in configuring and installing automated time and attendance solutions. Stevens says that Jarrison assisted from the outset by providing advice as to the sort of solution that would best address the challenges Actom was facing in terms of bringing stricter control to the whole issue of time management and reporting.
For Jarrison Systems, it was important to propose a solution that would be particularly strong in its ability to accurately identify all the users at Actom. Jarrison's Jason Matthews says that Morpho fingerprint scanners deliver this ability more effectively than any type of card-based system: "It does not make the slightest bit of difference whether you are using manual clock cards or slightly more modern swipe cards. They are all susceptible to the same level of abuse and can so easily be shared amongst members of the workforce, enabling people to clock for one another."
In a situation like the one at Actom, Matthews stresses the importance of eliminating all the uncertainty around who is actually clocking in and out. He says, "Once we can establish certainty concerning a users' identity, we can then build from there in terms of automating the process of recording all the clocking transactions."
At Actom, this recording is managed on the Jarrison Time software platform that captures time-based data at the Morpho clocking stations. The software also provides attendance data that can be used to provide real-time management information to the system's seven administrators on issues such as absenteeism and latecomers.
Securing support for the solution
Stevens acknowledges the importance of consulting with the Actom workforce concerning the solution and the reasons that motivated its introduction. "The workforce's concerns about the fingerprint-based system and its implications were most effectively addressed by running the new replacement solution for two months in parallel with the old manual system.
"Our people needed to see that this comparatively advanced technology would actually work and that it would work better than the old manual system. For me, gaining support for the new system was one of our most important tasks in ensuring its successful implementation."
According to Stevens, "Jarrison System's system played a vital role in all aspects of the project. It provided us with valuable information and advice in setting up reports that meet our requirements and it completed each phase of the project in keeping with our agreed scheduled on implementation milestones."
Fact file
Sector: Manufacturing in the electrical engineering sector
Scale of project: Enterprise, 700+ personnel
Key elements: Morpho MA500 Fingerprint scanners operating on Jarrison Time management software
Benefits: Highly accurate time management, delivering cost savings across all aspects of T&A
Solution supplier: Access Control & Time and Attendance, Jason Matthews, Jarrison Systems, +27 (0)83 556 9259
Client details
Company: Actom MV Switchgear a division of Actom (Pty) Ltd
Contact person: Donovan Stevens
Business sector: Manufacturing
Tel: +27 (0)11 820 5111
E-mail: [email protected]
Further reading:
Gallagher to showcase new Controller 7000 single door
Technews Publishing Access Control & Identity Management Products
Gallagher will be showcasing its latest access control innovation, the Controller 7000 Single Door on its stand at Intersec Dubai from 17-19 January 2023.
Read more...
---
Smart parking management platform
Access Control & Identity Management Asset Management, EAS, RFID
Parket builds a seamless bridge between supply and the ever-increasing, but fluid – and often temporary – demand for parking bays.
Read more...
---
Visible-light facial recognition terminal
ZKTeco Access Control & Identity Management Products
The SpeedFace-V5L [P] is a visible-light facial recognition terminal using intelligently engineered facial recognition algorithms and the latest computer vision technology.
Read more...
---
Facial and palm verification
ZKTeco Access Control & Identity Management Products
The ProFace X [P] supports both facial and palm verification, with a large capacity and rapid recognition.
Read more...
---
Glide Master High Security 90° Sliding Gate
BoomGate Systems Access Control & Identity Management Products
Boomgate Systems was asked to make a sliding gate that can turn 90 degrees. The gate had to offer high security and be vandal-proof.
Read more...
---
Informing, entertaining and communicating across your landscape
Evolving Management Solutions Access Control & Identity Management
For the first time, the attraction of large shopping malls with many stores, entertainment and food courts no longer offers enough appeal to attract customers.
Read more...
---
Suprema's new BioStation 3
Suprema Access Control & Identity Management Products
The brand new BioStation 3 is not only Suprema's smallest face recognition device to date, but it also comes packed with the largest variety of features.
Read more...
---
Suprema renews international privacy and security standard certifications
Suprema News Access Control & Identity Management
Suprema has simultaneously renewed two important international standard certifications regarding information security management (ISO/IEC 27001) and privacy information management (ISO/IEC 27701).
Read more...
---
Accelerating your Zero Trust journey in manufacturing
IT infrastructure Cyber Security Industrial (Industry)
Francois van Hirtum, CTO of Obscure Technologies, advises manufacturers on a strategic approach to safeguarding their businesses against cyber breaches.
Read more...
---
SuperVision biometric access control
Integrated Solutions Access Control & Identity Management Products
SuperVision is a time & attendance (T&A) biometric access control system Fourier IT has been developing and enhancing for 18 years.
Read more...
---