printer friendly version
Show time
September 2011
News
Welcome to the September issue of Hi-Tech Security Solutions. The second half of the year is a hectic one for us. No sooner have we managed to pull off another successful Retail Risk event (see the review in the next issue in our Retail vertical focus), than we are into the 2011 version of IFSEC SA (you may have seen our preview last month). It looks as if this year's IFSEC is going to be awesome. It is bigger and better than ever before, as is the Hi-Tech Security Solutions' stand, be sure to drop by.
Then, before we can say 'IFSEC is over', it is time for the 2011 iLegal conference where we focus on the legal use of CCTV in fighting crime, and specifically look at the problem of syndicates this year. Those of us at Retail Risk saw footage taken of a retail heist, which was quite traumatic to just view after the fact. iLegal 2011 will examine how to use your CCTV data as an intelligence source that extends your protection proactively.
Finally, we have the new IP Expo in November as well as the return of the BiometriX conference. Quite a handful of conferences that cannot be missed. While IP Expo is not strictly security focused, neither was the Miro IP Conference, but it proved to be one of those events you did not want to miss. It was a must-attend for those involved in IP. We have a short review of it in this issue.
And do not forget our Access and Identity Management Handbook due out in November. It is the ultimate handbook including access and identity issues, trends and case studies showing what real businesses are doing in this space today, from simple T&A through to complex identity management implementations.
Never enough pixels
I would be remiss to miss an opportunity to waffle on about technology, so let me go off on a tangent and mention what some are calling gigapixel photography. I stumbled across some very cool information on Gigapixel Wide Area Surveillance recently (you can find it at www.ipconfigure.com/products/GWAS/index.html). If you thought megapixel or HD was good, or even Arecont's 20 megapixel camera or Dallmeier's Panomera, you have to see what these guys have done with 16 megapixel cameras.
You can also see some gigapixel photography at www.gigapixelphotography.com. The zooming capabilities are amazing. Guess we will have to see if anyone at iLegal 2011 wants to talk about it – and give us one to play with.
Be sure to check out who is who in the world of DVRs and NVRs in this issue.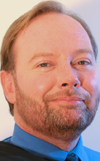 Andrew Seldon
Credit(s)
Further reading:
Spend on cloud to accelerate across Africa in 2023
News
More than two-thirds of companies using cloud computing across major African markets plan to increase their spending on cloud services in 2023.
Read more...
---
ChatGPT's impacts will be social, not technical
News
ChatGPT is truly a remarkable achievement, an artificial intelligence (AI) that you can have a conversation with and ask to do everything from writing essays to coding computer programs.
Read more...
---
Artificial intelligence in Africa: levelling the narrative
News
While AI can benefit multiple industries, in Africa the key sectors that stand to gain are financial services (specifically fintech) and agriculture.
Read more...
---
Improving data security for a hybrid society
News
Researchers from Tokyo University of Science develop a method that can perform computations with encrypted data faster and at a lower cost than conventional methods, while also improving security.
Read more...
---
Cybersecurity in 2023: The latest trends and developments
News
In 2023, experts predict that several trends will shape the cybersecurity landscape, including the growing use of artificial intelligence (AI), the increasing focus on the Internet of Things (IoT), and the rise of quantum computing.
Read more...
---
SAN market set for growth
Technews Publishing News IT infrastructure
Storage-area network (SAN) market to hit US$ 26,86 billion in revenue by the end of 2029 due to factors like widespread adoption of Hybrid SAN-NAS solutions.
Read more...
---
Enterprise threats in 2023
News Cyber Security
Large businesses and government structures should prepare for cybercriminals using media to blackmail organisations, reporting alleged data leaks, and purchasing initial access to previously compromised companies on the darknet.
Read more...
---
Trends in the proptech industry for 2023
News
By mixing real estate with technology to optimise industries, create new ones, and generate efficiencies or capabilities that improve revenue generation, something as fundamental as the concept of parking has been turned on its head.
Read more...
---
31 percent of all IoT SIMs managed with third-party IoT CMPs
News Integrated Solutions
Berg Insight recently released new findings about the market for IoT connectivity management platforms (CMPs), a standard component in the value proposition from mobile operators and IoT MVNOs around the world.
Read more...
---
Off-highway vehicle telematics systems
News
The installed base of off-highway vehicle telematics systems to reach 12.2 million units worldwide by 2026, says Berg Insight.
Read more...
---