printer friendly version
Keeping up with technology
June 2011
News
Hi-Tech Security Solutions recently published an article in which Suprema's biometric algorithm was highlighted as gaining the number one spot by FVC, 'Suprema fingerprint algorithm ranked top in FVC-onGoing' (http://securitysa.com/38772n). As noted in the article, the accolade was awarded in December 2010. Over the past few months, however, the award has been held by other companies, most recently by Union Community, the company behind the algorithms used in the Virdi range of fingerprint biometrics (http://Securitysa.com/38817n). It is also worthwhile noting that the Union Community algorithm is a technically functional algorithm and is used in the Virdi Terminals and template management application, while many of the other submissions are purely academic algorithms and are not suitable to be used in biometric terminals due to their size and the average matching time. Union Community has been awarded the top ranking in 2009, 2010 and 2011.
Letter to the editor
In response to the issue raised by Steve Whitehead from Eavesdropping Detection Solutions in the last issue of Hi-Tech Security Solutions, SpyCatcher responds:
Thank you for your interest in Hi-Tech Security Solution's article 'You Are Big Brother'.
The use of SpyCatcher's range of equipment, covering surveillance, counter-surveillance and personal protection, is governed on two fronts by the laws of South Africa. The first one is the sale of the equipment and the second is in the use of the equipment. SpyCatcher is in control of the first aspect, as in we monitor what equipment we sell and to whom to ensure that they qualify, where appropriate, for the purchase of the equipment.
The second aspect is however out of our control. We are unable and, according to South African law, not required to, have any knowledge of the ultimate use of the equipment purchased.
There are most certainly legal ways of protecting yourself with surveillance and counter surveillance as long as the guidelines are followed. Application and intention are a key part of personal protection.
A high percentage of SpyCatcher's clients are governments, and their purchase and use of the equipment is completely legal due to our compliance with required certifications.
Many of SpyCatcher's customers are abroad, which exempts them from Section 2 of the Regulation of Interception of Communications and Provision of Communication-related Information Act No 70 of 2002 that came into effect on 22 January 2003.
Should a private individual of South Africa be interested in purchasing any of SpyCatcher products, as stated in the original article, we always recommend that they consult a solicitor before committing to the sale.
It is in SpyCatcher's best interests as a retailer/manufacturer to do whatever it takes to abide by the Laws and Regulations.
Best regards,
Etienne Labuschagne, MD SpyCatcher South Africa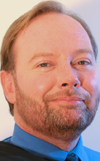 Andrew Seldon, Editor
Credit(s)
Further reading:
Unrecoverable encrypted data
News Cyber Security
Cybersecurity research indicates that 76% of organisations admit to paying ransomware criminals, however, one-third are still unable to recover data.
Read more...
---
Kaspersky invests in development of neuromorphic processors
News IT infrastructure
Neuromorphic processors' field of application is acceleration of the hardware used in the latest generation of artificial intelligence systems, which are based on spiking neural networks (SNN) training, which is more akin to biological interactions.
Read more...
---
Security BIS named AxxonSoft's Distributor of the Year 2021
News CCTV, Surveillance & Remote Monitoring
With its focus on AxxonSoft solutions and technical support, Security BIS secured the title of AxxonSoft Distributor of the Year again for 2021.
Read more...
---
Infinidat enhances channel support
News IT infrastructure
Infinidat drives go-to-market strategy with new global partner portal and expands channel sales with Storage-as-a-Service in ArrowSphere.
Read more...
---
The Handbook of Security's third edition has been published
News
The third edition of the Handbook of Security, edited by Perpetuity Research director Martin Gill, has been published, containing 45 contributions from leading global scholars.
Read more...
---
GJD announces new SMT Machine
News Perimeter Security, Alarms & Intruder Detection
GJD will now be able to complete the manufacture of its products in-house, and thereby significantly decrease the business' carbon footprint while increasing employment opportunities.
Read more...
---
Smart home devices market growing across META
Smart Home Automation News
The Middle East, Turkey, and Africa (META) smart home devices market continues to register significant gains on the back of increasing awareness and improving end user experiences, according to the latest insights from International Data Corporation.
Read more...
---
How to react in an armed robbery or home invasion
Fidelity Services Group Security Services & Risk Management News
How you react when faced with a nervous, gun-toting criminal can save your life, or cost you your life; all family members need to know what to do in such circumstances.
Read more...
---
To be or not to be, is that the objective?
Iris AI Editor's Choice CCTV, Surveillance & Remote Monitoring News
Gerhard Furter joins a discussion on the nature of sentience in artificial intelligence. Do we actually know what sentience is, or are we overestimating our human capabilities?
Read more...
---
From the editor's desk: The last CCTV Handbook
Technews Publishing News
Welcome to the CCTV Handbook 2022, I hope the headline caught your eye. This really is the last CCTV Handbook Hi-Tech Security Solutions will ever produce, but it is not the last handbook about surveillance ...
Read more...
---