printer friendly version
Luxury surveillance
CCTV Handbook 2011 CCTV, Surveillance & Remote Monitoring, Residential Estate (Industry)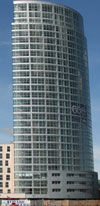 Video monitoring for Ireland's tallest building.
Costing £60 million and measuring 85 metres (265 ft) in height, Obel dominates the Belfast skyline. It has overtaken the previous tallest skyscraper in Ireland, Windsor House (80 m), also in Belfast. Obel was developed by the Karl Group and is located on Donegal Quay on the river Lagan beside the Lagan Weir. The development consists of 282 luxury apartments and this ultra modern construction has two underground car parks and commercial and retail space in development.
Blackbourne Integrated M&E is the electrical and mechanical contractor responsible for all aspects of management of the buildings and facilities at Obel. Building Protection Systems (BPS) based in Belfast is the security installer for the project and specialises in the specification, installation and maintenance of security, video, access, fire and intrusion systems.
"We choose BPS due to our very successful working relationship on many other projects and their professional approach to completing installations on programme," said Conor Cannon at Blackbourne.
Karl Group, the company that owns Obel, has an obligation to provide safe and secure parking for residents. As an exclusive address in the heart of Belfast, residents expect their cars to be monitored and for thieves or vandals to be deterred from any illegal activity. Equally, residents expect the entrance and central lobby area of the tower to be monitored closely to prevent intruders and unwanted guests from entering the building.
For the Obel project, Blackbourne required a cost effective CCTV solution with the capacity to record and store surveillance footage to provide 24/7 video monitoring of the underground car parks and lobby area of the building. Part of the requirement was for the cameras to be vandal resistant and able to withstand the damp environment of the underground car park as it is very close to the river Lagan.
BPS turned to Honeywell to deliver the right product mix for this project.
Honeywell solution
With the requirements clearly defined, Honeywell was able to provide the cost effective solution specified by BPS and Blackbourne. The two underground car parks have been fitted with 21 Honeywell HD4CHX vandal resistant colour mini domes for the following reasons:
* Resistant to attack whilst having an environmentally suitable housing.
* Delivers high quality pictures and resolution.
* Cameras are able to withstand the rigors of the car park environment – damp, cold, moist and low light conditions.
The HD4CHX provides a camera and lens as a single, vandal resistant, compact unit that is easy to install. The rugged scratch-resistant 3,5 mm thick polycarbonate construction can withstand heavy external impacts. In addition, the housing incorporates a new vent that prevents any condensation from forming inside the housing. This innovative camera, with waterproof properties, meets IP66 standards for critical outdoor installations.
Three Honeywell HD3 Series colour mini domes are deployed in the lobby area of the building to monitor people entering the building and lift usage.
The HD3 Series was used for the following reasons:
* Captures clear video and improves recorded video quality when used with a digital recorder.
* Tamper resistant housing protects the camera and cabling.
* Discreet housing.
The HD3 is a camera and lens unit integrated as a one-piece, tamper proof and compact unit that can be surface or flush mounted for fast and easy installation. It is attractive and unobtrusive yet provides a crime-deterring presence around-the-clock with its excellent low light imaging protection.
Two Honeywell 16 Channel 1TB HRDPX Performance digital video recorders (DVRs) have been installed to record and store the video footage from the domes in the car park and the lobby. They are monitored onsite by a dedicated operator. Two Honeywell HMLCD 19x LX monitors have been installed to view the stream of footage collected from the DVRs.
The cost effective HRDPX16 Performance Series DVR offers a high image per second (IPS) recording rate combined with a feature set comparable to many high-end embedded DVRs.
The HRDPX16 supports continuous, event and combined continuous/event recording and is configurable per channel. Upon detection of motion, the HRDPX can automatically boost the images per second recording rate to capture additional details of the scene. This is a vital feature of the DVR in aiding the production of video evidence.
Once video evidence is located on the HRDPX16, the user can save video clips to the PC and/or to portable media such as a USB stick using remote software. For example, if an incident occurs that requires police intervention video evidence is quickly and easily extracted from the DVR. In addition to recording at a rate of up to 400 IPS PAL, the HRDPX16 supports high-end capabilities such as a user-friendly front panel control, mouse operation, infrared remote control, express search to quickly find video evidence, an internal DVD-RW and two USB ports for copying evidence to portable media.
Honeywell's HMLCD19LX LCD monitor is designed specifically for the security industry to provide high-resolution display of computer signals and/or composite video. Because they consume less power, generate less heat and last longer than conventional CRT monitors, LCD monitors are more cost-effective over long-term use.
This was a trouble-free installation for BPS. Importantly, it met the client's exact requirements and specifications and was delivered within the agreed timescales.
A successful video monitoring system should provide the following:
* Peace of mind for the tenants.
* 24 hour surveillance of the building and car park.
* Secure environment to live in.
* Products which are fit for purpose.
For more information contact Nick Honess, Honeywell Systems Group, +44 1928 754023, nick.honess@honeywell.com
Credit(s)
Further reading:
Drones and cybersecurity?
October 2019 , CCTV, Surveillance & Remote Monitoring
Hacker drones can eavesdrop electronically on conversations, can perform network attacks, or can create fake wireless access points.
Read more...
---
2020 Residential Estate Security Conference in KZN
October 2019, Technews Publishing , News, Residential Estate (Industry)
Meeting the residential security challenges in 2020 and beyond: Hi-Tech Security Solutions will host the Residential Estate Security Conference 2020 in Durban on 12 March 2020.
Read more...
---
Body-worn cameras transforming security
October 2019 , CCTV, Surveillance & Remote Monitoring, Security Services & Risk Management
Police Service Northern Ireland now has over 7 000 officers using 2 500 cameras covering approximately 173 000 incidents each year.
Read more...
---
Camera Selection Guide 2019
CCTV Handbook 2019 , CCTV, Surveillance & Remote Monitoring
The Camera Selection Guide 2019 includes a range of IP, analogue, thermal and speciality cameras aimed at a broad range of surveillance functions.
Read more...
---
Intelligent analytics and the brains to match
September 2019, Bosch Building Technologies , CCTV, Surveillance & Remote Monitoring, Integrated Solutions
What if the brains behind our security cameras could be trained to improve their cognitive ability to pay attention, learn, and problem-solve according to specific rules and situations?
Read more...
---
AI-powered autonomous Drone-in-a-Box
September 2019 , CCTV, Surveillance & Remote Monitoring, Integrated Solutions
Organisations in the mining, energy and industrial, oil and gas, ports and terminals sectors can optimise security and business operations, whilst reducing risks and operational costs
Read more...
---
Cybersecurity for video surveillance systems
September 2019, Mobotix , Cyber Security, CCTV, Surveillance & Remote Monitoring
Video surveillance systems are increasingly accessible over any IP network, which has led to the rise of potential cyberattack.
Read more...
---
What are the cybersecurity issues in video surveillance?
November 2019, Axis Communications SA , Editor's Choice, CCTV, Surveillance & Remote Monitoring, Cyber Security
he importance of the data captured by surveillance cameras – and what can be done with it – has led to a new breed of cybercriminals, looking for insights to steal and sell.
Read more...
---
The safe city and its need for interoperability
November 2019 , Integrated Solutions, CCTV, Surveillance & Remote Monitoring
Interoperability continues to present one of the greatest challenges, particularly with video management systems, video recording devices and cameras.
Read more...
---
A platform approach to safer and smarter cities
November 2019, Milestone Systems , CCTV, Surveillance & Remote Monitoring
Selecting the right platform to manage the vast data collected from smart and safe cities is critical to the ultimate success of the project.
Read more...
---