printer friendly version
An eye on the track
CCTV Handbook 2011 CCTV, Surveillance & Remote Monitoring, Entertainment and Hospitality (Industry)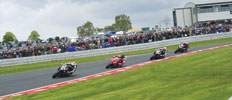 IP video solution installed at Oulton Park racetrack to enhance site operations.
Tyco Security Products has announced that American Dynamics video products, including the new victor unified video solution have been installed at Oulton Park racetrack, UK. Tyco Security Products partners, Total Security Protection and WOT Security Group installed the video solution.
Oulton Park is one of the UK's leading motorsport circuits and is owned and operated by MotorSport Vision (MSV). To enhance operations at the venue, Oulton Park required a flexible, highly resilient video solution that could enhance operations in the racetrack control room.
"Tyco is delighted to have been awarded the contract to supply Oulton Park with a leading video solution," said Phil Dashey, VP and GM EMEA, Tyco Security Products. "American Dynamics video products have been installed throughout Oulton Park to increase the visibility of the race in the control tower, as well as to monitor the safety of racers. The project marks the first installation in the UK of the new American Dynamics victor unified video solution."
victor is a unified interface that will enable Oulton Park to view, manage and control American Dynamics NVRs and associated fixed and PTZ (pan tilt zoom) IP cameras. Footage and alarms from both fixed Illustra 400 IP cameras and IP SpeedDome PTZ cameras, will be centrally managed all from one intuitive software client. The victor client's flexibility lets Oulton Park create customisable layouts that exactly match the tasks performed each day. Without victor, Oulton Park control room would have endless plasmas for each monitored camera, which would create space problems and operational inefficiencies.
The American Dynamics Illustra range of IP cameras has one of the most powerful sensor-processor combinations available on the market. With outdoor vandal resistant cameras installed throughout the track, operational enhancements include:
* Control tower has enhanced visibility of the race so that in the event of accidents response times can be improved.
* Extra visibility in control tower will aid race marshals in raising alert FLAGS during the competition. Improved visibility will therefore increase track safety and reduce racing delays.
* American Dynamics ControlCenter 1100 keyboard has been installed which offers advanced control and programming of cameras in the control tower. Featuring a three-axis joystick, system operators are provided with a precise one-handed control of camera pan/tilt/zoom functions.
* Cameras installed will protect against theft of motor vehicles that are parked at the Oulton Park race track at night.
* Video clips can be reported on and exported for future analysis after races.
Simon Bonser, Oulton Park circuit manager, added: "We are delighted to have a brand new, state-of-the-art CCTV system now operational at Oulton Park. It is a great asset that allows both MSV and the race clubs that hire our venue the ability to manage the circuit with even more efficiency, and with optimum safety. We have been really impressed by Tyco Security Products' solutions and they have delivered an outstanding service, successfully completing the work on schedule and in time for our first race meeting of the year."
For more information contact Tyco Security Products, +27 (0)82 566 5274, emallett@tycoint.com, www.tycoacvs.com
Credit(s)
Further reading:
Drones and cybersecurity?
October 2019 , CCTV, Surveillance & Remote Monitoring
Hacker drones can eavesdrop electronically on conversations, can perform network attacks, or can create fake wireless access points.
Read more...
---
Body-worn cameras transforming security
October 2019 , CCTV, Surveillance & Remote Monitoring, Security Services & Risk Management
Police Service Northern Ireland now has over 7 000 officers using 2 500 cameras covering approximately 173 000 incidents each year.
Read more...
---
Camera Selection Guide 2019
CCTV Handbook 2019 , CCTV, Surveillance & Remote Monitoring
The Camera Selection Guide 2019 includes a range of IP, analogue, thermal and speciality cameras aimed at a broad range of surveillance functions.
Read more...
---
Intelligent analytics and the brains to match
September 2019, Bosch Building Technologies , CCTV, Surveillance & Remote Monitoring, Integrated Solutions
What if the brains behind our security cameras could be trained to improve their cognitive ability to pay attention, learn, and problem-solve according to specific rules and situations?
Read more...
---
AI-powered autonomous Drone-in-a-Box
September 2019 , CCTV, Surveillance & Remote Monitoring, Integrated Solutions
Organisations in the mining, energy and industrial, oil and gas, ports and terminals sectors can optimise security and business operations, whilst reducing risks and operational costs
Read more...
---
Cybersecurity for video surveillance systems
September 2019, Mobotix , Cyber Security, CCTV, Surveillance & Remote Monitoring
Video surveillance systems are increasingly accessible over any IP network, which has led to the rise of potential cyberattack.
Read more...
---
What are the cybersecurity issues in video surveillance?
November 2019, Axis Communications SA , Editor's Choice, CCTV, Surveillance & Remote Monitoring, Cyber Security
he importance of the data captured by surveillance cameras – and what can be done with it – has led to a new breed of cybercriminals, looking for insights to steal and sell.
Read more...
---
The safe city and its need for interoperability
November 2019 , Integrated Solutions, CCTV, Surveillance & Remote Monitoring
Interoperability continues to present one of the greatest challenges, particularly with video management systems, video recording devices and cameras.
Read more...
---
A platform approach to safer and smarter cities
November 2019, Milestone Systems , CCTV, Surveillance & Remote Monitoring
Selecting the right platform to manage the vast data collected from smart and safe cities is critical to the ultimate success of the project.
Read more...
---
Creating safe cities with smart technology
November 2019, Secutel Technologies , CCTV, Surveillance & Remote Monitoring
In a digital age, where resilience and responsiveness are paramount to fighting crime and creating a safer world, CCTV systems are becoming part of every city's infrastructure.
Read more...
---