printer friendly version
Surveillance by the sea
April 2011 CCTV, Surveillance & Remote Monitoring, CCTV, Surveillance & Remote Monitoring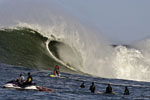 Coastalwatch technology safeguards shorelines and popular beaches with hosted Milestone Video.
When you picture some of the world's most beautiful beaches, you are no doubt envisioning long, curving expanses of white sand, clear blue waters and the sound of rolling waves and warm gentle breezes rustling through the palm trees overhead. What may be missing from your mental scenario are the hidden dangers – powerful currents capable of sweeping an unassuming swimmer or surfer out to sea, or massive waves that can wreak havoc on everything in their path, not to mention dangers caused by the slower erosion of coastlines and other environmental hazards affecting humans and animals.
Born from its founders' love of nature and seeking to provide fellow surfers with real-time wave and water conditions, Coastalwatch is an innovative Australian company that has the world's coastlines under its high-tech eyes with networks of private and publicly owned surveillance cameras. Employing a set of sophisticated analytics they have developed themselves, Coastalwatch services international surf life saving and coastal management needs by delivering live and recorded video and information on beaches around the globe via its CoastalCOMS division. CoastalCOMS monitors several beaches along Australia's Gold Coast, as well as coastal areas in western and southern US, Hawaii, and Denmark.
Integrated solutions using the Milestone SDK
As a main component of the CoastalCOMS monitoring platform, the company is using Milestone XProtect video management software to provide live video surveillance and critical real-time data to marine safety and coastal management officials. CoastalCOMS' analytics software and multinational network of hosted coastal cameras are also used for the collection of real-time beach and surf-zone data, such as wave height and wave period analysis, vessel monitoring and counting, people counting on beaches, as well as tracking changes in the shoreline and general beach state.
With access to over a hundred Coastalwatch-owned cameras on the ground in Australia and many more private or municipally owned cameras in the US and abroad, CoastalCOMS uses XProtect to centrally view and control cameras globally, layering in the ability to extract data for environmental monitoring, public education, tourism and recreational usage.
"XProtect software allows us to create networks of coastal cameras on the fly, patterning and sourcing video from both new and existing beach cameras according to each customer's needs. We then process the video in real-time for different groups based on their reporting needs and workflows," says Tim Chandler, president/CEO of CoastalCOMS. "Integrated into our solution using the Milestone SDK, XProtect makes it possible for us to efficiently source video, then provision access to the video and cameras so only the right people can view the video and information at the right times."
With the XProtect API, CoastalCOMS-enabled cameras can automatically re-position themselves based on alerts from external sensors or data feeds, such as a status change in an emergency management system, a weather service warning or alert, or a measured change that happens in front of the camera.
"By integrating external sensors and data feeds into our core platform, we do not even have to press a button to drive cameras based on environmental change," Chandler adds. "This provides our customers with unprecedented abilities to gather information and images to better understand conditions and coordinate responses in changing beach environments around the world."
People counting, wave measurements and shoreline changes
Different combinations of the imagery and information are used by such customers as the City and County of Honolulu Hawaii's Ocean Safety Division, where CoastalCOMS assists surf lifeguards with hosted surveillance platforms capable of wave height analysis and people counting. The City of Galveston, Texas, also chose CoastalCOMS for surveillance of remote beaches because it increased the ability to measure the amount of shoreline change as a result of hurricanes.
Video streams from a CoastalCOMS camera network being used by Surf Life Saving Queensland are also available to the public on Coastalwatch.com, which provides live video images, wave height and swell information, daily surf reports and other news to the international surfing community. When authorities need to take manual control of the cameras during a lifesaving incident, integration with CoastalCOMS XProtect solution allows the live images and HD video on the media site to be cut off and replaced with other media content so as not to broadcast the command and control activities of lifesavers and marine safety to the public.
Coastalwatch uses mostly Sony cameras in their own network and the networks they install for clients. Their current solutions include a blend of Sony RZ25s with SNTEX101s in place, a huge install base of Sony RZ50s, and a growing number of the newer HD lines including the SNCRH164 HD domes and the bullet style SNCCH180 HD cams. Coastalwatch has been a Sony partner for years in Asia/Pacific/Australia working with Sony engineering out of Japan.
"We can attest to how great the Sony optics and imaging are, as well as to the importance of their PTZ cameras' 'return-to-preset' accuracies and overall encoding abilities for what we do," Chandler reports.
Watching earth via the cloud
The company is now scheduling cameras and reading video for processing directly from the Milestone database through integration with the CoastalCOMS cloud platform.
"We rely 100% on the economies and extensibility of cloud computing, and I believe our experience operating Milestone in the Amazon cloud is a key differentiating factor for us in the surveillance marketplace. Using our hosted platform, we have deployed 3G/4G mobile surveillance units with Hawaiian guards, using a Sony SNC RZ50N camera that automatically reports to the cloud when turned on, notifying lifeguards and IT support when the cameras are deployed on the beach. Notably, this unit also has a VoIP loud hailer for communication of warnings to the beach-going public. The fact that these units are movable means cameras can be deployed when and where they are needed, automatically giving remote eyes to lifeguards in areas of concern via our hosted Milestone XProtect platforms," explains Chandler.
Surf Life Saving Denmark last year installed a high definition CoastalCOMS camera at Hvide Sande Beach in West Denmark as a pilot project. The HD camera is in use to support lifesaving efforts by providing decision support at this busy German tourist destination. The video from this system is managed via the CoastalCOMS hosted Milestone cloud presence in the UK, and can be serviced jointly by both US and Australian offices. Since most of the infrastructure normally deployed on location is instead deployed in the cloud, the only resource they need in Denmark for this solution is a local person for simple break fixes on the field hardware. The added abilities of CoastalCOMS' wave and environmental data processing for the lifesavers will be useful for both public safety and tourism. 
Specifically designed to capture information about the powerful and unpredictable ocean environment, CoastalCOMS analytics dynamically measure individual waves as well as periods of wave movement, examining the shore and waterlines to determine the areas of change and identify hazards.
"Rips based on the dynamic changes in coastal environments, and rips are a major cause of death by drowning. Monitoring beaches and proactively identifying dangerous conditions helps first responders identify hazards and manage risk on remote, public beaches," concludes Chandler.
For more information contact Milestone Systems, +45 88 300 300, cdp@milestonesys.com, www.milestonesys.com
Further reading:
Milestone partners prove their skills
August 2019, Milestone Systems , News, CCTV, Surveillance & Remote Monitoring, Training & Education
Within the span of one week in mid-May, the Milestone Learning & Performance group celebrated important benchmarks: 200 000 course registrations and tutorial views, and 10 000 certifications.
Read more...
---
ONVIF Hosts 20th Developers' Plugfest
August 2019 , News, CCTV, Surveillance & Remote Monitoring
ONVIF, the global standardisation initiative for IP-based physical security products, hosted its twentieth ONVIF Developers' Plugfest in early June in Tokyo.
Read more...
---
Licence plate recognition camera
August 2019 , Products, CCTV, Surveillance & Remote Monitoring
VIVOTEK has introduced a new licence plate recognition camera featuring built-in licence plate recognition software and edge-computing capability.
Read more...
---
Securing Savannah Hills Estate
August 2019, Rhyco Risk Projects , CCTV, Surveillance & Remote Monitoring, Perimeter Security, Alarms & Intruder Detection
Savannah Hills Estate in Midrand planned a security upgrade which was awarded to Rhyco Risk Projects. The project started in March 2019 and was completed in May 2019.
Read more...
---
10 things to consider when shopping for a VMS
August 2019, Genetec , CCTV, Surveillance & Remote Monitoring, Integrated Solutions
Today's video management systems (VMS) provide a wide range of tools and capabilities that help make security personnel more efficient by allowing them to focus on what really matters.
Read more...
---
How far are we really at with artificial intelligence?
August 2019, Axis Communications SA , Editor's Choice, CCTV, Surveillance & Remote Monitoring, IT infrastructure, Residential Estate (Industry)
Justin Ludik unpacks exactly how far AI has come and what it potentially can do for society and more importantly, surveillance.
Read more...
---
Enhancing security with AI
August 2019, Hikvision South Africa , CCTV, Surveillance & Remote Monitoring
Hikvision explains how residential estates can revolutionise their security strategies and outcomes with artificial intelligence.
Read more...
---
More than simply a camera
August 2019, Forbatt SA, Secutel Technologies , CCTV, Surveillance & Remote Monitoring, Residential Estate (Industry)
With the human element being the weakest link in all security solutions, Hi-Tech Security Solutions looks at the pros and cons of using body-worn cameras in estates.
Read more...
---
The importance of effective perimeter security
August 2019, Elf Rentals - Electronic Security Solutions, Stafix , Editor's Choice, CCTV, Surveillance & Remote Monitoring, Residential Estate (Industry)
Protecting the perimeter is critical for any residential estate; how does one go about making sure your perimeter is as secure as possible?
Read more...
---
Security playing speedcop
August 2019, Axis Communications SA, Hikvision South Africa , CCTV, Surveillance & Remote Monitoring, Residential Estate (Industry)
Estates now have a legal precedent to manage their traffic and fine people in the estate for violations of the rules; all they need do is find solutions that will support them.
Read more...
---