printer friendly version
Identification problems solved with Sony
CCTV Handbook 2011
CCTV, Surveillance & Remote Monitoring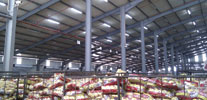 Big brother is watching you snack.
When Truda Snacks moved to its new building, top of mind was the installation of an adequate security system.
"The company had experienced a number of unpleasant incidents at its previous premises where it needed to identify individuals and was not able to," said Kris Venketas of Security Unlimited.
The owner of the Truda Snacks undertook his own research on CCTV cameras available on the market. This included determining what specific features were most suited to the Truda Snacks environment then adjudging demonstrations of each brand in a live situation. One of the factors that he cited as of primary concern was superb clarity on all footage and number plate recognition as these had been stumbling blocks in the past.
"After testing the Sony brand he was instantly sold on the quality of image production and promptly signed the contract to purchase 32 high-definition cameras," said Venketas.
Security Unlimited assumed the project management role from conceptualisation through to design to installation. The cameras were supplied by Norbain and installation was carried out over a three-month period. Security Unlimited and PMB Digital offer Truda Snacks a 24-hour call-out service with an ongoing maintenance contract.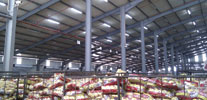 Venketas explained that the 32 HD cameras run on 8-core multimode fibre, with five SFP fibre switches. The furthest switch is 1 km away and the system uses Real Shot Manager Professional software.
Venketas said that, with hindsight, they would have run more fibre. "We now need to link a new building to the server so we have had to run a separate fibre link, which serves its purpose, but we would have preferred both buildings to be on the same link."
Venketas added that it is important to undertake a proper site evaluation and do on-site demonstrations with customers to ensure that all critical monitoring areas are adequately covered and all security requirements are met.
He also pointed out that companies should ensure that they always have built-in system redundancy. "We actually ran 8 core fibre cables when the installation only called for 2 core fibre cable. In addition, we ran 2 CAT6 cables at the main hub to counter against the possibility of cable loss or tampering."
Truda Snacks' owner is extremely pleased with the success of his system and said that it has far exceeded his expectations. "Sony is by far the best camera we have used and has revolutionised the way people look at systems in high definition," Venketas concluded.
For more information contact Norbain SA, +27 (0)11 887 1546, [email protected], www.norbain.co.za
Credit(s)
Further reading:
Turkish university installs IDIS surveillance
CCTV, Surveillance & Remote Monitoring Products
IDIS video streamlines complex surveillance systems for learning institution, upgrading a 350-camera system with 24/7 control room monitoring to transform security for Social Sciences University of Ankara (ASBU).
Read more...
---
Brighter, greener, and smarter
Dahua Technology South Africa Products CCTV, Surveillance & Remote Monitoring
Dahua Technology released its new Dahua CH II Series Indoor Fine Pixel Pitch LED display, providing visual clarity and promoting energy efficiency and sustainability.
Read more...
---
Smart water management
Axis Communications SA CCTV, Surveillance & Remote Monitoring Integrated Solutions
South Africa is currently facing a water crisis, with scarcity and inefficient water management posing significant challenges to sustainable, consistent access to water. Smart technology and powerful partnerships may offer a proactive solution to SA's water crisis.
Read more...
---
Helping retailers optimise monitoring and security
Guardian Eye Retail (Industry) CCTV, Surveillance & Remote Monitoring
From a smart retail perspective, it is crucial to understand that monitoring stock and other assets through camera surveillance and a variety of Internet of Things (IoT) sensors stretches further than the stores themselves.
Read more...
---
Empowering Istanbul's public transportation
Dahua Technology South Africa CCTV, Surveillance & Remote Monitoring Integrated Solutions
Dahua's intelligent transportation solution, using technologies like DSM and AI-based passenger flow counting, has facilitated an intelligent system upgrade for nearly 6 400 minibuses and electric buses in Istanbul.
Read more...
---
Smart manufacturing redefined
Hikvision South Africa CCTV, Surveillance & Remote Monitoring Industrial (Industry)
AI and intuitive visualisation technology allows managers to monitor manufacturing sites, production, and operational processes, and to respond in real time in the event of an issue – helping to drive efficiency and productivity.
Read more...
---
AI is getting smarter, and critical infrastructure is set to benefit
Axis Communications SA CCTV, Surveillance & Remote Monitoring
With technology advancing at an astonishing pace, AI has emerged as a defining trend in today's business arena. Enterprises across all sectors are prioritising this technology, embracing its transformative potential to drive change and growth.
Read more...
---
Collaboration delivers integrated and holistic security
Guardian Eye CCTV, Surveillance & Remote Monitoring News Integrated Solutions
Guardian Eye and Lytehouse have partnered to integrate their speciality solutions and provide a holistic security offering that overcomes the fragmentation of security systems and services.
Read more...
---
Manage security systems remotely
Hikvision South Africa CCTV, Surveillance & Remote Monitoring IT infrastructure Products
Hikvision launched a new generation of smart managed switches that, in conjunction with the Hik-Partner Pro mobile app, enable installers to remotely deploy and configure security systems with comprehensive operation and maintenance capabilities.
Read more...
---
Synology enhances functions for advanced surveillance integration
Technews Publishing CCTV, Surveillance & Remote Monitoring IT infrastructure Products
With the capability to function as both an API client and server, Surveillance Station offers a versatile platform for integration, whether it's embedding video streams into other platforms or overlaying external data onto recorded video.
Read more...
---