printer friendly version
Illumination quality (IQ) test
CCTV Handbook 2011
CCTV, Surveillance & Remote Monitoring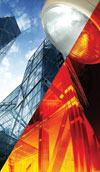 Lighting is a critical aspect of surveillance.
Run through this quick 10-point check every time you specify or install a CCTV system.
1. Is white-light or infrared illumination required?

2. Ensure the horizontal angle of illumination covers the full field of view
To provide high quality images is essential. Simply match the illumination to the field of view of the lens using a lens calculator.
3. What is the maximum distance to illuminate?
Specify the illuminator model based on the illumination angle and distance required.
4. If white-light is needed, ensure that colour corrected white-light is used.
Check that red, green and blue colours can all be seen accurately during night-time operation.
5. If Infrared is needed specify the wavelength carefully.
Lower wavelengths such as 850 nm provide greater distances. Longer wavelengths such as 950 nm provide covert illumination but achievable distances are reduced and there is an increased risk of focus shift between day and night.
6. Consider the maintenance and running costs of the illumination system.
Ensure that long life, low consumption lighting is used.
7. Consider the positioning of the lighting.
It should be fitted so that no camera is looking directly at a light source. The best solution is mounting the illumination at the camera position. Also, consider any line of sight obstacles. As light travels in straight lines, any obstacles such as overgrown foliage will create shadows.
8. Consider the camera and lens.
A high performance camera and lens will provide higher quality images with CCTV lighting. Lower performance camera and lens combinations will require additional lighting to provide similar results.
9. If the illumination is being used with a fully functional dome camera then a choice must be made between wide angle illumination, local area illumination or target area illumination.
Wide-angle illumination is preferential as it can provide 360° lighting for the dome.
10. Is light pollution a critical factor?
Using white-light ensure that the illuminators are pointing down to minimise light pollution. If no light pollution is permissible then infrared lighting must be used.
Technical Tip
If the exact field of view is unknown, adaptive illumination products can be used to provide vari-focal lighting.
Technical Tip
Even illumination – every CCTV lighting system should provide even illumination.
For more information contact Geutebrück, +27(0)11 867 6585, [email protected], www.geutebruck.com
Further reading:
Turkish university installs IDIS surveillance
CCTV, Surveillance & Remote Monitoring Products
IDIS video streamlines complex surveillance systems for learning institution, upgrading a 350-camera system with 24/7 control room monitoring to transform security for Social Sciences University of Ankara (ASBU).
Read more...
---
Brighter, greener, and smarter
Dahua Technology South Africa Products CCTV, Surveillance & Remote Monitoring
Dahua Technology released its new Dahua CH II Series Indoor Fine Pixel Pitch LED display, providing visual clarity and promoting energy efficiency and sustainability.
Read more...
---
Smart water management
Axis Communications SA CCTV, Surveillance & Remote Monitoring Integrated Solutions
South Africa is currently facing a water crisis, with scarcity and inefficient water management posing significant challenges to sustainable, consistent access to water. Smart technology and powerful partnerships may offer a proactive solution to SA's water crisis.
Read more...
---
Helping retailers optimise monitoring and security
Guardian Eye Retail (Industry) CCTV, Surveillance & Remote Monitoring
From a smart retail perspective, it is crucial to understand that monitoring stock and other assets through camera surveillance and a variety of Internet of Things (IoT) sensors stretches further than the stores themselves.
Read more...
---
Empowering Istanbul's public transportation
Dahua Technology South Africa CCTV, Surveillance & Remote Monitoring Integrated Solutions
Dahua's intelligent transportation solution, using technologies like DSM and AI-based passenger flow counting, has facilitated an intelligent system upgrade for nearly 6 400 minibuses and electric buses in Istanbul.
Read more...
---
Smart manufacturing redefined
Hikvision South Africa CCTV, Surveillance & Remote Monitoring Industrial (Industry)
AI and intuitive visualisation technology allows managers to monitor manufacturing sites, production, and operational processes, and to respond in real time in the event of an issue – helping to drive efficiency and productivity.
Read more...
---
AI is getting smarter, and critical infrastructure is set to benefit
Axis Communications SA CCTV, Surveillance & Remote Monitoring
With technology advancing at an astonishing pace, AI has emerged as a defining trend in today's business arena. Enterprises across all sectors are prioritising this technology, embracing its transformative potential to drive change and growth.
Read more...
---
Collaboration delivers integrated and holistic security
Guardian Eye CCTV, Surveillance & Remote Monitoring News Integrated Solutions
Guardian Eye and Lytehouse have partnered to integrate their speciality solutions and provide a holistic security offering that overcomes the fragmentation of security systems and services.
Read more...
---
Manage security systems remotely
Hikvision South Africa CCTV, Surveillance & Remote Monitoring IT infrastructure Products
Hikvision launched a new generation of smart managed switches that, in conjunction with the Hik-Partner Pro mobile app, enable installers to remotely deploy and configure security systems with comprehensive operation and maintenance capabilities.
Read more...
---
Synology enhances functions for advanced surveillance integration
Technews Publishing CCTV, Surveillance & Remote Monitoring IT infrastructure Products
With the capability to function as both an API client and server, Surveillance Station offers a versatile platform for integration, whether it's embedding video streams into other platforms or overlaying external data onto recorded video.
Read more...
---