printer friendly version
Hybrid eases migration woes
CCTV Handbook 2011
CCTV, Surveillance & Remote Monitoring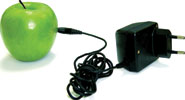 IP is coming. You will be assimilated, slowly.
Hi-Tech Security Solutions: What is hybrid technology and how does it fit into today's security infrastructure?
Jaco Liebetrau, Bosch Security Systems, sub-Saharan Africa: A hybrid CCTV system can record and display IP and analogue cameras into the same security recorder. This makes it possible to take full advantage of advanced features like video analytics, event controlled functionality, megapixel resolution and expansion via the existing LAN network, while also connecting standard analogue (aging technology) CCTV cameras.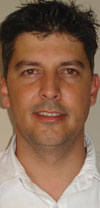 Jaco Liebetrau
Ernest Mallett, Tyco Security Products: The HDVR from American Dynamics provides seamless integration and recording of both analogue and IP video surveillance cameras on an enterprise-class chassis. This is a great way to protect your analogue camera investment while you consider either transitioning to IP cameras, or enjoy the benefits of a mixed environment.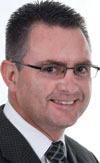 Ernest Mallet
Catherine Maurel, UTC (GE): IP is the future. We will all change to IP eventually, but currently it is still a growing concept. Hybrid is a future-proof solution. Once-off changeover from analogue to IP can have huge cost implications, if you have already invested in analogue and wish to add on to the existing installation, hybrid is the solution to start moving over to IP.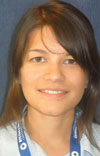 Catherine Maurel
Johan Crause, Elvey Security Technologies: Hybrid technology combines the benefits of IP and analogue technology. Hybrid technology has been in the security industry for quite some time and has appealed to companies that are looking to upgrade their infrastructure to an IP-based backbone, but not at the expense of having to replace all the cameras that have been purchased and are still functioning properly.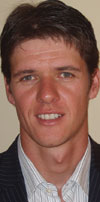 Johan Crause
Brendon Hall, Pentagon Distribution: Hybrid technology is simply providing a solution to bridge the gap between existing analogue CCTV systems and new IP technology. It allows for older and existing systems/infrastructure to be utilised while adding on to and slowly replacing the outdated/redundant equipment.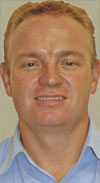 Brendon Hall
John Loftus, Norbain SA: For many years, analogue CCTV systems have been the only video surveillance option in the market. It is only in recent years that video surveillance has become digitised and equipped with many benefits that analogue could not provide. Hybrid technology means the ability to use existing analogue video and IP in one solution. In simple terms, it means that customers do not have to rip out and replace older analogue technologies in favour of newer IP solutions, but can rather use hybrid technology to bring these two worlds together.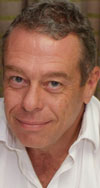 John Loftus
HSS: When is hybrid technology the solution of choice?
Jaco Liebetrau: When is a hybrid CCTV system feasible?
* Do you currently have an existing analogue (all cameras that are still wired back to DVR or VCR via coaxial cable) CCTV system installed at your premises?
* Do you need to upgrade or expand your current system?
* Would you like to invest into something future proof and not into an aging, soon out of date technology, avoiding repetitive investments in the near future?
* Would you like to invest into a state-of-the-art system, but not abandon the current system completely, not rendering it a bad investment?
Then hybrid solutions are for you.
Ernest Mallett: If the budget allows for it then you can switch to IP, this is rarely the case as a complete re-installation is required. This includes cameras, cable infrastructure, network switches and recorders. Hybrid is therefore perfect because only the recorder needs replacing.
Catherine Maurel: Again, there is a cost implication. A full changeover might be simpler, but the cost implications, specifically on large projects can be huge. Hybrid is the answer to gradually transition from analogue to IP if you do not want to replace existing equipment immediately.
Johan Crause: Hybrid technology is most advantageous in existing installations with analogue configurations. The most important factor besides the technology feature is that hybrid is relatively inexpensive in comparison to a full-blown IP system. Thus it enables a business to functionally change to an IP backbone, but still retain the cameras that are not damaged and that can be used. The cost of an IP camera also plays a big role. In some cases, these cameras can be up to 500% more costly.
Brendon Hall: Hybrid systems generally are a choice when faced with feature rich products and options of IP, but a lack of budget or sizeable existing infrastructure and a migration away from analogue and legacy equipment/systems.
John Loftus: If a customer has an existing analogue system installed and expansion of this system is planned, then using hybrid technology makes sense. Furthermore, customers who do not want to replace an existing CCTV system can achieve the same results by using a hybrid solution. Today, with the availability of IP-based video security systems, users can now enjoy many advantages when compared to the traditional analogue systems: higher resolution, greater intelligence and easier, more flexible installation.
HSS: Does hybrid technology not mean more complexity and more things that can go wrong, and more technical skills required?
Jaco Liebetrau: With its embedded operating system the Bosch 700 Series works right out of the box. There are no patches to install and/or anti-virus software to upgrade. It is easy to setup, automatically detecting and configuring connected IP cameras.
Ernest Mallett: Not in our case, our HDVR is built on an enterprise platform. It is easy to use with a simple intuitive interface.
Catherine Maurel: Of course there are different skill sets required for analogue and IP solutions. However, manufacturers focus on developing products that are user-friendly and also simplify configuration and trouble-shooting. More complex technology automatically translates into more skills required to troubleshoot, however, the functionalities you gain justify the extra effort.
Johan Crause: With most new technology, it does require an updated skill set. That does not mean that the functional tools are not the same, they are and in some cases enhance the product and benefit the customer. Also, with most of these integration platforms the IP background already exists and thus it means a natural progression to this technology.
Brendon Hall: No, generally hybrid systems would be seen to be just as stable as any IP system. Hybrid systems are necessary and have their place in the market as the bridge between the two technologies.
John Loftus: Not necessarily, as long as a business knows where it wants to take the system and what features should be retained from the current system, a well-designed migrated upgrade path should work out well when designed correctly. This offers a great result, rich in performance, features, and effortless to operate.
HSS: What are the important aspects to note when considering hybrid?
Jaco Liebetrau: If you are looking for a high quality and highly scalable video management solution that can be easily expanded to support multiple locations and large numbers of cameras, while returning a low total cost of ownership.
Ernest Mallett: Flexibility, make sure that it is firstly an effective recording device for your analogue replacement; secondly, do not be tied into using a hybrid unit that does not support cameras from many different vendors. This is important as not all brands offer a complete solution. HDVR currently also support all the popular compression technologies.
Catherine Maurel: Identify the client's real needs. Are the IP functionalities, such as network streaming, sharing of information something that you really need? If that is the case, you can start your migration towards the IP world. In a case such as a standalone warehouse that has to be supervised, one could ask if IP is really necessary, especially because of the cost implications. Also, traditional analogue installers will have to up-skill on routers, switchers, IP addressing, etc.
Johan Crause: The current age of product. If a camera is older than five years, it is recommended that you replace the camera. In that case, it would be beneficial for you to consider going directly into IP or to choose a hybrid system.
John Loftus: Hybrid technology is about bringing the outdated use of analogue closer to the digitised world of IP. It allows companies to make better use of their analogue CCTV systems without having to completely replace them when considering adding on IP cameras. For example, if a customer needs the flexibility of an IP-based video surveillance system but already has the analogue CCTV system in place, what is the best solution? The perfect situation is to start your migration to IP without throwing away your analogue systems.
How? The answer is to adopt a hybrid platform such as those offered by Sony. By integrating the old and new cameras in a hybrid platform, you can protect your existing investments whilst ensuring fewer false alarms, more efficient monitoring and clearer imagery.
HSS: Surely hybrid is a technology with a limited lifespan, as companies will make the switch to IP in the short term?
Jaco Liebetrau: The world of CCTV is changing; IP is replacing the analogue standard in many areas. The secret is to have a flexible solution that can adapt to the changing environment, hence the hybrid offering.
Ernest Mallett: No, the HDVR is built on an enterprise platform, it therefore lives up to the requirements of most companies. Many companies depreciate assets over four to five years; the HDVR will therefore be a product of choice as replacement to traditional DVRs.
Catherine Maurel: The lifespan of hybrid technology will be mainly region dependent. Contributing factors are network infrastructure expansion and installed base. In regions where bandwidth and network throughput increase, IP solutions will take preference. On the other hand, in regions where analogue cameras are already widely used, it might take longer to switch over all analogue cameras to IP.
Johan Crause: In most cases this is correct, but a limited lifespan is approximately 10 years, which by no means indicates that it is a short-term product. This product is specifically there to facilitate upgrades more cost effectively and introduce IP in a very disciplined manner. The eventuality is that it will be replaced, but in the medium term, not in the short term. With this option, it provides businesses with the ability to learn and not throw a company in the proverbial deep end.
Brendon Hall: Hybrid is a term and as long as any two or more technologies need to be integrated into one system, it will be necessary.
John Loftus: Hybrid technology offers a bridge for clients who do not wish to lose out on an existing investment. There is no indication as to how long analogue technology will continue to dominate the market, and systems offering clients best of both worlds, will certainly have a strong position in the market for the foreseeable future. For any company wanting to make use of the most recent technology available, without spending CAPEX to ensure this, a hybrid solution is without doubt the best one.
Further reading:
Drones and cybersecurity?
October 2019 , CCTV, Surveillance & Remote Monitoring
Hacker drones can eavesdrop electronically on conversations, can perform network attacks, or can create fake wireless access points.
Read more...
---
Body-worn cameras transforming security
October 2019 , CCTV, Surveillance & Remote Monitoring, Security Services & Risk Management
Police Service Northern Ireland now has over 7 000 officers using 2 500 cameras covering approximately 173 000 incidents each year.
Read more...
---
Camera Selection Guide 2019
CCTV Handbook 2019 , CCTV, Surveillance & Remote Monitoring
The Camera Selection Guide 2019 includes a range of IP, analogue, thermal and speciality cameras aimed at a broad range of surveillance functions.
Read more...
---
Intelligent analytics and the brains to match
September 2019, Bosch Building Technologies , CCTV, Surveillance & Remote Monitoring, Integrated Solutions
What if the brains behind our security cameras could be trained to improve their cognitive ability to pay attention, learn, and problem-solve according to specific rules and situations?
Read more...
---
AI-powered autonomous Drone-in-a-Box
September 2019 , CCTV, Surveillance & Remote Monitoring, Integrated Solutions
Organisations in the mining, energy and industrial, oil and gas, ports and terminals sectors can optimise security and business operations, whilst reducing risks and operational costs
Read more...
---
Cybersecurity for video surveillance systems
September 2019, Mobotix , Cyber Security, CCTV, Surveillance & Remote Monitoring
Video surveillance systems are increasingly accessible over any IP network, which has led to the rise of potential cyberattack.
Read more...
---
What are the cybersecurity issues in video surveillance?
November 2019, Axis Communications SA , Editor's Choice, CCTV, Surveillance & Remote Monitoring, Cyber Security
he importance of the data captured by surveillance cameras – and what can be done with it – has led to a new breed of cybercriminals, looking for insights to steal and sell.
Read more...
---
The safe city and its need for interoperability
November 2019 , Integrated Solutions, CCTV, Surveillance & Remote Monitoring
Interoperability continues to present one of the greatest challenges, particularly with video management systems, video recording devices and cameras.
Read more...
---
A platform approach to safer and smarter cities
November 2019, Milestone Systems , CCTV, Surveillance & Remote Monitoring
Selecting the right platform to manage the vast data collected from smart and safe cities is critical to the ultimate success of the project.
Read more...
---
Creating safe cities with smart technology
November 2019, Secutel Technologies , CCTV, Surveillance & Remote Monitoring
In a digital age, where resilience and responsiveness are paramount to fighting crime and creating a safer world, CCTV systems are becoming part of every city's infrastructure.
Read more...
---