printer friendly version
UNISA upgrades access and security controls
Access & Identity Management Handbook 2011
Access Control & Identity Management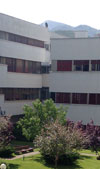 Africa's largest university relies on Impro Technologies for securing access for thousands.
UNISA is one of the five biggest universities in the world and certainly the largest in Africa. It is over 130 years old and is the oldest university in South Africa. It currently has 272 000 students registered for formal qualifications and 50 000 for informal qualifications (ie, short courses).
UNISA has a high number of international students studying via distance learning, a key specialty of the university. It currently has 5000 permanent staff members and 10 000 contract workers.
UNISA has offices in all of the provinces with six big campuses located in Florida (Gauteng), Cape Town, Polokwane, Durban, Pietermaritzburg and Pretoria. It is currently expanding and building four new buildings in Florida, with offices already set up in Ethiopia.
On the administration side, UNISA has 32 offices nationally and 262 exam rooms to make writing exams a little easier for students with travel limitations. Some prisons even use their mess halls for the students that are serving time.
Controlling the numbers
When UNISA merged with other universities, the need arose for it to effectively manage its students on an access and security level.
One of the major motivators was the fact that there were 110 000 students registered (for use of student services on its campuses) and only a limited number of computer labs for them to use. Another concern was the library with only 732 seats available and about 2000 students visiting it every day. This also posed a major safety risk in case of a fire and it also took considerable time to establish specifically which doors needed to be access controlled. This included entrance halls, server rooms, IT departments, book stores and the biggest in-house printing facility in private use that runs 24-hours a day, five or six days a week.
Facing the challenges
It was decided that Impro Technologies would provide the access control system. Before work could begin, however, Impro needed to create a number of customised features to fulfil the university's requirements.
The scale of the site was a major aspect that needed attention. This was the first site of this magnitude to be rolled out in South Africa and is considered a benchmark. The project was so large that multiple installation companies were needed to implement the system.
A decision was also made that the system would make use of a centralised database. TCP/IP was the proposed and preferred networking protocol and it meant that major infrastructure changes needed to be made. Some sites had no network and others had 256 Kb data lines and needed upgrading.
Customised solution
An RFI was prepared and sent out. UNISA decided on a manufacturer that had a national footprint and manufactured locally – Impro Technologies. Due to the amount of tag holders the Impro IXP400i system could accommodate, it was the immediate preferred solution. Each of the ECII system controllers installed needed to have at least 30% redundancy so as to have the sites running comfortably when faced with offline issues.
Biometrics and Mifare Read/Write technology was also selected. All financial transactions needed to be finalised with Mifare to minimise the risk of becoming a target for robbery. UNISA also requested that the Impro front-end interface be customised to its requirements.
Scope
* IXP400i access control system (multisite).
* 18 ECII system controllers.
* 314 doors.
* 130 000 tag holders
* Integration.
- Guetebruck CCTV integration.
- Bosch integration.
- Integration on a database level with student registration system.
- Integration on a database level with staff HR system.
- Morpho biometric integration.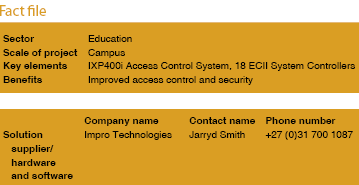 For more information contact Impro Technologies, +27 (0)31 700 1087, sales@impro.net, http://www.impro.net
Credit(s)
Further reading:
A contact-free hotel experience
Issue 7 2020, Technews Publishing , Access Control & Identity Management
Check-in and go straight to your room without stopping at the reception desk at Hotel Sky in Sandton and Cape Town.
Read more...
---
AI digitises coronavirus management
Issue 7 2020, NEC XON , Access Control & Identity Management
NEC XON is using NeoFace Watch and specialised thermography cameras to measure temperature and identify employees and visitors.
Read more...
---
Impro integrates with Suprema
Issue 7 2020, Impro Technologies , News
Impro Technologies integrates its access control software with Suprema biometric products.
Read more...
---
Combining visual and IR face recognition
Issue 7 2020, Suprema , Access Control & Identity Management
The FaceStation F2 offers face recognition and anti-spoofing performance.
Read more...
---
Anviz unveils FaceDeep5
Issue 7 2020, ANVIZ SA , Access Control & Identity Management
Anviz Global has unveiled its new touchless facial recognition identity management and IoT biometric device.
Read more...
---
Touchless biometric options
Issue 6 2020, Entry Pro , Access Control & Identity Management
When it comes to estate access control management, the foremost topic of conversation at the moment seems to be the importance of touchless biometrics.
Read more...
---
Fast access to Kevro production facilities
Issue 6 2020, Turnstar Systems , Access Control & Identity Management
Employee and visitor access at Kevro's Linbro Park premises in Gauteng is controlled through eight Dynamic Drop Arm Barriers from Turnstar.
Read more...
---
Know your facial recognition temperature scanner
Issue 6 2020, ViRDI Distribution SA , Access Control & Identity Management
Facial recognition with temperature measurement is, for the most part, available in one of two technologies – thermopile and thermography/IRT.
Read more...
---
Suprema integrates with Paxton's Net2 access control
Issue 6 2020, Suprema , Access Control & Identity Management
Suprema has announced it has integrated its devices with Paxton's access control system, Net2.
Read more...
---
Contactless check-in at hotels
Issue 6 2020 , Access Control & Identity Management
Onity has delivered the DirectKey mobile access solution to hotel chains around the globe, which allows for contactless check-in and property access.
Read more...
---