printer friendly version
Accessing PUTCO
Access & Identity Management Handbook 2011
Access Control & Identity Management
Business Connexion project manages integrated biometric access control solution for PUTCO's new Roseville depot in Pretoria.
PUTCO was established in 1945 after the dramatic bus strike of 1944 and today provides commuter bus services in Gauteng, Limpopo and the western parts of Mpumalanga.
PUTCO is the only public passenger company previously listed on the Johannesburg Securities Exchange SA (JSE) and has grown into the biggest commuter bus operator in the country. It operates 1600 buses, employs just over 3300 people and transports more than 230 000 commuters daily. PUTCO vehicles travel more than 90 million kilometres per year.
According to the company's system support analyst, time and attendance (T&A), Maarten Dupper, PUTCO is in the throes of a major upgrade in terms of its T&A systems. "We contracted Business Connexion (BCX), through its Innovation Group, to project manage the specific portions of this project and as such they are responsible for assisting with the suggestion and selection of critical equipment and software and the implementation of all resources to pre-specified criteria."
The system comprises two full height Triumph turnstiles (with four access options); and eight Traffic Master vehicle booms, two of which are for vehicle lane access and six for bus lane access. These gates and barriers were sourced from Turnstar. The Safran Morphoaccess biometric readers, with the ImproNet access control software backbone were integrated to Timekeeper, the T&A software, to offer the turnkey solution.
BCX was responsible for full coordination of the project elements and their experience with similar projects came to the fore in the successful implementation of the access control. "The beauty of dealing with one point of contact was that we were kept informed at every step what the current status of the project was," said Dupper. "In essence, this meant that we briefed BCX at the start of the project then left them to select and source the appropriate equipment and software to link into the Timekeeper software we were running.
"We also requested BCX to link the system into a data driven system, situated on UniQue (payroll system provided by BCX), which contains information on the Professional Driving Permit (PRDP) or regular driver's licence status of our bus drivers. By linking the two systems together, the access control system is automatically informed when a licence or PRDP has expired and its holder will not be allowed to access the facility.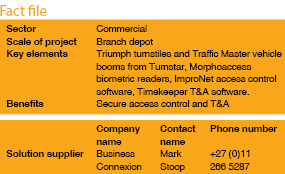 For more information contact Business Connexion, +27 (0)11 266 5287, Mark.Stoop@bcx.co.za, www.bcx.co.za
Further reading:
A contact-free hotel experience
Issue 7 2020, Technews Publishing , Access Control & Identity Management
Check-in and go straight to your room without stopping at the reception desk at Hotel Sky in Sandton and Cape Town.
Read more...
---
AI digitises coronavirus management
Issue 7 2020, NEC XON , Access Control & Identity Management
NEC XON is using NeoFace Watch and specialised thermography cameras to measure temperature and identify employees and visitors.
Read more...
---
Combining visual and IR face recognition
Issue 7 2020, Suprema , Access Control & Identity Management
The FaceStation F2 offers face recognition and anti-spoofing performance.
Read more...
---
Anviz unveils FaceDeep5
Issue 7 2020, ANVIZ SA , Access Control & Identity Management
Anviz Global has unveiled its new touchless facial recognition identity management and IoT biometric device.
Read more...
---
Touchless biometric options
Issue 6 2020, Entry Pro , Access Control & Identity Management
When it comes to estate access control management, the foremost topic of conversation at the moment seems to be the importance of touchless biometrics.
Read more...
---
Fast access to Kevro production facilities
Issue 6 2020, Turnstar Systems , Access Control & Identity Management
Employee and visitor access at Kevro's Linbro Park premises in Gauteng is controlled through eight Dynamic Drop Arm Barriers from Turnstar.
Read more...
---
Know your facial recognition temperature scanner
Issue 6 2020, ViRDI Distribution SA , Access Control & Identity Management
Facial recognition with temperature measurement is, for the most part, available in one of two technologies – thermopile and thermography/IRT.
Read more...
---
Suprema integrates with Paxton's Net2 access control
Issue 6 2020, Suprema , Access Control & Identity Management
Suprema has announced it has integrated its devices with Paxton's access control system, Net2.
Read more...
---
Contactless check-in at hotels
Issue 6 2020 , Access Control & Identity Management
Onity has delivered the DirectKey mobile access solution to hotel chains around the globe, which allows for contactless check-in and property access.
Read more...
---
UFace facial recognition now in SA
Issue 6 2020, Trac-Tech , Access Control & Identity Management
Trac-Tech has secured the distribution rights to the UFace range of contactless biometric facial recognition and identity management IoT devices.
Read more...
---