printer friendly version
Migration to match company needs
November 2010
Access Control & Identity Management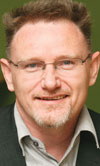 Johnson Controls supports paced migration that matches organisational risk.
Access and ID management systems are continually evolving, with increasingly advanced functionality built into the software adding immense value to organisations. And because some of these systems are now modular and built on open systems, they enable organisations with non-integrated, limited functionality access and identity management systems to migrate to more sophisticated solutions at their own pace – as risk demands and budgets allow.
The key issues confronting businesses are asset protection, protection of data and intellectual property, and the safety and well-being of staff and customers. However, access and ID management systems, if integrated to HR, building management and other enterprise systems, can add significant value. The question is when, how and how fast to migrate to fully integrated solutions.
Format, software and hardware
For users, access and ID management systems are primarily distinguished one from another by the types of access devices used – a smartcard, proximity reader, biometrics or keyless cards. These ID format types can mostly be retained by organisations with updates to software, enabling enhanced functionality.
A consideration in the selection of software, which continues to rapidly advance, is to ensure that it interfaces to leading systems like SAP and Oracle whose HR suites are widely adopted. A quick solution to this is to look at which security solutions SAP, for example, interfaces to, and select from these ranges.
Primarily, organisations need to be able to add more sophisticated options for high risk areas – eg, have a standard format type (say a smartcard) for everyday personnel but added security in the form of biometrics for access to a data centre or an area where important or high value assets are kept.
The software is generally acquired in a standard version and configured to the needs of the organisation. And since most ID and access systems are modular, offering CCTV, guard tours and HR system integration as add-ons to the standard system, for instance, organisations can integrate these features easily.
The hardware that makes up these systems (the readers, controllers and locks), on the other hand, comprises possibly the most expensive part of any security solution. It thus makes sense to re-use as much of the infrastructure – down to the wiring – as possible when upgrading. Happily, some ID and access systems are today built on open systems using standard protocols like BACnet, OPC, XML and MIS that offer new and more efficient ways of communicating data and can even be interfaced to Web services.
Organisations can thus re-use much of their existing hardware.
Different strokes
In South Africa, and globally, ID and access management solutions vary broadly with myriad proprietary, off the shelf (local and international) solutions being implemented. How these solutions are configured and integrated into the enterprise solutions of the company depends entirely on the profile of the organisation.
In a mine, where high value assets are taken out of the ground and the operating environment is hazardous, security systems are integral to the operation of facilities. They can also play an important role in ensuring health and safety regulations are met if they are linked to HR systems. For instance, staff access to specific areas may be denied if they have not attended a mandated training course or have worked a maximum number of hours.
And where ID and access management is critical, organisations often develop proprietary systems. One company that made such an investment is platinum producer Lonmin. When it recently decided to update and upgrade its security, extending its investment by retaining its proprietary readers and identifiers, which did not use standard protocols or ID solutions, was a major consideration. Johnson Controls won the contract due to its ability to embed the drivers for this system in its hardware and incorporate it into its standard rules-based technologies.
Other organisations, like Rhodes University, need to ensure fast and complex registration of individuals whose status will change throughout the academic year. Johnson Controls assisted here too. Approximately 7 500 new students are registered annually using an online solution. It takes a mere 20 seconds to issue students with smartcards that allow them to access university faculties, residences and services (e.g., library and canteen). And these cards are dynamically updated so if there is an incident or the status of the individual changes, access is immediately removed or adjusted.
Yet other global organisations, are driven by the need to standardise systems and policies in order to enable consistent responses across all their branches or facilities.
Integration value
The returns provided by an investment in security can today be measured not only in terms of mitigation of the company's risk – integration and the use of specialised functionality can add significant value.
For example, in a commercial building linking a basic access control system to utility controls via the building management system can provide energy management capabilities that can cut costs for the organisation as well as enhance its eco-sustainability.
Other solutions like RFID will assist in tracking expensive equipment. And interfacing to HR systems can enable automatic updating of timesheets. There are also advantages to be had from integration of access control with health and safety rules. And, of course, limitations can be placed on access to IT systems or information depending on the role or status of individuals.
However, whatever the needs of the organisation, a key factor to ensure the longevity of an ID and access management solution is the incorporation of best practices and standards – in the solution itself and in any development or integration work required.
For more information contact Johnson Controls, +27 (0)11 921 7141, Neil.Cameron@jci.com, www.johnsoncontrols.com
Credit(s)
Further reading:
HID addresses identification challenges at ID4Africa
August 2019 , News, Access Control & Identity Management, Government and Parastatal (Industry)
Being able to verify people's identities is critical for a nation's growth and prosperity and yet HID says nearly half of all African citizens can't prove who they are to vote, travel freely and receive government benefits and services.
Read more...
---
Visual alarm devices enable effective, lifesaving evacuation
August 2019, Johnson Controls , Fire & Safety
Visual alarm devices are used to supplement audio alarms, providing an effective means of alerting and evacuating occupants when a fire emergency occurs.
Read more...
---
Came acquires Turkish company Özak
August 2019, CAME BPT South Africa , News, Access Control & Identity Management
Came broadens its market horizons and signals growth and consolidation in the Middle East.
Read more...
---
The benefits of electronic visitor management
August 2019, Powell Tronics , Access Control & Identity Management, Residential Estate (Industry)
Access control is a critical aspect of estate security as it represents the controls put in place to restrict entry (and possibly exit) along the outer boundary of the location.
Read more...
---
Addressing risks by means of access control layout and design
August 2019 , Access Control & Identity Management, Security Services & Risk Management
In order to develop a suitable, practical and appropriate security system for any organisation, it is essential to first develop a master security and life safety plan strategy.
Read more...
---
Secure hands-free access
August 2019, Suprema , Access Control & Identity Management, Residential Estate (Industry)
Suprema's facial biometric terminals bring no-touch access into secure residential estates, high-rise apartments and luxury homes providing fast, easy and intuitive user authentication with the added benefit of hygiene.
Read more...
---
MorphoAccess Sigma Extreme
August 2019, IDEMIA , Products, Access Control & Identity Management
MorphoAccess Sigma Extreme from IDEMIA is a touchscreen device with multiple recognition device interfaces (NFC chip reader, PIN and BioPIN codes, contactless card readers).
Read more...
---
Outdoor access terminals
August 2019, Suprema , Access Control & Identity Management, Residential Estate (Industry), Products
Rugged, dust- and weather-proof access control solutions that provide exceptional durability in extreme conditions is a strong requirement for many residential estates.
Read more...
---
MorphoWave Compact
August 2019, IDEMIA , Products, Access Control & Identity Management
The MorphoWave Compact captures and matches four fingerprints on either the right or left hand in any direction. It is robust to environmental factors such as extreme light or dust.
Read more...
---
MorphoAccess Sigma Lite
August 2019, IDEMIA , Products, Access Control & Identity Management
IDEMIA's MorphoAccess Sigma Lite and Lite + are fingerprint access control terminals, offering time and attendance in and out function keys.
Read more...
---