printer friendly version
Three questions for Gary Chalmers, CEO of iPulse
Access & Identity Management Handbook 2011
News
Hi-Tech Security Solutions spoke to Gary Chalmers, CEO of iPulse about the company and its plans for this coming year.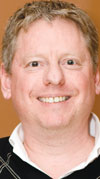 Gary Chalmers, CEO of iPulse
iPulse, a local manufacturer of biometric products and the accompanying software is set to hit the market hard in 2011. Hi-Tech Security Solutions asked CEO Gary Chalmers what fireworks we can expect from the company.
Hi-Tech Security Solutions: iPulse has been quiet this past year. What have you been doing? Are rumours of your demise true?
Gary Chalmers: If by demise, you mean of our advertising budget, you would be quite correct! However, we have been anything but quiet. 2010 for iPulse was a year of consolidation, with a massive focus on product development, supply chain management, software development and above all, bedding down our existing partner, distribution and customer base.
The reality is that we grew very fast in 2008/2009, and some of our products needed to catch up with the expectations we continue to set in the marketplace. And it is hard to listen when you are doing all the talking, so we shut up and started to hear what our customers and the industry really wants.
We now have a huge stable of products, both hardware and software, ready for release in 2011, which we have used 2010 to develop, test and roll out to test customer sites.
Hi-Tech Security Solutions: What new products are you releasing and why is this relevant to a market with an existing selection of good biometric devices to choose from?
Gary Chalmers: iPulse has always prided itself on innovation. Our products provide the market with solid, reliable and affordable alternatives to the existing market leaders, but above all, they provide features, innovations and unique solutions that no one else has been able to offer to date.
Our new hardware products range from the latest version of our iPB6 unit, with built in GSM, and now including the option of HID's iClass or Mifare, to our new iPB1, a small single door unit designed for large buildings, and to our iPB7, our new handheld unit. The iPB6 is already available, whilst the iPB1 and iPB7 are currently in final alpha testing within our organisation, and due for release in 2011.
On the software side, our all new IQ Suite, which now ships licence free with all our products, is a Windows XP/Vista/7-based management package that offers basic functionality for enrolment, employee management, time and attendance, access control and visitor management. Our more advanced offerings include the unique new VisitorIQ application, which offers Web-based and self-help registration for visitor management in large organisations, and is currently installed in a number of beta sites, with final release scheduled for early 2011.
Hi-Tech Security Solutions: Tell us what 2011 holds for iPulse specifically and for the biometric market in general?
Gary Chalmers: Well, aside from all the new products that we have mentioned above, iPulse has been fortunate enough to win many tender awards in the last part of 2010. Most of our early 2011 will be busy with assisting these partners to roll out the projects, and you can expect some exciting press announcements in this regard.
We are also moving to our new home in Midrand as we have outgrown our current offices, which are split between Sandton and Kempton Park. This will greatly increase our ability to expedite deliveries, repairs and training services for our customer base, as well as providing our rapidly growing team with the space they need to continue to innovate and create new solutions.
We expect massive growth in 2011 as I believe we have reached the critical mass of market share we require for the next big growth spurt. Also, 2011 is the year in which the distribution network we have carefully built begins to show returns across the continent and abroad into some exciting new markets like India, the Middle East and Australia.
From an industry perspective, I believe we can expect to see a lot of consolidation as smaller players fall away, and the larger players begin the inevitable mergers and acquisitions that are the hallmark of any maturing industry.
The security vertical has definitely reached a point where it is now an established business sector, with a broad spectrum of products now requiring an integrated solution to adequately meet the customer's needs.
It is going to be a big year!
About iPulse
iPulse Systems is a manufacturer of biometric and GSM-based devices and is committed to developing advanced next-generation hardware and software solutions around these technologies.
iPulse Systems works through a structured, tier-based channel, with distributors and dealers in each country where it operates. Currently, iPulse has channels in South Africa, Botswana, Zimbabwe, Nigeria and Kenya, and is in the process of rolling out distribution partners in Egypt, India, Australia and New Zealand.
Further reading:
Plan your media strategy with Technews Publishing
October 2019 , News
Dear Marketer, Have you ever looked back on a year and wondered how you survived it? For the majority of South Africans, 2019 started benignly enough, cosily wrapped in the blanket of Ramaphoria that ...
Read more...
---
The Open Security & Safety Alliance celebrates first anniversary
October 2019 , News
Membership triples within first 12 months; ongoing industry work reduces market fragmentation and friction across security and safety landscapes.
Read more...
---
AWS launches Equity Equivalent Investment Programme
October 2019 , News
Amazon Web Services launches Equity Equivalent Investment Programme with the department of trade and industry to help more South African businesses to innovate.
Read more...
---
2020 Residential Estate Security Conference in KZN
October 2019, Technews Publishing , News, Residential Estate (Industry)
Meeting the residential security challenges in 2020 and beyond: Hi-Tech Security Solutions will host the Residential Estate Security Conference 2020 in Durban on 12 March 2020.
Read more...
---
Kaspersky uncovers zero-day in Chrome
October 2019, Kaspersky , News, Cyber Security
Kaspersky's automated technologies have detected a new exploited vulnerability in the Google Chrome web browser.
Read more...
---
Drones and Digital Aviation Conference
October 2019 , News, Conferences & Events
Drones have opened airspaces for everyone in ways that humans had not imagined; to the extent that there is a drone to almost every kind of problem on earth. Drones already have the ability to increase ...
Read more...
---
Hacking group is attacking banks in sub-Saharan Africa
November 2019, Kaspersky , News
Kaspersky security researchers have reported on thousands of notifications of attacks on major banks located in the sub-Saharan Africa (SSA) region.
Read more...
---
From the editor's desk: What a year it has been!
November 2019, Technews Publishing , News
We've made it to the last issue of 2019. This year has been a tough one for the local security industry with almost everyone feeling the effects of the poor economy that shows no signs of recovery. Naturally ...
Read more...
---
Pelco appoints CEO
November 2019 , News
Pelco announced the appointment of Kurt Takahashi as chief executive officer, effective 1 November 2019.
Read more...
---
SAST demonstrates first open app store for AI video analytics
November 2019 , News
SAST demonstrated its open IoT platform for video surveillance cameras in September, showcasing real-world examples of the SAST camera operating system and global IoT marketplace.
Read more...
---