printer friendly version
Intelligent Monitoring, a global player
July 2010
News & Events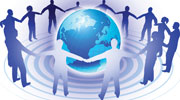 Intelligent Monitoring Software from Classic Systems has established itself as a global player in the security control room arena, with clients spread across the globe. The company's head office is in Krugersdorp, west of Johannesburg, with a satellite office in London, in the United Kingdom and a support office in Edenvale. Intelligent Monitoring is now used in most African countries, including South Africa, Namibia, Botswana, Zimbabwe, Nigeria, Seychelles, Mauritius, Mozambique, Kenya, and Malawi, and also in parts of Europe including the United Kingdom.
Wolfgang Kirsch is the developer of the software and the owner of Classic Systems. The software was originally developed in the late 1980s out of desperation for Kirsch's own armed reaction company, due to the lack of comprehensive software solutions available to the industry. The software was developed especially for the South African market, from the perspective of an armed response business owner with a passion for programming and the security industry.
Over the last 23 years Kirsch has developed a state-of-the-art software product by constantly changing the software, expanding capability and keeping ahead of technology.
During the IFSEC Securex 2010 trade show, the South African market will be introduced to Version 6. Existing clients of Intelligent Monitoring will have an exclusive preview before the official release date.
The essence of the Intelligent Monitoring Software is simplicity. Kirsch and his software development team keep all the processes simple, and through integrating ergonomics with technology, one can develop a system that is easy to use and that brings productivity and control to the business.
Ergonomics is the relation of human beings to the machines they use every day. Elements like colour and order influence the way the operator uses the program. The new version, like all the versions in the past focuses on the comfort of the operator and the elimination of human error. The modern operator is averse to reading, emphasis is placed on icons, and colours are used to communicate. Sounds are added to keep operators alert and gives the ability to identify events by audio. All these elements are used to create order; this makes management and processing of information easy and ultimately affects positively the productivity of the operators.
The new release will bring greater capabilities to the security control room. Kirsch explains: "One of the things that excites me is the capabilities of new hardware these days. Utilising the current new processors and memory available to the maximum in our software will allow us an improved processing time for alarms, making our existing fast software even faster. Control room software does not work like regular software whereby an operator only works with a single document. Control room software is processing a multitude of the alarm signals from various sources and all the while having to keep the operators informed with the latest information of each site's events."
Some of the new features include mapping, the operator can now see the location of the alarm site on a map and help direct the response teams to the site effortlessly. CallPanic feature allows any mobile phone to be a panic button, as most people always have their phone at hand. Additional intelligent reporting gives you the capability to see your control room effectiveness in various reports and thus allows you to do corrective steps, if needed. More interfaces to various hardware decoders to accept signals in many more formats and from various sources, without limiting the amount of interfaces and without locking you into one or other hardware provider.
Intelligent Monitoring Software's value added reseller and support structures allows us to provide relevant training, support and valuable advice in setting up control rooms the correct way. Warren Torr, an IT rooted software and control room specialist has been recently appointed from international support to head up the whole support team. He has over 15 years of experience in the industry locally and internationally, his vast technical knowledge brings depth to the team. A network of dealer agents bring added value and provides 24-hour support to clients.
The software is focused on bringing capabilities to all players in the market, even the security operator that is just starting out. With Intelligent Monitoring it is possible to start out with running a basic control room, you can increase the number of workstations and decoders as you grow. Classic Systems believes that keeping costs low and giving companies the opportunity to grow organically serves the industry the best.
When looking at the future, Kirsch states, "We are constantly monitoring, improving and adjusting our software to meet new technology standards and demands from our end users. Security control rooms together with all the technology development around it will always be my passion."
For more information contact Classic Systems (Intelligent Monitoring), +27 (0)11 954 0244, info@intelligent-monitoring.com, www.intelligent-monitoring.com
Credit(s)
Further reading:
Helping South African university students and staff to stay safe
News & Events
Buzzer is a free mobile app that allows users to quickly and easily report incidents of crime, violence, or harassment to campus security and other relevant authorities.
Read more...
---
Tech developments lead hologram growth in 2024
News & Events Security Services & Risk Management
Micro-lenses, micro-mirrors and plasmonics are among the rapidly-emerging optical devices that have evolved on the back of holographic and diffractive technologies, and are seen as part of the natural evolution of optical science by R&D teams.
Read more...
---
Trellix detects collaboration by cybercriminals and nation states
News & Events Information Security
Trellix has released The CyberThreat Report: November 2023 from its Advanced Research Centre, highlighting new programming languages in malware development, adoption of malicious GenAI, and acceleration of geopolitical threat activity.
Read more...
---
People are craving connection
News & Events
As 2023 nears its close, global security manufacturer Gallagher Security is sharing key observations from some of the year's biggest industry events, chief among them the rising importance of community building these events facilitate.
Read more...
---
ePSiRA online system
PSiRA (Private Security Ind. Regulatory Authority) News & Events
[Sponsored] As part of the digitisation of the security industry, the Private Security Industry Regulatory Authority (PSiRA) introduced the ePSiRA online system, which allows clients to transact online.
Read more...
---
New generation of cyber-focused controllers
Gallagher News & Events Access Control & Identity Management Products & Solutions
The C7000 gives users an opportunity to leverage their hardware and firmware to build a platform designed to catapult their organisation into the future, with cybersecurity baked in from inception.
Read more...
---
New T&A terminal features revolutionary AI technology
Suprema News & Events Access Control & Identity Management AI & Data Analytics
Suprema has launched BioStation 2a, the world's first deep learning-based fingerprint recognition solution, providing powerful access control features and an improved ability to extract templates from low-quality fingerprints.
Read more...
---
South African Cyber Risk Survey 2023
News & Events
Aon South Africa has released its 2023 Cyber Risk Survey for South Africa, providing insights on current trends in cyber risk governance practices being deployed by South African companies in various market segments.
Read more...
---
Africa Online Safety Fund announces grant winners
News & Events Information Security
The Africa Online Safety Fund (AOSF) has announced the winners of this year's grants; among them are five organisations operating in South Africa to educate people about online risks.
Read more...
---
From the editor's desk: Convergence is real
Technews Publishing News & Events
      SMART Security Solutions has been talking about convergence for a long time; in other words, the intersection and even integration between the physical and information security worlds. Before writing ...
Read more...
---