printer friendly version
Old School worked for a reason
July 2010
News
The Internet has changed much of the way we work and interact. Communications with friends, family and business associates is now easier, cheaper and faster with this medium, although this may not always be true when trying to decipher the abbreviated languages young people use to communicate these days. The Net has even made security services more accessible as you can use the Internet to view a camera over your mobile phone with ease these days.
The availability of information is also vastly superior today than it was before we were all connected to the Web, although some may question the viability and the accuracy of much of that information. Blogs, for example, can be highly entertaining to read, but one has to always be aware that there are no rules for bloggers to work to. We have already seen cases where corporations have bought good reviews by giving bloggers products. Of course I would never stoop that low, mainly because no-one has offered me any cool gadgets.
Fortunately, the more successful business bloggers subscribe to journalistic principles for the specific purpose of maintaining their credibility.
Now we have social media and a bunch of people claiming this is the new way we are going to live and communicate in future. Social media is even less organised, but has a large following. Whether these social media products will have a significant impact on the business world at large again depends on whom you speak to, but their influence is being felt. Personally I do not really see the necessity of everyone knowing where I am and what I am doing at all times – that would be called BoredBook.
One of the advantages and disadvantages of social media is that information is disseminated immediately, sometimes before it is really ready to be publicised. And this 'new age' information flow is already seeping into traditional media. Hi-Tech Security Solutions was responsible for some irresponsible reporting recently when I wrote a column about a recent security installation. Although the column was anonymous, some parties involved in the project felt that the full picture was not conveyed and pertinent information was left out – an oversight on my part in not doing the appropriate research.
So, while social media is the cool thing these days, it is always good to remember that the Old School ways worked for a reason. Instant everything is good for coffee and chatting to your friends via Twitter, Facebook or instant messenger, but it does not always work when dealing with real-world issues that require a more focused and research-oriented approach.
That is not to say social media does not have its place. If you have any views on the relevance of social media, please let me know, we could always start a Hi-Tech Security Solutions twitter stream with the latest in security news.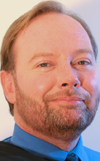 Andrew Seldon
Editor
Credit(s)
Further reading:
Leaders in risk and security: As long as there are people, there will be risk
Issue 5 2020, iFacts, Technews Publishing , Editor's Choice
Jenny Reid is a self-made success, focusing on people, the risks they create and the potential they have.
Read more...
---
Mitigating the human risk
Issue 5 2020, Managed Integrity Evaluation, Technews Publishing, iFacts , CCTV, Surveillance & Remote Monitoring
Hi-Tech Security Solutions asked Jennifer Barkhuizen and Jenny Reid for some information around background screening and vetting of potential new hires.
Read more...
---
SABRIC annual crime stats 2019
Issue 5 2020 , News
SABRIC, the South African Banking Risk Information Centre, has released its annual crime stats for 2019
Read more...
---
XProtect available on AWS
Issue 5 2020, Milestone Systems, Technews Publishing , Editor's Choice
Milestone recently announced the availability of XProtect on Amazon Web Services. Hi-Tech Security Solutions asked Keven Marier for more information.
Read more...
---
Adjusting to a new reality
Issue 5 2020, Technews Publishing , Integrated Solutions
COVID-19 to accelerate adoption of technology-enabled smart city resilience approaches: robotics, digital twins, and autonomous freight.
Read more...
---
From the editor's desk: We're back!
Issue 5 2020, Technews Publishing , News
Welcome to the fifth issue of 2020. If years were people, 2020 would have been hung, drawn and quartered...
Read more...
---
XtraVision moves to new premises
Issue 5 2020, XtraVision , News
Hot on the heels of the company changing hands, XtraVision, a distributor of electronic security and fire solutions in Africa and South America, has relocated.
Read more...
---
20 years of innovation in security and biometrics
Issue 5 2020, Suprema , News
Founded in 2000, Suprema has built a sales network in over 140 countries and has over 1 billion users.
Read more...
---
Fidelity ADT and Vumacam join forces
Issue 5 2020, Fidelity ADT , News
Fidelity-ADT recently partnered with Vumacam to roll out a surveillance network of cameras across a number of southern suburbs in Johannesburg.
Read more...
---
Dahua launches ECO Partner Programme
Issue 5 2020, Dahua Technology South Africa , News
Dahua Technology has launched its new technology partner programme, the Dahua ECO Partner Programme.
Read more...
---