printer friendly version
Are you ready for HD CCTV?
June 2010
CCTV, Surveillance & Remote Monitoring
The market has a demand for higher and higher definition solutions in video surveillance applications. Nevertheless, the conventional technologies and composite video standard have restricted the resolution of surveillance video in the last few decades. TeleEye, a pioneer in the field of advanced video surveillance, has developed a complete end-to-end HD CCTV solution to cater for the market needs. The solution consists of MX Series HD CCTV cameras, HD sureREC Recording and sureSIGHT HD Video Management Solution.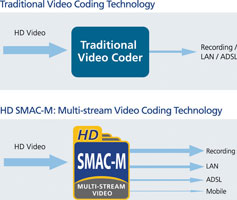 World's first multistream coder for HD video
Conventional video generates a vast amount of data, HD video can generate even more. An efficient video coder is of the utmost importance in any HD surveillance solutions to make a HD system practical at all. TeleEye has developed the HD SMAC-M coder, the world's first multistream coder for HD video. The MX Series HD CCTV cameras can generate four independent video streams. There is an independent HD recording stream to ensure recordings do not affect the video streaming performance running on the Internet or even on mobile networks. HD SMAC-M has proved to be more efficient in comparison with standard video compression technologies like MPEG-4 or H.264. With the HD SMAC-M video coder, TeleEye MX Series delivers 'no compromise' on both HD video recording and video surveillance functions.
TeleEye HD CCTV Solution provides great image details, a wider view and video recordings in the most demanding surveillance applications.
TeleEye HD cameras are compatible with existing TeleEye Central Monitoring Station equipped control rooms, offering alarm dial-back features, alarm event management and alarm reference images.

16:9 aspect ratio providing wider view
TeleEye MX Series records HD video with a wide screen aspect ratio of 16:9. There is a significant advantage over those conventional cameras providing only a 4:3 aspect ratio. The wide screen format of TeleEye MX provides 33% more viewing area and much better clarity when compared with that provided by conventional cameras. This wider view provided by the TeleEye MX Series can greatly reduce blind spots in a surveillance system.
Superb video quality with great details
TeleEye MX Series HD CCTV cameras provide ultra-high resolution video quality. The resolution is increased to over 800 TVL which exceeds the maximum 540 TVL usually provided by conventional cameras.
High definition progressive scan video
TeleEye MX Series HD CCTV cameras employ progressive scanning. This means the images have less distortion and jaggedness. Progressive scanning is especially useful when looking at fast moving objects.
IP-based video surveillance solution
TeleEye high definition video surveillance system is an IP-based solution. TeleEye HD CCTV system can utilise existing network resources, provide a reasonable degree of noise immunity and transmit video through different media such as CAT5 cable, WiFi or mobile network.
Complete platform for HD video management and recording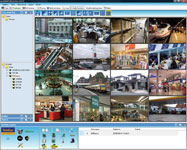 At the beginning of 2010, TeleEye announced the launch of a comprehensive platform for video management and recording – sureSIGHT Business, sitemap module and sureREC.
TeleEye MX Series HD CCTV cameras are capable of HD live video recording and multi-site viewing by using TeleEye sureREC HD Video Recording Solution and sureSIGHT Video Management Solution. sureREC is specifically designed for recording independent HD video streams of up to 64 MX cameras. sureSIGHT supports HD live video viewing from up to 64 TeleEye MX Series HD CCTV cameras simultaneously. Its modular design allows easy up scaling for customers wishing to add functional modules to suit specific requirements.
Integrated video management solution – sureSIGHT Business
TeleEye sureSIGHT Video Management Solution is a comprehensive video management platform for the entire range of TeleEye video recording servers and network cameras. sureSIGHT features a modular add-on interactive sitemap function. With its flexible configuration, it is suitable for managing numerous cameras in large-scale operations or in multi-site deployment. It forms a complete video recording and management solution when partnered with sureREC video recording solution.
Sitemap functional module for sureSIGHT Business
siteMAP is a sitemap module that can be added to sureSIGHT Business, to manage numerous sites position cameras and verify alarms via the multi-layer site map, floor plan and reference images.
TeleEye video recording solution – sureREC
TeleEye sureREC is a PC-based video recording solution specially designed for recording the independent HD quality video stream of TeleEye MX HD cameras and SD video stream of TeleEye NX network cameras. sureREC can record up to 64 TeleEye MX or NX devices in one PC.
TeleEye – The ultimate remote alarm verification and monitoring solution?
TeleEye HD now offers customers the ability to integrate HD features into their existing video alarm verification and remote monitoring solutions.
TeleEye provide a complete range of remote video alarm verification and video management solutions. TeleEye manufactures award-winning video recording servers, compliant with the BS8418:2003 British standard, IP and analogue cameras, optimised for remote performance over varying transmission mediums and low bandwidth conditions.
Our video alarm verification control room software has been developed in-house, in conjunction with leading security companies around the globe and our software and products are constantly evolving to meet the demands and challenges of modern security and remote management requirements. TeleEye solutions cater from the single camera site to large enterprise installations giving the customer the flexibility to cater for all security and management applications.
About TeleEye Group
With over 15 years of research and design experience in signal processing, TeleEye Group is engaged in the development, sales and marketing of a full range of hi-tech CCTV and digital surveillance equipment. The Group is listed in Hong Kong and has rapidly grown to become a dynamic world-class supplier of remote visual CCTV systems with extensive application in various industries. The Group's Quality Management System is ISO 9001:2000 certified. We are committed to continuous improvement on product quality and standard. The group has offices in China, Singapore, United Kingdom, Croatia, Mauritius, the Philippines, South Africa and Macau, together with an extensive distribution network in over 20 countries worldwide.
For more information contact TeleEye (South Africa), +27 (0)11 557 9200, www.TeleEye.com.
Credit(s)
Further reading:
Elvey partners with HALO
Elvey Security Technologies News CCTV, Surveillance & Remote Monitoring
Elvey Group has partnered with HALO Europe to provide Africa's first body-worn solution with zero upfront costs. This includes an IP68-certified body camera and a 4G-connected device.
Read more...
---
Regal announces new partnership
Regal Distributors SA CCTV, Surveillance & Remote Monitoring
Having a bird's eye view of your surveillance data, with the capability to drill down to the details obtained via connected security solutions, is a game changer for security operators, companies and even officers on the ground.
Read more...
---
Invisible connection and tangible protection via cloud
Dahua Technology South Africa Perimeter Security, Alarms & Intruder Detection CCTV, Surveillance & Remote Monitoring Products
Dahua Technology has launched its AirShield security solution that uses advanced, stable and reliable RF communication technology and cloud services, integrating alarm hubs, various detectors and accessories, with several software apps.
Read more...
---
Hikvision expands solar-powered solutions
CCTV, Surveillance & Remote Monitoring Products
Hikvision is offering a portfolio of solar solutions, the 4G solar-powered camera kit, a wireless bridge, and mobile solar security tower solutions to assist in keeping remote and isolated areas safe in a simple, practical, and cost-effective way.
Read more...
---
Affordable entry-level cameras from Dallmeier
Dallmeier Electronic Southern Africa CCTV, Surveillance & Remote Monitoring Products
Dallmeier has introduced the 'E' version of the DOMERA camera family, offering high image quality with 2 MP and 5 MP resolution, and providing detailed images even in low light conditions.
Read more...
---
The importance of the operator's frame of reference
Leaderware Editor's Choice CCTV, Surveillance & Remote Monitoring Security Services & Risk Management Mining (Industry)
The better the operator's frame of reference and situational awareness, and the more informed they are in dealing with CCTV surveillance in the mining industry, the more successful they are likely to be in surveillance.
Read more...
---
Enhancing surveillance on mines
Avigilon Technews Publishing Axis Communications SA Forbatt SA Hikvision South Africa Bosch Building Technologies Editor's Choice CCTV, Surveillance & Remote Monitoring Integrated Solutions Mining (Industry)
Smart Security approached a number of surveillance vendors to find out what the latest in surveillance technology is that can make a difference to security operations in mines, as well as general operations.
Read more...
---
Surveillance to improve worker safety
Axis Communications SA Mining (Industry) CCTV, Surveillance & Remote Monitoring Integrated Solutions
With substantial deposits of mineral resources, mining is critical for South Africa's economic growth and prosperity; however, mining can be dangerous, especially for the people working on the ground and in the shafts.
Read more...
---
Radar-video fusion camera
Axis Communications SA CCTV, Surveillance & Remote Monitoring Mining (Industry) Products
The AXIS Q1656-DLE Radar-Video Fusion Camera device brings video and radar analytics together in AXIS Object Analytics to deliver detection and visualisation.
Read more...
---
Centralised VMS for multiple sites
Mining (Industry) CCTV, Surveillance & Remote Monitoring
Dispersed mining operation relies on AxxonSoft for centralised video management as well as device health monitoring and the reliable distribution of analytics to various camera brands.
Read more...
---