printer friendly version
Local is lekker, but not lekker enough to buy
June 2010
News
As a recovering IT journalist I have been blessed with a generous portion of cynicism and I am not afraid to share it. Although I must say I am not as cynical as I used to be; we have meetings, you know.
One thing I am cynical about is the ability and especially the will of government to support and boost the South African economy. This cynicism was ably boosted recently while sitting at a coffee spot on the way to IFSEC UK. I was chatting to a local manufacturer about a big tender he was working on for a government organisation.
Well, this is for government so it is reasonable to think the deal will show preference to local companies that are internationally competitive. You know, support local IP (intellectual property), local jobs, keep the loot that has not been disappeared inside the country for the next sticky-fingered politician and so on. As happened in the soccer, the answer is a big fat raspberry. Well, that is the polite version of the answer.
Not only does government not favour local companies, IP and jobs, the tender was written to favour a foreign company's products. The chap I was talking to, whose company sells its local products internationally, was used to getting the finger from government, but it does give credence to the cynical attitude of us uninitiated to this government and its supposed commitment to the country.
In fact, due to all the deals that grant some people the right to import products with little or no taxes, it can be more expensive for local manufacturers to build products locally, because they do not get any tax breaks on the components they have to import. How many jobs have to vanish before government takes its job seriously? Although, it is not an election year yet so there is no need to pretend and make the right noises.
Looters' paradise
And talking about shooting yourself in the foot. The number of people that complained to me at IFSEC UK about the exorbitant pricing of the Soccer World Cup is horrendous. Many people simply did not come because of the price gouging South Africans (that is their opinion anyway). It was simply unaffordable to normal people. One builder putting together a stand was quoted 600 pounds (nearly R8000) per night just for accommodation – and it was not in a five-star hotel either. By the end of June we should hear the hospitality industry crying poverty, expecting the rest of us to feel sympathy for them. I think not.
Not only are the prices during the event outrageous, but one MD who used to regularly come to South Africa told me that airline tickets to the country in May were already more than double their normal price. And you can be sure the next time airline staff want a 1% raise their companies will scream poverty and blame the economy. Sometimes you cannot help but support the unions.
Win an intelligent system
Here is a brief reminder for the unfortunate few who missed the first Hi-Tech Security Solutions webinar. We have an archived version available at www.securitysa.com/video/. Unfortunately, as this is an archived version, it will not be interactive.
What is more, all webinar attendees and those who register and listen to the archive will be in line for a prize from VideoIQ valued at over R30 000. The winner, who will be announced in a future issue, stands to win a complete VideoIQ smart video surveillance system. (You do not have to register to view the archive.)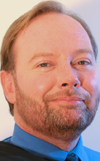 Andrew Seldon
Editor
Credit(s)
Further reading:
Olarm launches the Olarm LINK
Olarm Perimeter Security, Alarms & Intruder Detection News Products
Building on the success of smart-enabling, monitoring and controlling alarm panels and electric fences, Olarm has a new solution for customers to integrate gates, garage doors, pumps and other electrical products with the Olarm APP and Olarm PRO communicator.
Read more...
---
Ultimate smart monitoring and reliability
Olarm Perimeter Security, Alarms & Intruder Detection News Products
Olarm is gearing up to unveil its latest product, the Olarm MAX, set to be available in late 2023, which will redefine smart monitoring by offering unparalleled connectivity options and functionality.
Read more...
---
Insights from the 2023 Cloud Security Report
News Cyber Security
Increased costs, compliance requirements, hybrid and multi-cloud complexities, reduced visibility, and a lack of skilled practitioners cause organisations to slow or adjust their cloud adoption strategies.
Read more...
---
New algorithm for OT cybersecurity risk management
Industrial (Industry) Cyber Security News Commercial (Industry)
OTORIO's new risk management model and attack graph analysis algorithm technology, calculates OT cybersecurity threats and provides risk mitigation actions, prioritised according to actual exposure and potential impact on operations.
Read more...
---
Robots: a security opportunity or a threat?
Editor's Choice News Conferences & Events
Professor Martin Gill, Director of Perpetuity Research & Consultancy International and the School of Criminal Justice at the University of South Africa (UNISA), will be holding a Global Thought Leadership Security webinar on 22 June 2023 to discuss the contentious issue of robots operating in the security industry.
Read more...
---
UNISA sponsors Securex seminars
Editor's Choice News Conferences & Events
As part of UNISA's 150-year birthday celebrations, UNISA has sponsored the Securex Theatre Seminar Programme, which will include a number of prominent industry specialists, academics and security practitioners focusing on a number of themes.
Read more...
---
Facilities Management Seminar Theatre
Securex South Africa News
The free-to-attend Facilities Management Seminar Theatre, powered by Broll, delivers information on the latest market trends, thereby keeping attendees up to date on solutions and technology centred on increasing facility system optimisation.
Read more...
---
The latest security trends at Securex South Africa 2023
Securex South Africa News Conferences & Events Training & Education
Security technology evolves at a blistering pace, so it's important to keep up to date with changing trends in order to ensure maximised safety of human and personal assets. The Securex Seminar Theatre, powered by UNISA, is the place to be.
Read more...
---
Sustainability School opens for enrolment
Education (Industry) News Security Services & Risk Management
Three-part programme, first developed for Schneider Electric employees, is now available for free for companies worldwide. Attendees learn how to future-proof their businesses and accelerate their decarbonisation journeys.
Read more...
---
From the editor's desk: Get Smart
Technews Publishing News
Welcome to the fourth issue of Hi-Tech Security Solutions for 2023, which is also the first issue of Smart Security Solutions. As noted in previous issues, Hi-Tech Security Solutions has been rebranded to Smart Security Solutions.
Read more...
---