printer friendly version
High-resolution hybrid DVR cards
CCTV Handbook 2010
Products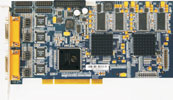 The DS-42xxHFVI series card is one of Hikvision's new generation audio and video compression products. It adopts a high performance video processing chip with low power consumption and is used for real-time audio and video capturing and encoding. This product incorporates hardware compression which translates into a much smoother and consistent video stream.
The DVR card does the processing onboard as opposed to software compression where this is left up to the CPU. iVMS DVR software is supplied with this product. There are many features such as point of sale/text overlay, the ability to add an alarm device with eight inputs and eight outputs, intelligent search and many more.
There is one audio input per channel of video, ie, the 8 channel card has eight audio inputs and the 16 channel card has 16 audio inputs. Ogg Vorbis compression is used for the audio compression ensuring clear audio output. Further to this, central management software (CMS) is included with the cards. The capability is to view 64 channels per screen or one can do a screen pop on an event such as a bank vault being opened.
The cards incorporate dual video streaming where the main stream would usually be high resolution and high frame rate for video recording. The sub stream would be set at a lower resolution and lower frame rate for streaming to a device such as a laptop with a 3G connection. The software also has a mobile phone solution where any modern mobile phone running Java 2 will be able to view the channels remotely.
The Hybrid capability means that additional Hikvision IP cameras can be added to the system, at no expense other than that of the camera. The DVR cards come in an 8-channel and a 16 channel variant, and are stackable up to 40 channels in one PC. All channels are real-time at 25 fps and at 4CIF resolution. This product is available from all Regal branches as card only or as prebuilt DVR (up to 32 channels) in both PC and rack mount casing.
For more information contact Merwede van der Merwe, marketing manager, Regal Distributors, +27 (0)11 553 3300, merwede.van.der.merwe@regalsecurity.co.za, www.regalsecurity.co.za
Further reading:
Three new portable power stations to ease load shedding
News Security Services & Risk Management Products
EcoFlow has launched three portable power stations that provide sufficient power for consumers wherever they are; the DELTA 2 and RIVER 2 Series are feature-filled power solutions to the volatile electricity supply.
Read more...
---
Recharge and top up for pre-paid SIM cards
Asset Management, EAS, RFID Products
Businesses of all sizes are challenged by the administrative nightmare of reporting on the costs associated with airtime recharges on pre-paid and top-up SIM cards, which are often procured from multiple sources, including carriers and retail outlets.
Read more...
---
Introducing adaptive active adversary
Cyber Security Products
New adaptive active adversary protection; Linux malware protection enhancements; account health check capabilities; an integrated zero trust network access (ZTNA) agent for Windows and macOS devices; and improved frontline defences against advanced cyberthreats and streamline endpoint security management.
Read more...
---
Qognify VMS adds support for Pelco IP camera series
CCTV, Surveillance & Remote Monitoring Products
The latest IP camera series from Pelco can now be used with Qognify's advanced video solution for corporate and enterprise projects, increasing the overall number of camera models and third-party devices supported in Qognify VMS to more than 6 500.
Read more...
---
Off-grid power solution for residential estate
Editor's Choice Security Services & Risk Management Residential Estate (Industry) Products
Coral Beach Estate, an upmarket residential estate based in East London, has been struggling with load shedding and power outages due to South Africa's energy crisis, as well as the vandalism of its power infrastructure.
Read more...
---
Choosing an inferior lithium battery can be detrimental and unsafe
Uniross Batteries Security Services & Risk Management Products
South Africans looking to mitigate the impact of load shedding by installing a solar system for their home must do so through an accredited installer or electrician to avoid insurance claims being rejected.
Read more...
---
VIVOTEK launches VAST Security Station
CCTV, Surveillance & Remote Monitoring Products
VIVOTEK officially launched its AI security system, VAST Security Station (VSS), in March, available to users in three flexible tiers: VSS Lite, VSS Standard, and VSS Professional.
Read more...
---
Converged infrastructure: Beyond the hype
IT infrastructure Products
Technical teams no longer have to sit and try to work through a magnum opus of manuals for every layer of computing, networking, and storage, largely thanks to the growing popularity and increasing success of converged infrastructure.
Read more...
---
Veeam launches Backup for Microsoft 365 v7
Products
Veeam Software has released Veeam Backup for Microsoft 365 v7, offering a backup and recovery solution for Microsoft 365, including Microsoft Exchange Online, SharePoint Online, OneDrive for Business ...
Read more...
---
Heightening physical security at military base
Turnstar Systems Access Control & Identity Management Government and Parastatal (Industry) Products
Turnstar Systems recently installed two 3-metre Velocity Raptor traffic spikes at the South African National Defence Force (SANDF) Randfontein military base on Gauteng's West Rand.
Read more...
---