printer friendly version
Video management secures community
CCTV Handbook 2010
CCTV, Surveillance & Remote Monitoring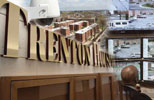 Trenton Housing Authority increases operator productivity and reduces investigation with IP-based video management.
In existence since the late 1930s, the Trenton Housing Authority (THA) provides decent and affordable housing for low and moderate-income residents throughout the city of Trenton, in New Jersey, USA. Its mission is to provide safe and sanitary housing for residents and to lead them toward self-sufficiency.
For the past 30 years, the THA has served nearly 2000 households. Today, the THA is an autonomous body that is chartered by the State of New Jersey, partially funded by the federal government and governed by a seven-member Board of Commissioners.
Previously, the THA relied on 11 unarmed officers patrolling various developments to maintain safety and security. Due to the prevalence of drugs and guns in the area, this was a dangerous situation for both the unarmed officers and the THA residents. As a result, THA officials sought to create a safer environment, where people could feel comfortable walking to and from their housing units, regardless of the time of day. Officials also wanted to provide officers with tools that could help them become more efficient and effective.
To accomplish this, THA officials began by distributing an RFP to security companies with the goal of creating safer surroundings for THA residents and officers. After a careful ranking process based on a variety of factors, the THA selected integrator ComTec Systems. As ComTec employees began to address the needs and concerns of the authority, they realised the THA needed a full-scale security initiative, so they set about to design a unique solution.
The solution
Since the housing communities were spread across multiple locations throughout the city, THA officials sought complete convergence of all THA video. Officials also needed the video to be centralised so they could manage it more cost-effectively.
"One of the challenges in our industry is gathering information from locations across an entire city and sending it back to one location. And how do you balance cost and technology effectively, so it works?" says Michael Vertolli, president of ComTec Systems.
In response to these needs, ComTec designed a unique wireless network to transmit CCTV, access and other data to a command and control centre. The wireless solution proved to be especially economical, since it did not require putting fibre in the ground and trenching or digging up existing environments.
A critical piece of the installation is Honeywell's MAXPRO VMS – a unique video management system that bridges the gap between analogue and digital video systems.
"MAXPRO VMS is ideal for a central command centre where multiple operators are required to view numerous cameras all at the same time," explains Maureen Bruen, regional sales manager of Honeywell's Video Systems. "For the THA, this solution enables the integration of all camera systems and provides a single user interface to manage the entire system."
Now, multiple operators can share incidents with other operators using simple drag-and-drop functionality. This increases operator productivity and, most importantly, reduces investigation time. The THA works closely with local police departments to solve any crimes that occur in their jurisdiction. With this technology in place, officials can make real-time decisions about investigations.
Police can come to the THA command centre to view any criminal activity, and camera shots can also be sent to a desktop in a patrol car, further aiding investigations.
The THA is pleased with this powerful system. Since its implementation, crime has decreased, and illegal dumping and unauthorised use of certain areas has also been significantly reduced. Most importantly, the community feels secure, fulfilling the THA's mission to create safer communities for its residents.
For more information contact Honeywell Systems Group, +44 1928 754023, nick.honess@honeywell.com, www.honeywell.com
Further reading:
Qognify VMS adds support for Pelco IP camera series
CCTV, Surveillance & Remote Monitoring Products
The latest IP camera series from Pelco can now be used with Qognify's advanced video solution for corporate and enterprise projects, increasing the overall number of camera models and third-party devices supported in Qognify VMS to more than 6 500.
Read more...
---
VIVOTEK launches VAST Security Station
CCTV, Surveillance & Remote Monitoring Products
VIVOTEK officially launched its AI security system, VAST Security Station (VSS), in March, available to users in three flexible tiers: VSS Lite, VSS Standard, and VSS Professional.
Read more...
---
Keeping students, staff and communities safe
Vumacam News CCTV, Surveillance & Remote Monitoring Security Services & Risk Management
South African schools are facing increasing security challenges, making effective surveillance systems more important than ever. To address this issue, Vumacam is offering advanced security solutions with security partners, aimed at keeping students, staff, and the community safe.
Read more...
---
Helping to care for zoo animals
Hikvision South Africa CCTV, Surveillance & Remote Monitoring
Zoo keeps an eye on the safety of animals and visitors through the installation of Hikvision 4 MP turret, 12 MP Fisheye cameras, as well as PTZs, NVRs and central management system.
Read more...
---
Boosting digital-intelligent transformation and AI applications
Dahua Technology South Africa CCTV, Surveillance & Remote Monitoring Products
2022 has been a year full of development and innovation for Dahua. The company has launched various upgrades to its existing product portfolio as well as an artillery of new products and solutions that address specific needs/problems in society.
Read more...
---
Arcules and IMMIX announce integration
News CCTV, Surveillance & Remote Monitoring Products
Arcules has announced that its integration with Immix Central Station and Guard Force is available. The integration provides Central Station and Guard Force users a way to manage, verify, and respond to security events, while using Arcules-managed video feeds.
Read more...
---
Developing an effective CCTV control room culture
Leaderware Editor's Choice CCTV, Surveillance & Remote Monitoring Training & Education
Organisational culture in organisations can be seen as the set of values, practices, focus, standards and behaviours, and ways of interacting with others that are accepted and subscribed to by the people who work there.
Read more...
---
Eagle Eye Networks releases 2023 Video Surveillance Trends Report
Eagle Eye Networks News CCTV, Surveillance & Remote Monitoring
Eagle Eye Networks has released the 2023 Trends in Video Surveillance ebook, identifying five trends that will have the largest impact on businesses around the globe in 2023.
Read more...
---
Stainless steel 8 MP dome
Axis Communications SA Products CCTV, Surveillance & Remote Monitoring
Enclosed in marine-grade stainless steel (SS 316L) and DNV-certified, the AXIS Q3538-SLVE can withstand the corrosive effects of seawater and cleaning chemicals.
Read more...
---
Enhanced image clarity and enriched AI functions
Dahua Technology South Africa CCTV, Surveillance & Remote Monitoring Products
The IPC WizMind S series is equipped with multiple intelligent functions, offers adaptability, and comes in plastic-free packaging, enabling better image performance, promoting environmental sustainability, and providing global clients with smarter vision with a stronger surveillance shield.
Read more...
---