printer friendly version
Video management secures community
CCTV Handbook 2010
CCTV, Surveillance & Remote Monitoring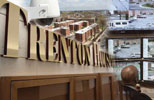 Trenton Housing Authority increases operator productivity and reduces investigation with IP-based video management.
In existence since the late 1930s, the Trenton Housing Authority (THA) provides decent and affordable housing for low and moderate-income residents throughout the city of Trenton, in New Jersey, USA. Its mission is to provide safe and sanitary housing for residents and to lead them toward self-sufficiency.
For the past 30 years, the THA has served nearly 2000 households. Today, the THA is an autonomous body that is chartered by the State of New Jersey, partially funded by the federal government and governed by a seven-member Board of Commissioners.
Previously, the THA relied on 11 unarmed officers patrolling various developments to maintain safety and security. Due to the prevalence of drugs and guns in the area, this was a dangerous situation for both the unarmed officers and the THA residents. As a result, THA officials sought to create a safer environment, where people could feel comfortable walking to and from their housing units, regardless of the time of day. Officials also wanted to provide officers with tools that could help them become more efficient and effective.
To accomplish this, THA officials began by distributing an RFP to security companies with the goal of creating safer surroundings for THA residents and officers. After a careful ranking process based on a variety of factors, the THA selected integrator ComTec Systems. As ComTec employees began to address the needs and concerns of the authority, they realised the THA needed a full-scale security initiative, so they set about to design a unique solution.
The solution
Since the housing communities were spread across multiple locations throughout the city, THA officials sought complete convergence of all THA video. Officials also needed the video to be centralised so they could manage it more cost-effectively.
"One of the challenges in our industry is gathering information from locations across an entire city and sending it back to one location. And how do you balance cost and technology effectively, so it works?" says Michael Vertolli, president of ComTec Systems.
In response to these needs, ComTec designed a unique wireless network to transmit CCTV, access and other data to a command and control centre. The wireless solution proved to be especially economical, since it did not require putting fibre in the ground and trenching or digging up existing environments.
A critical piece of the installation is Honeywell's MAXPRO VMS – a unique video management system that bridges the gap between analogue and digital video systems.
"MAXPRO VMS is ideal for a central command centre where multiple operators are required to view numerous cameras all at the same time," explains Maureen Bruen, regional sales manager of Honeywell's Video Systems. "For the THA, this solution enables the integration of all camera systems and provides a single user interface to manage the entire system."
Now, multiple operators can share incidents with other operators using simple drag-and-drop functionality. This increases operator productivity and, most importantly, reduces investigation time. The THA works closely with local police departments to solve any crimes that occur in their jurisdiction. With this technology in place, officials can make real-time decisions about investigations.
Police can come to the THA command centre to view any criminal activity, and camera shots can also be sent to a desktop in a patrol car, further aiding investigations.
The THA is pleased with this powerful system. Since its implementation, crime has decreased, and illegal dumping and unauthorised use of certain areas has also been significantly reduced. Most importantly, the community feels secure, fulfilling the THA's mission to create safer communities for its residents.
For more information contact Honeywell Systems Group, +44 1928 754023, nick.honess@honeywell.com, www.honeywell.com
Credit(s)
Further reading:
Drones and cybersecurity?
October 2019 , CCTV, Surveillance & Remote Monitoring
Hacker drones can eavesdrop electronically on conversations, can perform network attacks, or can create fake wireless access points.
Read more...
---
Body-worn cameras transforming security
October 2019 , CCTV, Surveillance & Remote Monitoring, Security Services & Risk Management
Police Service Northern Ireland now has over 7 000 officers using 2 500 cameras covering approximately 173 000 incidents each year.
Read more...
---
Camera Selection Guide 2019
CCTV Handbook 2019 , CCTV, Surveillance & Remote Monitoring
The Camera Selection Guide 2019 includes a range of IP, analogue, thermal and speciality cameras aimed at a broad range of surveillance functions.
Read more...
---
Intelligent analytics and the brains to match
September 2019, Bosch Building Technologies , CCTV, Surveillance & Remote Monitoring, Integrated Solutions
What if the brains behind our security cameras could be trained to improve their cognitive ability to pay attention, learn, and problem-solve according to specific rules and situations?
Read more...
---
AI-powered autonomous Drone-in-a-Box
September 2019 , CCTV, Surveillance & Remote Monitoring, Integrated Solutions
Organisations in the mining, energy and industrial, oil and gas, ports and terminals sectors can optimise security and business operations, whilst reducing risks and operational costs
Read more...
---
Cybersecurity for video surveillance systems
September 2019, Mobotix , Cyber Security, CCTV, Surveillance & Remote Monitoring
Video surveillance systems are increasingly accessible over any IP network, which has led to the rise of potential cyberattack.
Read more...
---
What are the cybersecurity issues in video surveillance?
November 2019, Axis Communications SA , Editor's Choice, CCTV, Surveillance & Remote Monitoring, Cyber Security
he importance of the data captured by surveillance cameras – and what can be done with it – has led to a new breed of cybercriminals, looking for insights to steal and sell.
Read more...
---
The safe city and its need for interoperability
November 2019 , Integrated Solutions, CCTV, Surveillance & Remote Monitoring
Interoperability continues to present one of the greatest challenges, particularly with video management systems, video recording devices and cameras.
Read more...
---
A platform approach to safer and smarter cities
November 2019, Milestone Systems , CCTV, Surveillance & Remote Monitoring
Selecting the right platform to manage the vast data collected from smart and safe cities is critical to the ultimate success of the project.
Read more...
---
Creating safe cities with smart technology
November 2019, Secutel Technologies , CCTV, Surveillance & Remote Monitoring
In a digital age, where resilience and responsiveness are paramount to fighting crime and creating a safer world, CCTV systems are becoming part of every city's infrastructure.
Read more...
---