printer friendly version
Ethekwini Hospital opts for IP
CCTV Handbook 2010 CCTV, Surveillance & Remote Monitoring, CCTV, Surveillance & Remote Monitoring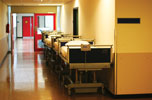 IP video surveillance provides central security control and management support.
Durban-based Ethekwini Hospital & Heart Centre is a state-of-the-art facility committed to taking customer service to new heights.
The R340 million centre, owned and managed by Capensis Management, is 100% black owned. At the core of the hospital is its Cardiac Centre staffed by a team of cardiologists, cardio-thoracic surgeons and experienced nursing and support personnel.
Tragically, hospitals are no longer unaffected by the wide-spread crime tormenting other businesses in South Africa. True to their calling to provide exceptional standards of service to their patients, Ethekwini Hospital has identified the safety and security of its staff, patients, visitors and property as a priority. The hospital is a huge complex, housing highly sophisticated and expensive equipment and systems in various locations and wards on four floors and offering its visitors 420 parking bays.
Easy integration
After considering several tenders, Intelligent Building, a division of the First Technology Group, was mandated to run the project. "The ease of integration of the Axis network cameras into the hospital's newly designed IP network, made Axis Communications our first choice as a partner to deliver on this installation," says Vernon Harripersadh, systems design and software infrastructure consultant at Intelligent Building.
Intelligent Building went on to design a video camera system over IP networks using Axis network cameras, linked to an operational room from where security officials can effectively control the building, parking area and all entrances. An unobtrusive, yet functional security system ensures the safety and security of its patients and visitors without the intimation of big brother surveillance.
A comprehensive network of Axis network cameras was installed. Five AXIS 221 cameras cover the entrances to the premises. The cameras provide high quality images under all lighting conditions, capturing images at gate control points, using Power over Ethernet (PoE). Not only do they record activity at the gates, but they also capture images of all registration plates.
Forty-six AXIS 207 network cameras throughout the building cover entrances to wards and elevator areas. The cameras give excellent low light performance and are equipped with built-in microphones for synchronised audio to enable remote users to not only view, but also listen in on an area to increase effectiveness. The AXIS 207 offers the best image quality in its class, linked to outstanding bandwidth efficiency.
Two AXIS 233D network dome cameras cover the parking area. Designed for challenging surveillance applications, they can follow moving objects at long distances. Through their 35x optical and 12x digital zoom lenses and electronic image stabilisers (EIS) controllers can clearly see licence plates from a distance of 160 m. AXIS 233D can follow a person walking at a distance of 400 m and pan or tilt to any preset location in less than 1,5 seconds.
Monitoring and control
In the security ops room, Milestone Smart Client has been installed on one monitor, providing 64 views. A click of a button shifts the view to selected floors and can also provide full screen views. The second monitor is directly linked to the cameras, giving more clarity as the software talks directly to the camera in real-time. The system switches cameras at 3-second intervals. A button allows users to see the view of any chosen camera on the system. An Impro access control transaction viewer provides images of people clocking in and out.
Images are recorded at 4cif resolution at 8 frames per second and footage is retained for 30 days. This places huge demands on storage, but a 4 TB storage system copes adequately.
Why Video over IP?
Only IP technology can support megapixel cameras. Furthermore, analogue cabling would have been much more expensive and given substantially poorer image quality. Considering that the systems serves 53 cameras on four floors including exterior units, running cables would have been a daunting task. Analogue cabling would also have picked up a lot of interference from the fluorescent lighting and power cables.
Future perspective
Additional cameras have already been ordered and an expansion to 64 channels is imminent. This will add considerable capacity to the system and improved video surveillance coverage. Storage capacity will be increased by installing an extra SAN/NAS as the hospital plans to archive footage for six months.
The IP solution offers great versatility and image quality at reasonable costs. The system allows for unlimited expansion and it integrates seamlessly with other systems such as access control and time and attendance.
Credit(s)
Further reading:
Qognify VMS adds support for Pelco IP camera series
CCTV, Surveillance & Remote Monitoring Products
The latest IP camera series from Pelco can now be used with Qognify's advanced video solution for corporate and enterprise projects, increasing the overall number of camera models and third-party devices supported in Qognify VMS to more than 6 500.
Read more...
---
VIVOTEK launches VAST Security Station
CCTV, Surveillance & Remote Monitoring Products
VIVOTEK officially launched its AI security system, VAST Security Station (VSS), in March, available to users in three flexible tiers: VSS Lite, VSS Standard, and VSS Professional.
Read more...
---
Keeping students, staff and communities safe
Vumacam News CCTV, Surveillance & Remote Monitoring Security Services & Risk Management
South African schools are facing increasing security challenges, making effective surveillance systems more important than ever. To address this issue, Vumacam is offering advanced security solutions with security partners, aimed at keeping students, staff, and the community safe.
Read more...
---
Helping to care for zoo animals
Hikvision South Africa CCTV, Surveillance & Remote Monitoring
Zoo keeps an eye on the safety of animals and visitors through the installation of Hikvision 4 MP turret, 12 MP Fisheye cameras, as well as PTZs, NVRs and central management system.
Read more...
---
Boosting digital-intelligent transformation and AI applications
Dahua Technology South Africa CCTV, Surveillance & Remote Monitoring Products
2022 has been a year full of development and innovation for Dahua. The company has launched various upgrades to its existing product portfolio as well as an artillery of new products and solutions that address specific needs/problems in society.
Read more...
---
Arcules and IMMIX announce integration
News CCTV, Surveillance & Remote Monitoring Products
Arcules has announced that its integration with Immix Central Station and Guard Force is available. The integration provides Central Station and Guard Force users a way to manage, verify, and respond to security events, while using Arcules-managed video feeds.
Read more...
---
Developing an effective CCTV control room culture
Leaderware Editor's Choice CCTV, Surveillance & Remote Monitoring Training & Education
Organisational culture in organisations can be seen as the set of values, practices, focus, standards and behaviours, and ways of interacting with others that are accepted and subscribed to by the people who work there.
Read more...
---
Eagle Eye Networks releases 2023 Video Surveillance Trends Report
Eagle Eye Networks News CCTV, Surveillance & Remote Monitoring
Eagle Eye Networks has released the 2023 Trends in Video Surveillance ebook, identifying five trends that will have the largest impact on businesses around the globe in 2023.
Read more...
---
Stainless steel 8 MP dome
Axis Communications SA Products CCTV, Surveillance & Remote Monitoring
Enclosed in marine-grade stainless steel (SS 316L) and DNV-certified, the AXIS Q3538-SLVE can withstand the corrosive effects of seawater and cleaning chemicals.
Read more...
---
Enhanced image clarity and enriched AI functions
Dahua Technology South Africa CCTV, Surveillance & Remote Monitoring Products
The IPC WizMind S series is equipped with multiple intelligent functions, offers adaptability, and comes in plastic-free packaging, enabling better image performance, promoting environmental sustainability, and providing global clients with smarter vision with a stronger surveillance shield.
Read more...
---