printer friendly version
Ethekwini Hospital opts for IP
CCTV Handbook 2010 CCTV, Surveillance & Remote Monitoring, CCTV, Surveillance & Remote Monitoring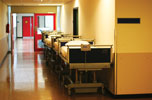 IP video surveillance provides central security control and management support.
Durban-based Ethekwini Hospital & Heart Centre is a state-of-the-art facility committed to taking customer service to new heights.
The R340 million centre, owned and managed by Capensis Management, is 100% black owned. At the core of the hospital is its Cardiac Centre staffed by a team of cardiologists, cardio-thoracic surgeons and experienced nursing and support personnel.
Tragically, hospitals are no longer unaffected by the wide-spread crime tormenting other businesses in South Africa. True to their calling to provide exceptional standards of service to their patients, Ethekwini Hospital has identified the safety and security of its staff, patients, visitors and property as a priority. The hospital is a huge complex, housing highly sophisticated and expensive equipment and systems in various locations and wards on four floors and offering its visitors 420 parking bays.
Easy integration
After considering several tenders, Intelligent Building, a division of the First Technology Group, was mandated to run the project. "The ease of integration of the Axis network cameras into the hospital's newly designed IP network, made Axis Communications our first choice as a partner to deliver on this installation," says Vernon Harripersadh, systems design and software infrastructure consultant at Intelligent Building.
Intelligent Building went on to design a video camera system over IP networks using Axis network cameras, linked to an operational room from where security officials can effectively control the building, parking area and all entrances. An unobtrusive, yet functional security system ensures the safety and security of its patients and visitors without the intimation of big brother surveillance.
A comprehensive network of Axis network cameras was installed. Five AXIS 221 cameras cover the entrances to the premises. The cameras provide high quality images under all lighting conditions, capturing images at gate control points, using Power over Ethernet (PoE). Not only do they record activity at the gates, but they also capture images of all registration plates.
Forty-six AXIS 207 network cameras throughout the building cover entrances to wards and elevator areas. The cameras give excellent low light performance and are equipped with built-in microphones for synchronised audio to enable remote users to not only view, but also listen in on an area to increase effectiveness. The AXIS 207 offers the best image quality in its class, linked to outstanding bandwidth efficiency.
Two AXIS 233D network dome cameras cover the parking area. Designed for challenging surveillance applications, they can follow moving objects at long distances. Through their 35x optical and 12x digital zoom lenses and electronic image stabilisers (EIS) controllers can clearly see licence plates from a distance of 160 m. AXIS 233D can follow a person walking at a distance of 400 m and pan or tilt to any preset location in less than 1,5 seconds.
Monitoring and control
In the security ops room, Milestone Smart Client has been installed on one monitor, providing 64 views. A click of a button shifts the view to selected floors and can also provide full screen views. The second monitor is directly linked to the cameras, giving more clarity as the software talks directly to the camera in real-time. The system switches cameras at 3-second intervals. A button allows users to see the view of any chosen camera on the system. An Impro access control transaction viewer provides images of people clocking in and out.
Images are recorded at 4cif resolution at 8 frames per second and footage is retained for 30 days. This places huge demands on storage, but a 4 TB storage system copes adequately.
Why Video over IP?
Only IP technology can support megapixel cameras. Furthermore, analogue cabling would have been much more expensive and given substantially poorer image quality. Considering that the systems serves 53 cameras on four floors including exterior units, running cables would have been a daunting task. Analogue cabling would also have picked up a lot of interference from the fluorescent lighting and power cables.
Future perspective
Additional cameras have already been ordered and an expansion to 64 channels is imminent. This will add considerable capacity to the system and improved video surveillance coverage. Storage capacity will be increased by installing an extra SAN/NAS as the hospital plans to archive footage for six months.
The IP solution offers great versatility and image quality at reasonable costs. The system allows for unlimited expansion and it integrates seamlessly with other systems such as access control and time and attendance.
Credit(s)
Further reading:
A step up in safety
Issue 4 2020 , CCTV, Surveillance & Remote Monitoring
With the COVID-19 pandemic, body-worn cameras (BWC) now play an even more important role in safety and accountability than ever before, ensuring a more significant option in the protection of employees.
Read more...
---
Latest Longse thermal technology
Issue 4 2020, LD Africa , CCTV, Surveillance & Remote Monitoring
Longse thermal IP cameras include remote monitoring, a video server and high-definition camera functions.
Read more...
---
LenelS2 enhances VRx VMS
Issue 4 2020, UTC Fire & Security SSA , CCTV, Surveillance & Remote Monitoring
LenelS2 announces enhancements to VRx video management system, uses deep learning and native NetBox ecosystem integration for a unified security management experience.
Read more...
---
Empowering verticals with AI
Issue 4 2020, Dahua Technology South Africa , CCTV, Surveillance & Remote Monitoring
Dahua Technology has released WizMind, a portfolio of project-oriented products delivering AI solutions to verticals including government, retail, energy, finance and transportation.
Read more...
---
Entrance control from Axis
Issue 4 2020, Axis Communications SA , Access Control & Identity Management
Access control solutions from Axis offer flexibility, agility and open platforms that are fit for both today's needs and tomorrow's.
Read more...
---
Safety and productivity for retailers
Issue 4 2020, Dahua Technology South Africa , CCTV, Surveillance & Remote Monitoring
Dahua Technology launches retail epidemic safety protection solution to enhance store operation safety under COVID-19.
Read more...
---
Non-contact and visual protection measures
Issue 4 2020 , CCTV, Surveillance & Remote Monitoring
Non-contact and visual protection measures to contain the coronavirus – Geutebrück extends its product portfolio by three DSGVO-compliant video solutions.
Read more...
---
Smart is the new black
Issue 4 2020 , CCTV, Surveillance & Remote Monitoring
The idea of 'smart' is becoming a reality in almost every aspect of our business and personal lives, from home security and lifestyle, through to smart buildings and smart working processes.
Read more...
---
Smarter monitoring with AI
Issue 4 2020, Deep Data , CCTV, Surveillance & Remote Monitoring
Deep Data's DeepAlert is changing the security monitoring market (remote and on-site) with deep learning and cloud services.
Read more...
---
Upgrade your current security system with SecuVue
Issue 4 2020, Secutel Technologies , CCTV, Surveillance & Remote Monitoring
Cloud-based analytics can be added to existing CCTV solutions to upgrade the efficacy and value the installation adds.
Read more...
---