printer friendly version
Safe soccer
April 2010
CCTV, Surveillance & Remote Monitoring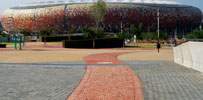 Soccer City and the Coca-Cola Park Stadia have modernised their respective video surveillance systems.
The most important stadium throughout the 2010 Soccer World Cup in South Africa will be the Soccer City Stadium in Johannesburg. This is where the opening and closing soccer matches will be staged.
Steeped in history, the stadium was built in 1987 as the country's first national stadium. Apart from soccer matches, the stadium has also been used for many other large-scale events such as in 1990, when Nelson Mandela held his first mass rally there after his release from prison.
However, until the opening match of the World Cup, major reconstruction and modernisation works will have to be completed at Soccer City. The building works are so comprehensive that they practically equal a new construction from the bottom up. Once completed, the stadium will accommodate approximately 95 000 spectators, 99 VIP lounges, 6000 business seats and exclusive restaurants provide top-class convenience at the largest of the World Cup stadia. Besides its size, Soccer City primarily impresses with its extraordinary architecture. Its façade is reminiscent of a calabash, a traditional African clay pot. Furthermore, the stadium houses a museum dedicated to the history of South African football. Right next to the building are the headquarters of South Africa's football association SAFA, which will also accommodate the FIFA offices for the duration of the World Cup.
On the occasion of the Soccer World Cup 2010, the Coca-Cola Park Stadium in Johannesburg, which was originally built in 1928 under the name Ellis Park as a rugby stadium, has also expanded its seating capacities. Now, a total of 70 000 fans can be seated at the stadium. The necessary reconstruction works have already been completed so the stadium could be used during the FIFA Confederation Cup in 2009.
The additional numbers of fans consequently increases the risk for potentially dangerous situations. Uncontrolled crowds, a tight squeeze, or physical fights between different fan groups are probably among the scenarios most feared by security staff. In order to be able to prevent any such escalations in the first place, a video security system by German manufacturer Dallmeier and local system integrator Engineered Systems Solutions, subsequently also responsible for the installation and commissioning of the system, provides for the necessary overview. Jose de Oliveira, manager at Engineered Systems Solutions, explains: "We rely on Dallmeier products because the technology is highly reliable and, yet, at the same time, easy to use for the security operator."
"Besides providing for increased safety and security for the visitors the new CCTV/IP systems also offer the stadia a clear financial benefit. Considering the numerous international fans, it is an advantage that the system can help to rebut potential foreign legal claims in case anything should happen," says Frank Oetjen, sales manager at Dallmeier.
Detailed images
When it came to choosing the cameras, it was decided to go with Dallmeier network cameras. The system now includes both fixed dome and Domera high-speed PTZ cameras.
The IP cameras are equipped with Cam_inPIX technology, which allows for the recording of clear, high-contrast images, even under the most difficult lighting conditions. Those include frequent changes between shadows and lights as they occur in sports stadia. Individual persons' faces can also be clearly identified at great distances.
Reliable recording
The camera images are recorded on Dallmeier DMS 240 IPS recorders. These video network systems with up to 24 IP-based video channels, support MPEG-4, MJPEG, and H.264 compression methods. The integrated PentaplexPlus functionality exceeds the usual five Pentaplex standards. The DMS 240 IPS allows simultaneous recording, streaming, backup, live display and playback at the recorder or via a network. Additionally, remote network access for configuration and transcoding via a network is also possible. Every channel can be recorded with a frame rate of up to 25 fps.
The Linux operating system on flash memory guarantees highest reliability and three high-performance fans, with automatic revolution adjustment, provide for optimal ventilation. In the case of a hard disk failure the easy-change functionality of the exchangeable hard disks located at the front side of the device ensures the highest possible maintenance-friendliness.
Intuitive operation
The respective systems are controlled and operated using the security management system SeMSy. SeMSy enables the easy control and administration of different streams of media data and offers live display and recording of video/audio data at any point within a networked system. Operating procedures and complex controls can be stored so that security personnel can operate their systems intuitively. The graphic user interface, into which site plans of the stadia were integrated, gives every user a quick overview of the cameras and dedicated monitors via a comprehensive graphic display.
Riaan Kruger, regional representative of Dallmeier Southern Africa, explains: "Despite the fact that the installation is highly complex, the operation of the system remains highly convenient and intuitive for the security personnel."
Exterior surveillance
Aside from the stadia themselves, the outdoor areas are also monitored by high-resolution Dallmeier IP cameras. Depending on the area of application, the system uses high-speed PTZ dome cameras, box cameras or vandal-resistant dome cameras. The latter also provide for the necessary security around critical areas. Therefore the complete surroundings of the stadia, including streets and access roads, are reliably monitored. The combination of surveillance systems across various locations consequently enhances the security throughout each of the precincts.
The security concept is rounded off by incorporating the two train stations which are close to the stadia into the surveillance system. The Nasrec train station alone, which is just a short walk from the Soccer City Stadium, is monitored by over 100 network cameras, and the same applies to the New Doornfontein Station at the Coca-Cola Park Stadium. In the course of the modernisation works, the train stations were also completely rebuilt.
Oetjen explains: "Of course a camera cannot actively prevent an incident from happening, but owing to the video images security staff can quickly get an idea of a situation and intervene immediately, for example when the crush of people on a platform should get too tight. Moreover, potential pickpockets are often discouraged from pursuing their activities by the mere presence of a CCTV system. And if there should be an incident, the police will have detailed recordings which allow for the identification of the perpetrators."
For more information contact Dallmeier Electronic GmbH & Co.KG, +49 (0) 941/ 8700-0, presse@dallmeier.com, www.dallmeier.com
Further reading:
Securing Savannah Hills Estate
August 2019, Rhyco Risk Projects , CCTV, Surveillance & Remote Monitoring, Perimeter Security, Alarms & Intruder Detection
Savannah Hills Estate in Midrand planned a security upgrade which was awarded to Rhyco Risk Projects. The project started in March 2019 and was completed in May 2019.
Read more...
---
10 things to consider when shopping for a VMS
August 2019, Genetec , CCTV, Surveillance & Remote Monitoring, Integrated Solutions
Today's video management systems (VMS) provide a wide range of tools and capabilities that help make security personnel more efficient by allowing them to focus on what really matters.
Read more...
---
How far are we really at with artificial intelligence?
August 2019, Axis Communications SA , Editor's Choice, CCTV, Surveillance & Remote Monitoring, IT infrastructure, Residential Estate (Industry)
Justin Ludik unpacks exactly how far AI has come and what it potentially can do for society and more importantly, surveillance.
Read more...
---
Enhancing security with AI
August 2019, Hikvision South Africa , CCTV, Surveillance & Remote Monitoring
Hikvision explains how residential estates can revolutionise their security strategies and outcomes with artificial intelligence.
Read more...
---
More than simply a camera
August 2019, Forbatt SA, Secutel Technologies , CCTV, Surveillance & Remote Monitoring, Residential Estate (Industry)
With the human element being the weakest link in all security solutions, Hi-Tech Security Solutions looks at the pros and cons of using body-worn cameras in estates.
Read more...
---
The importance of effective perimeter security
August 2019, Elf Rentals - Electronic Security Solutions, Stafix , Editor's Choice, CCTV, Surveillance & Remote Monitoring, Residential Estate (Industry)
Protecting the perimeter is critical for any residential estate; how does one go about making sure your perimeter is as secure as possible?
Read more...
---
Security playing speedcop
August 2019, Axis Communications SA, Hikvision South Africa , CCTV, Surveillance & Remote Monitoring, Residential Estate (Industry)
Estates now have a legal precedent to manage their traffic and fine people in the estate for violations of the rules; all they need do is find solutions that will support them.
Read more...
---
CathexisVision video management software
August 2019, Cathexis Technologies , Products, CCTV, Surveillance & Remote Monitoring
The CathexisVision IP video management software (VMS) helps clients get the most out of their surveillance investment and reap rewards for their companies.
Read more...
---
Capture every detail with Smart PIR kits
August 2019, Longse Distribution , Home Security, CCTV, Surveillance & Remote Monitoring, Residential Estate (Industry)
Longse Technology offers DIY smart security kits that are easy to install and offer a Wi-Fi range that can reach up to 300 metres.
Read more...
---
Future-facing cameras
August 2019, Bosch Building Technologies , Products, CCTV, Surveillance & Remote Monitoring
All FLEXIDOME IP starlight 8000i cameras feature built-in Intelligent Video Analytics, making them intuitive, and elevates their importance far beyond security alone.
Read more...
---