printer friendly version
Stepping out
CCTV Handbook 2010
CCTV, Surveillance & Remote Monitoring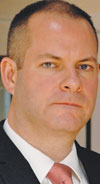 Factors to consider when specifying secure and resilient outdoor surveillance.
Unlike indoor locations, where most variables can be held within narrow and predictable ranges, outdoor locations strain video surveillance equipment to its absolute limits.
In those tough operating locations constantly exposed to wind, rain and wide variations in temperature, or those where tampering and vandalism are ever-present risks, the need for cost-effective video surveillance that meets the customer's needs regardless of outdoor conditions is imperative.
Outdoor security is essential for many businesses, with the outdoor perimeter of a site often representing an important security gateway. Outdoor security systems provide the first view of visitors, intruders or other members of the public, providing the most time to react effectively, if needed.
Future-proof
End users are looking for systems that provide clear video surveillance, regardless of where the camera is located or the climate it needs to operate in, and site owners need a secure, future-proof investment without hidden costs.
With crime on the rise, property owners are realising they need to review their surveillance requirements to protect their properties. In fact, IMS Research believes that robust, efficient outdoor surveillance is becoming more and more important to security professionals and is forecasting long-term double digit revenue growth for applications that require outdoor surveillance, particularly public area surveillance and perimeter protection.
Special demands
Each outdoor application has special demands, but successful video surveillance demands suitable image quality and equipment reliability regardless of conditions, as well as cost-effective installation and user-friendly operation. It takes a very robust camera to withstand the differing weather and lighting conditions faced in the average external installation.
An outdoor camera needs to be able to cope with the full assault of the weather – from freezing snow storms to dusty, hot conditions – and as they can often be located in difficult to reach places, reliability is key as maintenance or replacement can be expensive, time-consuming and difficult. Maintenance also often requires specialist equipment, which is not likely to be easily – or cheaply – accessible.
If the right type of camera is not used, exposure to the elements will quickly damage the camera and severely impair image quality, and poor lighting conditions and extreme weather conditions will inevitably hinder the image quality you are relying on.
A robust solution
Outdoor security solutions are required to provide optimal performance in spite of the tough conditions they are forced to operate in. From extremes of weather and temperature, humidity dust, vibration, corrosive environments to acts of random vandalism – those systems that fail to live to deliver on performance when faced with these conditions can pose an extremely serious security risk.
Image quality
It is not enough merely to be able to operate in harsh conditions: cameras also need to deliver high resolution image quality coupled with high frame rates – very important when dealing with fast-moving subjects and varying lighting conditions. High image quality is especially important in applications where it is important to be able to clearly identify people and vehicles such as car parks, train stations and airports. Constantly changing light conditions are the norm for outdoor surveillance installations, from one minute to the next and from brightest daylight to darkest night.
These factors and others such as shadows and fast-moving objects can also adversely affect the effectiveness of the security camera. Security cameras need to be able to cope with all levels of lighting, utilising infra-red technology at night and iris control in bright sunlight to ensure exceptional image quality at all times.
Weather
In many outdoor surveillance situations, cameras are likely to experience adverse weather. Equipment must be designed with these factors in mind, and built with the ability to withstand the toughest conditions.
It is important to prevent water ingress by using an ingress protection (IP) rated housing to ensure that the equipment does not suffer water damage. IP ratings are given to outdoor surveillance equipment to communicate their resistance to water and dust.
Tampering and vandalism
By their very nature, surveillance cameras can be unpopular with individuals who do not wish their actions to be monitored. It is therefore important for cameras to be able to fend off attempts to disable them – with vandal-resistant design, hardened casings and active tampering alarms. It also helps to use equipment that is unobtrusive in design, diverting attention away from it.
Credit(s)
Further reading:
Qognify VMS adds support for Pelco IP camera series
CCTV, Surveillance & Remote Monitoring Products
The latest IP camera series from Pelco can now be used with Qognify's advanced video solution for corporate and enterprise projects, increasing the overall number of camera models and third-party devices supported in Qognify VMS to more than 6 500.
Read more...
---
VIVOTEK launches VAST Security Station
CCTV, Surveillance & Remote Monitoring Products
VIVOTEK officially launched its AI security system, VAST Security Station (VSS), in March, available to users in three flexible tiers: VSS Lite, VSS Standard, and VSS Professional.
Read more...
---
Keeping students, staff and communities safe
Vumacam News CCTV, Surveillance & Remote Monitoring Security Services & Risk Management
South African schools are facing increasing security challenges, making effective surveillance systems more important than ever. To address this issue, Vumacam is offering advanced security solutions with security partners, aimed at keeping students, staff, and the community safe.
Read more...
---
Helping to care for zoo animals
Hikvision South Africa CCTV, Surveillance & Remote Monitoring
Zoo keeps an eye on the safety of animals and visitors through the installation of Hikvision 4 MP turret, 12 MP Fisheye cameras, as well as PTZs, NVRs and central management system.
Read more...
---
Boosting digital-intelligent transformation and AI applications
Dahua Technology South Africa CCTV, Surveillance & Remote Monitoring Products
2022 has been a year full of development and innovation for Dahua. The company has launched various upgrades to its existing product portfolio as well as an artillery of new products and solutions that address specific needs/problems in society.
Read more...
---
Arcules and IMMIX announce integration
News CCTV, Surveillance & Remote Monitoring Products
Arcules has announced that its integration with Immix Central Station and Guard Force is available. The integration provides Central Station and Guard Force users a way to manage, verify, and respond to security events, while using Arcules-managed video feeds.
Read more...
---
Developing an effective CCTV control room culture
Leaderware Editor's Choice CCTV, Surveillance & Remote Monitoring Training & Education
Organisational culture in organisations can be seen as the set of values, practices, focus, standards and behaviours, and ways of interacting with others that are accepted and subscribed to by the people who work there.
Read more...
---
Eagle Eye Networks releases 2023 Video Surveillance Trends Report
Eagle Eye Networks News CCTV, Surveillance & Remote Monitoring
Eagle Eye Networks has released the 2023 Trends in Video Surveillance ebook, identifying five trends that will have the largest impact on businesses around the globe in 2023.
Read more...
---
Stainless steel 8 MP dome
Axis Communications SA Products CCTV, Surveillance & Remote Monitoring
Enclosed in marine-grade stainless steel (SS 316L) and DNV-certified, the AXIS Q3538-SLVE can withstand the corrosive effects of seawater and cleaning chemicals.
Read more...
---
Enhanced image clarity and enriched AI functions
Dahua Technology South Africa CCTV, Surveillance & Remote Monitoring Products
The IPC WizMind S series is equipped with multiple intelligent functions, offers adaptability, and comes in plastic-free packaging, enabling better image performance, promoting environmental sustainability, and providing global clients with smarter vision with a stronger surveillance shield.
Read more...
---