printer friendly version
Video analytics - not an industry bad boy
CCTV Handbook 2010
CCTV, Surveillance & Remote Monitoring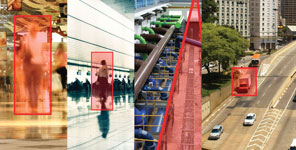 Video analytics is not a silver bullet, but it is also not a white elephant.
Today, businesses use CCTV-based systems as a vital part of their mission-critical security setup. Increasingly, security managers are moving to adopt video analytics (VA) enabled systems with the belief that all their security problems will be solved at the drop of a hat as soon as these systems become operational.
While it is true to say that VA systems can add a lot of business value in terms of operational efficiency and cost savings, it must be said that such systems do not operate in a vacuum. To maximise ROI in these costly applications, companies must consider the real-world uses of the technology within the context of their security needs before making this transition.
Slapping a video analytics application into a CCTV solution, then selling that same device as an 'intelligent security solution' that leverages the latest and greatest in cutting-edge technology – yours for only a few rand more – is surely doing a disservice to customers seeking a truly intelligent solution that will get the job done.
On paper the concept seems a sound one: migrate an organisation's CCTV operations to an intelligent solution that does away with the costly human factor; resulting in a speedy ROI. Indeed, what could be better? It looks like a win-win situation for all, however, to secure maximum value-add from their VA setup, companies need to know the system cannot operate in isolation. Without the right end-user training and a well-planned infrastructure and backup system, video analytics can fail the end-user in three main areas:
1. Alert generation
2. Maintenance
3. Costs.
Eliminating false alerts
The primary issue for security solution integrators and organisations looking to upgrade their CCTV systems is the elimination of false alerts.
Many VA-enabled CCTV systems are sold on the basis of the idea that they will do away with the faulty burglar alarm scenario as well as eliminating the human error factor. After all, every time an alert is generated, it requires human input to evaluate the event. If the alert is false, the human factor is increased leading to heightened emotional and organisational frustration with the system. And let us not forget about the extra costs associated with the above scenario.
The truth is the average false burglar alarm reports are very rare, while the opposite can be said for the false alarms generated by video analytic solutions. Statistics reveal that low-cost intelligent solutions are not that intelligent after all. An entry level system can generate dozens of false alarms every week which can be the result of a wide range of factors: from the change in the position of the rising sun, to a change in the weather and even a seasonal change. This can suddenly and surprisingly cause serious problems with the system. Not only does that place a huge operational burden on the company; it also creates a security nightmare pushing up armed response fees and insurance rates.
Maintenance
Let the buyer beware – system maintenance is an often overlooked and somewhat hidden issue in video analytics.
To understand this we need to look back at the first point. Over a relatively short period, a cheap video analytic solution can generate a growing number of false alerts. Not only are these false alerts a problem in itself it also creates an air of distrust around the solution. How can any company believe its overall security plan to be a sound one if the system is constantly cranking out errors?
The solution? Give in and negotiate a service level agreement that meets your day-to-day needs or reinstate the old system and relegate the intelligent video-analytic enabled system to the storeroom?
Either way, companies who take the decision to purchase an inexpensive, VA-enabled system will find it costly in a very short period.
This being said, not all video analytic systems are made equal.
Many of the more costly systems are more reliable – the onus is on the purchaser to thoroughly research the solutions on offer and not to give in to pushy salespeople punting an intelligent system for bargain basement prices.
Costly to purchase and operate
While you can find inexpensive video analytic systems on today's market, these solutions tend to suffer from the problems mentioned in the previous two points, a disproportionately high rate of false alert generation and costly system maintenance leading to significantly high operational problems. The cost of video analytic systems stems from the vendor ensuring their technology can handle real-world scenarios with ease, which is what entry-level systems fail to do. And this is where the real intelligence (and concomitant costs) come into play.
Simply put, a VA-enabled system's intelligence needs to be capable of addressing the factors mentioned in the first issue we addressed, from handling differences in lighting, depth, position of the sun, weather, etc, to generating alerts that are genuine. In addition to the software development cost, the implementation of any system requires an additional IT-cost with its own maintenance fees.
In real-world terms this means a customer has to purchase the necessary hardware and software to run a high-end VA-enabled security system. All this new technology invariably requires upgrades to a company network to handle the secure transmission of data, and a highly scalable server solution to store the resulting data. And then there is the issue of backup; onsite maintenance, service level agreements and so forth. All of these clearly increase costs, but these are necessary if anyone wishes to purchase a VA-enabled system that is intelligent, and reliable enough to operate in today's security conscious world.
At the end of the day it is obvious that for video analytic systems to really live up to their hype they need to be capable of both getting the job done as well as generating a real ROI.
Companies that are trying to cut costs by slashing the size of their on-site security team are mistaken if they believe the elimination of the human factor will enhance their security. While in some cases the adoption of a costly system can be justified – if it leads to a reduction in frequent high value losses, for example – the truth is it is safe to say that these systems only truly add value when the intelligence of a trained security professional is factored into the equation.
Credit(s)
Further reading:
Retail solutions beyond security
Issue 8 2020, Axis Communications SA, Technews Publishing, Hikvision South Africa , Editor's Choice, CCTV, Surveillance & Remote Monitoring
The need for security technology to deliver more than videos of people falling or stealing from retail stores is greater than ever.
Read more...
---
A 'step-change' in tracking and monitoring
Issue 8 2020, Dahua Technology South Africa , CCTV, Surveillance & Remote Monitoring, Products
View an overall scene while monitoring a specific person or vehicle, or obtain a panoramic view while being able to zoom in and track particular targets.
Read more...
---
AI-powered hardhat detection
Issue 8 2020, Hikvision South Africa , Industrial (Industry), CCTV, Surveillance & Remote Monitoring
Hardhats save lives, but only if people wear them. Intelligent, AI-powered hardhat cameras are helping to ensure workers in dangerous locations stay safe at all times.
Read more...
---
Integrated access control and IP surveillance
Issue 9 2020 , CCTV, Surveillance & Remote Monitoring
VIVOTEK partners with Chiyu Technology to deliver new integrated access control and IP surveillance solution.
Read more...
---
Helping customers explore unmatched possibilities
Issue 9 2020, Milestone Systems , CCTV, Surveillance & Remote Monitoring
With the new edition of Milestone Marketplace, buyers will not only find the complementary hardware and software functionality, but also solution services for building best-of-breed video management solutions.
Read more...
---
Video technology benefits children with autism
Issue 9 2020, Milestone Systems , CCTV, Surveillance & Remote Monitoring
The new rehabilitation centre at Sesobel is equipped with a state-of-the-art behaviour monitoring and logging system in collaboration with Axis Communications and Milestone Systems.
Read more...
---
Latest generation of the Panomera
Issue 9 2020, Dallmeier Electronic Southern Africa , CCTV, Surveillance & Remote Monitoring
The latest generation of the Panomera S-Series features a new design and offers numerous innovations, from the one-man mounting concept to contactless front glass cleaning.
Read more...
---
Hybrid security lighting solution from GJD
Issue 9 2020 , CCTV, Surveillance & Remote Monitoring
GJD has announced the launch of its Clarius Hybrid IP IR/WL LED illuminator, a high-performance combined infrared and white light illuminator.
Read more...
---
Hikvision helps protect rhinos
Issue 9 2020, Hikvision South Africa , CCTV, Surveillance & Remote Monitoring
Hikvision provided high-end network cameras to Kariega Game Reserve to assist in protecting the wildlife from poachers.
Read more...
---
Manage traffic violations with video
Issue 9 2020, Dallmeier Electronic Southern Africa , CCTV, Surveillance & Remote Monitoring
Local authorities now have the capability to capture traffic violations and file video sequences of the offences efficiently.
Read more...
---