printer friendly version
What comes after the NVR?
April 2010
CCTV, Surveillance & Remote Monitoring
Bernard Senekal, MD of SentronicsSD discusses a new way of servicing customers that cuts the cost without cutting the benefits.
Until now, we have all been happy to sell surveillance solutions to clients, make our profit on the hardware and installation and then maintain some form of relationship and hopefully income through service levels and maintenance contracts in place.
Most clients purchasing surveillance equipment will not reciprocate this joyful selling as it places immediate strain on cash flow and has ongoing intervention by the installation company on the client site. On the sellers end it makes for a harder sale and the cycle times to get approval for sales are much longer due to budget considerations. Yes, sales can be done using a finance house, but still you are placing down unnecessary equipment on a client site and increasing the monthly spend in doing so.
So, can we really sell CCTV systems like a cellphone contract? Managed and hosted video security services present the opportunity to do just that. Selling video surveillance as a service (VSaaS) presents benefits, challenges and change which we will investigate in this article.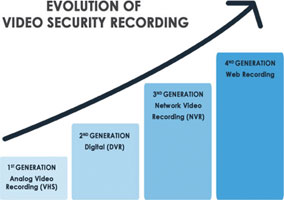 Figure 1. The evolution of surveillance video recording
No longer do we need to install expensive recording devices on the client site, but rather just plug the client into an offsite service provider that performs all the recordings for them. In its simplest form we are actually only removing the network/digital recording device off site and onto a remote server, hosted by a service provider that enables us to access the footage (recorded or live view). This footage can be accessed from just about any device, with Internet access from anywhere in the world, provided we have the permissions (allocated username and password) to do so. Imagine a type of YouTube.com, but dedicated to recording, storing and broadcasting security footage.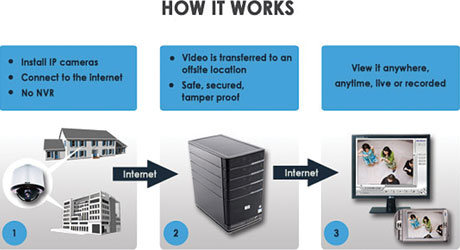 Figure 2. How it works
The real question that needs to be answered is how this will affect traditional security installation companies, system integrators and other product and service providers in our industry. The initial target market for this seems to be the domestic and SME markets, therefore the immediate opportunity (or concern perhaps?) are the security distributors and installers that play in this end of the market. Depending on the go to market strategy of the hosting companies that offer these services, the traditional installer might find himself having to reshape his business dramatically to either cater for installations only, or perhaps be in a position to resell the service and generate recurring income for the duration of the contract term.
Even though the focus might be on these markets initially, I can also imagine a world where even mission-critical systems such as stadia, traffic management systems and multinational private sector companies pay monthly fees, attached to service levels for the hosting and management of their surveillance footage rather than huge capital layouts and expensive monthly maintenance contracts and onsite support.
In South Africa, we are starting to see less expensive and more guarantees on bandwidth uptimes in our homes and places of work. Add compression technology and a standard ADSL line could easily be utilised for selling CCTV as a service. The offer however, goes over and above CCTV and could include management and hosting of other disciplines such as access control.
Having a look at the growth of this trend internationally, there are some start-ups that already provide an effective solution through Internet service provider platforms and security companies with control rooms alike. This technology might be very close to being overhyped and in the short term not have a direct impact on the industry as we know it today, but in the long run it will. So keep your ear to the ground and your eyes wide open as the case has been made and the trend cannot and should not be ignored.
For more information contact Bernard Senekal, managing director, SentronicsSD, +27 (0)21 957 4505, bernard@sentronics.co.za, www.sentronics.co.za
Further reading:
Securing Savannah Hills Estate
August 2019, Rhyco Risk Projects , CCTV, Surveillance & Remote Monitoring, Perimeter Security, Alarms & Intruder Detection
Savannah Hills Estate in Midrand planned a security upgrade which was awarded to Rhyco Risk Projects. The project started in March 2019 and was completed in May 2019.
Read more...
---
10 things to consider when shopping for a VMS
August 2019, Genetec , CCTV, Surveillance & Remote Monitoring, Integrated Solutions
Today's video management systems (VMS) provide a wide range of tools and capabilities that help make security personnel more efficient by allowing them to focus on what really matters.
Read more...
---
How far are we really at with artificial intelligence?
August 2019, Axis Communications SA , Editor's Choice, CCTV, Surveillance & Remote Monitoring, IT infrastructure, Residential Estate (Industry)
Justin Ludik unpacks exactly how far AI has come and what it potentially can do for society and more importantly, surveillance.
Read more...
---
Enhancing security with AI
August 2019, Hikvision South Africa , CCTV, Surveillance & Remote Monitoring
Hikvision explains how residential estates can revolutionise their security strategies and outcomes with artificial intelligence.
Read more...
---
More than simply a camera
August 2019, Forbatt SA, Secutel Technologies , CCTV, Surveillance & Remote Monitoring, Residential Estate (Industry)
With the human element being the weakest link in all security solutions, Hi-Tech Security Solutions looks at the pros and cons of using body-worn cameras in estates.
Read more...
---
The importance of effective perimeter security
August 2019, Elf Rentals - Electronic Security Solutions, Stafix , Editor's Choice, CCTV, Surveillance & Remote Monitoring, Residential Estate (Industry)
Protecting the perimeter is critical for any residential estate; how does one go about making sure your perimeter is as secure as possible?
Read more...
---
Security playing speedcop
August 2019, Axis Communications SA, Hikvision South Africa , CCTV, Surveillance & Remote Monitoring, Residential Estate (Industry)
Estates now have a legal precedent to manage their traffic and fine people in the estate for violations of the rules; all they need do is find solutions that will support them.
Read more...
---
CathexisVision video management software
August 2019, Cathexis Technologies , Products, CCTV, Surveillance & Remote Monitoring
The CathexisVision IP video management software (VMS) helps clients get the most out of their surveillance investment and reap rewards for their companies.
Read more...
---
Capture every detail with Smart PIR kits
August 2019, Longse Distribution , Home Security, CCTV, Surveillance & Remote Monitoring, Residential Estate (Industry)
Longse Technology offers DIY smart security kits that are easy to install and offer a Wi-Fi range that can reach up to 300 metres.
Read more...
---
Future-facing cameras
August 2019, Bosch Building Technologies , Products, CCTV, Surveillance & Remote Monitoring
All FLEXIDOME IP starlight 8000i cameras feature built-in Intelligent Video Analytics, making them intuitive, and elevates their importance far beyond security alone.
Read more...
---