printer friendly version
The journey continues
CCTV Handbook 2010
CCTV, Surveillance & Remote Monitoring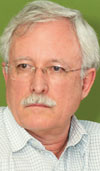 The surveillance industry can be tough and competitive, with a never-ending array of newer, better toys. A poetic Rob Anderson puts it in perspective.
"If you can keep your head when all about you are losing theirs and blaming it on you... If you can meet with Triumph and Disaster and treat those two imposters just the same...." (Rudyard Kipling)
The words from the poem 'IF', by Rudyard Kipling, possibly written during one of his many stays in Cape Town still rings true within the current CCTV environment.
It was not too long ago that we debated how video tape storage would be replaced with something digital. And then what is the best compression format: embedded technology or PC-based. Big decisions, often involving big money.
And then the differing technologies matured and prices dropped. We had products with differences in the replay results, and a slowing down of the marketing drive. We had a clear upper end and lower end of the market and we forgot about tapes.
Who would have expected that those IT chaps would enter the CCTV industry? They arrived with a whole pack of new terms that the traditional CCTV experts had not met before. Again, there was a massive rate of change as the IP age arrived.
Every magazine and marketing story now refers to IP CCTV as if the analogue age has long gone.
Clients are calling for CCTV (that must be IP). But speak to the manufacturers and you will find that the greatest part of the market is still analogue. Why? Well, mostly due to cost. The IP solution is still, in most cases, more expensive. And we all have to admit that the extra money is not providing anything extra that most clients will need. Unless of course the need to mention in passing, that "we have just installed an IP CCTV system".
So, once again a difficult environment with fast moving product changes, marketing strategy pushing for IP and a new bunch of people in the industry: the IT companies.
So how do we make the correct decision on a purchase? Who should do the installation, the traditional installer who understands CCTV or the IT man who understands networking? Or maybe you are lucky to have a hybrid service provider that understands the 'new picture'.
Well, the most important fact to understand is that the new IP CCTV age is still in its volatile development phase. Maturity in this market has not yet arrived. When it does, there will be a slowdown in change, lower prices and some understood and respected standards. There will also unfortunately be many people with expensive systems that could have been simpler and cheaper, while still achieving the same desired results.
So rule one in the run up to maturity, do not make rash decisions on product and technology. Decide on the payback period and actual needs, and expect to have outdated technology soon after purchase. Sometimes, using the old technology at cheaper prices to see you through to the point that maturity arrives in the IP market is a more appropriate decision.
We still have very good quality analogue systems, video over CAT5 technology and storage systems that provide solutions that solve most clients' problems. They can still provide the best solution for rand spent.
And never forget the age-old rule in CCTV – good pictures start with good lenses. All the latest technology and IT expertise will never correct the results of a badly manufactured lens.
Therefore, 'IF' you can offer an honest solution to your client, when all around you are following the latest advert, and still keep your head, and your honour, "you will be a Man my Son!" (With apologies to Rudyard Kipling.)
For more information contact Rob Anderson & Associates, +27 (0)31 267 4150, rob@robanderson.co.za, www.robanderson.co.za
Further reading:
Efficient storage for security
Issue 7 2020, Dell EMC , CCTV, Surveillance & Remote Monitoring
There is a dramatic increase in the amount of storage and computing power required to support today's safety and security systems.
Read more...
---
Safe restaurant reopening technology
Issue 7 2020, Dahua Technology South Africa , CCTV, Surveillance & Remote Monitoring
Denmark's Arkaden Food Hall makes use of Dahua People Counting and Flow Control solution for safe reopening.
Read more...
---
Forbatt SA invests in South Africa's security industry
Issue 7 2020, Forbatt SA , CCTV, Surveillance & Remote Monitoring
Forbatt SA is set to offer an improved service to the industry by making sure it has the products and solutions the industry needs, as well as a new showroom.
Read more...
---
Analytics with your existing cameras
Issue 7 2020, Secutel Technologies , CCTV, Surveillance & Remote Monitoring
With SecuVue from Secutel Technologies, it is possible for any business to monitor their offices, warehouses or stores remotely, from any part of the world.
Read more...
---
Consolidating control rooms and service delivery within a COVID-19 environment
Issue 6 2020, Leaderware , CCTV, Surveillance & Remote Monitoring
It is essential to have informed, coordinated and professional responses within control rooms at this time of increasing turmoil.
Read more...
---
Technology driving the healthcare industry
Issue 6 2020, Duxbury Networking , CCTV, Surveillance & Remote Monitoring
Seeing cameras as sensors opens up new possibilities, and each one of them responds to typical demands inside a hospital, clinic or nursing home.
Read more...
---
Turn cameras into traffic sensors
Issue 6 2020, Duxbury Networking , CCTV, Surveillance & Remote Monitoring
Safer communities and cities are achieved through a mixture of technology and human resources, working together in a holistic manner.
Read more...
---
Mobotix thermal technology increases security
Issue 6 2020, Duxbury Networking , CCTV, Surveillance & Remote Monitoring
Installations, machinery, equipment and material available on company premises require effective and cost-efficient protection. In addition, operational safety, optimisation of workflows and protection ...
Read more...
---
Getting a visual on Covid-19 screening
Issue 6 2020, Graphic Image Technologies , CCTV, Surveillance & Remote Monitoring
Should organisations be investing in thermal camera technology to simply contain and limit the spread of the virus?
Read more...
---
Flexible temperature screening options for challenging times
Issue 6 2020, Hikvision South Africa , CCTV, Surveillance & Remote Monitoring
A thermal imaging camera is an effective screening device for detecting individuals with elevated skin temperature. This type of monitoring can provide a rapid screening approach in high-traffic areas.
Read more...
---