printer friendly version
The journey continues
CCTV Handbook 2010
CCTV, Surveillance & Remote Monitoring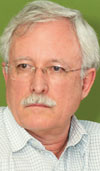 The surveillance industry can be tough and competitive, with a never-ending array of newer, better toys. A poetic Rob Anderson puts it in perspective.
"If you can keep your head when all about you are losing theirs and blaming it on you... If you can meet with Triumph and Disaster and treat those two imposters just the same...." (Rudyard Kipling)
The words from the poem 'IF', by Rudyard Kipling, possibly written during one of his many stays in Cape Town still rings true within the current CCTV environment.
It was not too long ago that we debated how video tape storage would be replaced with something digital. And then what is the best compression format: embedded technology or PC-based. Big decisions, often involving big money.
And then the differing technologies matured and prices dropped. We had products with differences in the replay results, and a slowing down of the marketing drive. We had a clear upper end and lower end of the market and we forgot about tapes.
Who would have expected that those IT chaps would enter the CCTV industry? They arrived with a whole pack of new terms that the traditional CCTV experts had not met before. Again, there was a massive rate of change as the IP age arrived.
Every magazine and marketing story now refers to IP CCTV as if the analogue age has long gone.
Clients are calling for CCTV (that must be IP). But speak to the manufacturers and you will find that the greatest part of the market is still analogue. Why? Well, mostly due to cost. The IP solution is still, in most cases, more expensive. And we all have to admit that the extra money is not providing anything extra that most clients will need. Unless of course the need to mention in passing, that "we have just installed an IP CCTV system".
So, once again a difficult environment with fast moving product changes, marketing strategy pushing for IP and a new bunch of people in the industry: the IT companies.
So how do we make the correct decision on a purchase? Who should do the installation, the traditional installer who understands CCTV or the IT man who understands networking? Or maybe you are lucky to have a hybrid service provider that understands the 'new picture'.
Well, the most important fact to understand is that the new IP CCTV age is still in its volatile development phase. Maturity in this market has not yet arrived. When it does, there will be a slowdown in change, lower prices and some understood and respected standards. There will also unfortunately be many people with expensive systems that could have been simpler and cheaper, while still achieving the same desired results.
So rule one in the run up to maturity, do not make rash decisions on product and technology. Decide on the payback period and actual needs, and expect to have outdated technology soon after purchase. Sometimes, using the old technology at cheaper prices to see you through to the point that maturity arrives in the IP market is a more appropriate decision.
We still have very good quality analogue systems, video over CAT5 technology and storage systems that provide solutions that solve most clients' problems. They can still provide the best solution for rand spent.
And never forget the age-old rule in CCTV – good pictures start with good lenses. All the latest technology and IT expertise will never correct the results of a badly manufactured lens.
Therefore, 'IF' you can offer an honest solution to your client, when all around you are following the latest advert, and still keep your head, and your honour, "you will be a Man my Son!" (With apologies to Rudyard Kipling.)
For more information contact Rob Anderson & Associates, +27 (0)31 267 4150, rob@robanderson.co.za, www.robanderson.co.za
Further reading:
Qognify VMS adds support for Pelco IP camera series
CCTV, Surveillance & Remote Monitoring Products
The latest IP camera series from Pelco can now be used with Qognify's advanced video solution for corporate and enterprise projects, increasing the overall number of camera models and third-party devices supported in Qognify VMS to more than 6 500.
Read more...
---
VIVOTEK launches VAST Security Station
CCTV, Surveillance & Remote Monitoring Products
VIVOTEK officially launched its AI security system, VAST Security Station (VSS), in March, available to users in three flexible tiers: VSS Lite, VSS Standard, and VSS Professional.
Read more...
---
Keeping students, staff and communities safe
Vumacam News CCTV, Surveillance & Remote Monitoring Security Services & Risk Management
South African schools are facing increasing security challenges, making effective surveillance systems more important than ever. To address this issue, Vumacam is offering advanced security solutions with security partners, aimed at keeping students, staff, and the community safe.
Read more...
---
Helping to care for zoo animals
Hikvision South Africa CCTV, Surveillance & Remote Monitoring
Zoo keeps an eye on the safety of animals and visitors through the installation of Hikvision 4 MP turret, 12 MP Fisheye cameras, as well as PTZs, NVRs and central management system.
Read more...
---
Boosting digital-intelligent transformation and AI applications
Dahua Technology South Africa CCTV, Surveillance & Remote Monitoring Products
2022 has been a year full of development and innovation for Dahua. The company has launched various upgrades to its existing product portfolio as well as an artillery of new products and solutions that address specific needs/problems in society.
Read more...
---
Arcules and IMMIX announce integration
News CCTV, Surveillance & Remote Monitoring Products
Arcules has announced that its integration with Immix Central Station and Guard Force is available. The integration provides Central Station and Guard Force users a way to manage, verify, and respond to security events, while using Arcules-managed video feeds.
Read more...
---
Developing an effective CCTV control room culture
Leaderware Editor's Choice CCTV, Surveillance & Remote Monitoring Training & Education
Organisational culture in organisations can be seen as the set of values, practices, focus, standards and behaviours, and ways of interacting with others that are accepted and subscribed to by the people who work there.
Read more...
---
Eagle Eye Networks releases 2023 Video Surveillance Trends Report
Eagle Eye Networks News CCTV, Surveillance & Remote Monitoring
Eagle Eye Networks has released the 2023 Trends in Video Surveillance ebook, identifying five trends that will have the largest impact on businesses around the globe in 2023.
Read more...
---
Stainless steel 8 MP dome
Axis Communications SA Products CCTV, Surveillance & Remote Monitoring
Enclosed in marine-grade stainless steel (SS 316L) and DNV-certified, the AXIS Q3538-SLVE can withstand the corrosive effects of seawater and cleaning chemicals.
Read more...
---
Enhanced image clarity and enriched AI functions
Dahua Technology South Africa CCTV, Surveillance & Remote Monitoring Products
The IPC WizMind S series is equipped with multiple intelligent functions, offers adaptability, and comes in plastic-free packaging, enabling better image performance, promoting environmental sustainability, and providing global clients with smarter vision with a stronger surveillance shield.
Read more...
---