printer friendly version
The effectiveness of CCTV systems
April 2010
CCTV, Surveillance & Remote Monitoring
Thoughts on staffing and training your operator personnel appropriately.
CCTV systems are highly technical and evolving constantly with new developments in camera, recording, and display technology. However, despite all the technical innovation and state-of-the-art systems, it is the human component of the operation that needs to be managed and staffed to produce outcomes.
The best CCTV sites that I am familiar with give extensive attention to how they get their people. The failure to do this quickly results in a decline in the performance of a system that was functioning perfectly well a few months before. There are a range of other human factors that are important to look at in performance including the control room design, the culture of performance and detection, awareness of the production process, and training in detection. However, all of these ultimately come back to the person who sits in the seat and is responsible for detection.
Companies that take the task of getting the right people seriously, focus on a number of stages within the selection process. These can be briefly seen as sourcing, verification, testing, interviewing, training and job probation. The objective of this comprehensive approach is to ensure that the company has people of high calibre and integrity in the positions.
I remember one instance of a security manager noting unemployed people standing around looking for a job outside the offices of his security contractor in town as he drove past one day. After making a request for experienced top quality CCTV operators from the contractor, he found the same unemployed personnel he recognised from the week before in his control room.
Sourcing
Sourcing the right people from the beginning makes the subsequent selection process go more smoothly. The job advertisement is obviously a key factor in this respect. Some kind of technological exposure is essential for any personnel who may move into such positions. Also, shift experience is a plus in that the person will be used to such work and knows what goes with such a lifestyle. While education is less important in observation, the capacity to write reports and communicate with others is essential. Rather being involved in responsible positions previously would be a relevant factor.
Verification
Verification involves establishing the credibility of the applicant to the operator position. This can be summarised in four main areas. The first is any potential criminal record or misdeed that the person may have committed. The second is the financial standing of the individual – poor credit records may make the person more vulnerable to being approached and influenced by criminal elements. Third is the verification of CV details, work experience, and claimed education or training. Last is integrity checking and ensuring that the person is not being subjected to any syndicate or criminal pressure in applying for the position, and that they do not have any criminal intent themselves.
Testing
Testing can take a number of forms. Traditional psychometric testing focuses on fairly abstract qualities that may relate to intelligence or spatial perception, but while they may help, these are not generally important for operators. There are some very intelligent people, some with major qualifications, who would simply not make good operators.
Our focus has been on observation and visual analysis skills and we have focused on developing this area extensively internationally. In this competency type testing, factors such as attention, vigilance, ability to pick up details and changes in context, and quick effective decision making is important. These qualities seem to be some of the most critical factors in effective operator detection performance.
Other testing can address personality factors. Research in the area shows that people who tend to be introverted and like working through systems or equipment, are emotionally composed and disciplined, practical and down to earth, relatively stress free, and do not take things for granted, tend to make better operators. Finally, medical testing of eyesight, colour blindness, and hearing may be conducted by qualified medical personnel. This could be important in resolving potential issues relating to health claims at some future stage.
Interviewing
Interviews are one of the most popular techniques used in selection, but research also shows, one of the most ineffective. To increase the validity of the interview, it is a good idea to ask predetermined questions that address specific areas of concern that you want to find out more about – so called structured interviews.
Interviewing personnel for CCTV can lead to some misleading impressions so one needs to be careful with this approach. As indicated above, introverted personnel make some of the best operators, but often come across badly in the interviewing process. For me, there are some critical aspects that differentiate between highly effective and non-effective operators that can be addressed in the interview and should be looked at. The first aspect is, does the person have a passion for the kind of work – something not found easily. The second is that the applicant must want to catch people or at least feel comfortable with this – this is one of the most important success characteristics in good operators.
People who see the detection process as a personal challenge and who want to catch criminals are going to be far more successful.
Training
Training is typically for skill development rather than selection and I generally do not recommend that selection decisions be made in this context. However, there are times when it provides a unique opportunity to view how people see things, what insights they have, and whether they can communicate their observations. As a screening technique it is expensive, but if it identifies that a person is not going to be suitable and stops a bad selection decision that may have major implications for the company, it may be worth it. Working on probation or on short-term contracts is a way of realistically evaluating a person in the work situation over a period of time and allows one to be fully confident about the person's skills and fit. It also has some difficult legal implications though and needs to be carefully and legally thought through before embarking on such an approach.
An extensive selection process may seem to be expensive. However, organisations that have done this have seen the results from their CCTV systems that stand out in the industry. Ultimately, however, getting the right person is also only the first part of the process. Without the right kind of training and management, even the best person is not going to deliver all they have potential for.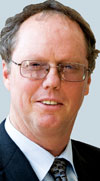 Dr Craig Donald is a human factors specialist in security and CCTV. He is a director of Leaderware which provides instruments for the selection of CCTV operators, X-ray screeners and other security personnel in major operations around the world. He also runs CCTV Surveillance Skills and Body Language, and Advanced Surveillance Body Language courses for CCTV operators, supervisors and managers internationally, and consults on CCTV management. He can be contacted on +27 (0)11 787 7811 or craig.donald@leaderware.com
Credit(s)
Further reading:
Securing Savannah Hills Estate
August 2019, Rhyco Risk Projects , CCTV, Surveillance & Remote Monitoring, Perimeter Security, Alarms & Intruder Detection
Savannah Hills Estate in Midrand planned a security upgrade which was awarded to Rhyco Risk Projects. The project started in March 2019 and was completed in May 2019.
Read more...
---
10 things to consider when shopping for a VMS
August 2019, Genetec , CCTV, Surveillance & Remote Monitoring, Integrated Solutions
Today's video management systems (VMS) provide a wide range of tools and capabilities that help make security personnel more efficient by allowing them to focus on what really matters.
Read more...
---
How far are we really at with artificial intelligence?
August 2019, Axis Communications SA , Editor's Choice, CCTV, Surveillance & Remote Monitoring, IT infrastructure, Residential Estate (Industry)
Justin Ludik unpacks exactly how far AI has come and what it potentially can do for society and more importantly, surveillance.
Read more...
---
Enhancing security with AI
August 2019, Hikvision South Africa , CCTV, Surveillance & Remote Monitoring
Hikvision explains how residential estates can revolutionise their security strategies and outcomes with artificial intelligence.
Read more...
---
More than simply a camera
August 2019, Forbatt SA, Secutel Technologies , CCTV, Surveillance & Remote Monitoring, Residential Estate (Industry)
With the human element being the weakest link in all security solutions, Hi-Tech Security Solutions looks at the pros and cons of using body-worn cameras in estates.
Read more...
---
The importance of effective perimeter security
August 2019, Elf Rentals - Electronic Security Solutions, Stafix , Editor's Choice, CCTV, Surveillance & Remote Monitoring, Residential Estate (Industry)
Protecting the perimeter is critical for any residential estate; how does one go about making sure your perimeter is as secure as possible?
Read more...
---
Security playing speedcop
August 2019, Axis Communications SA, Hikvision South Africa , CCTV, Surveillance & Remote Monitoring, Residential Estate (Industry)
Estates now have a legal precedent to manage their traffic and fine people in the estate for violations of the rules; all they need do is find solutions that will support them.
Read more...
---
CathexisVision video management software
August 2019, Cathexis Technologies , Products, CCTV, Surveillance & Remote Monitoring
The CathexisVision IP video management software (VMS) helps clients get the most out of their surveillance investment and reap rewards for their companies.
Read more...
---
Capture every detail with Smart PIR kits
August 2019, Longse Distribution , Home Security, CCTV, Surveillance & Remote Monitoring, Residential Estate (Industry)
Longse Technology offers DIY smart security kits that are easy to install and offer a Wi-Fi range that can reach up to 300 metres.
Read more...
---
Future-facing cameras
August 2019, Bosch Building Technologies , Products, CCTV, Surveillance & Remote Monitoring
All FLEXIDOME IP starlight 8000i cameras feature built-in Intelligent Video Analytics, making them intuitive, and elevates their importance far beyond security alone.
Read more...
---