printer friendly version
It is surveillance month
April 2010
News
Welcome to the April 2010 edition of Hi-Tech Security Solutions. For your reading pleasure, we have kept all mention of the Soccer World Cup to a minimum while keeping relevant security information maximised.
As the heading notes, this is surveillance month at Hi-Tech because you will have noticed the CCTV 2010 Handbook bundled with your copy of Hi-Tech Security Solutions. The handbook is our annual collection of trends, issues and case studies from the world of surveillance.

We were considering renaming the handbook to something more modern, incorporating the expanding world of surveillance beyond the strictest definition of CCTV. After some thought and input from long-time readers, we figured the concept of CCTV has evolved beyond closed-circuit television to automatically incorporate IP, intelligent analytics and all the good things you will read about in the CCTV 2010 Handbook.
The reality is, of course, that while IP surveillance is growing at a healthy pace and analogue sales are flat, analogue still has a large, if somewhat endangered place in the market. Endangered because IP's benefits are indisputable. IP may not be able to deliver 100% just yet, but it will. Only today I spoke to yet another traditionally pure IT company that is suddenly gearing up and hiring people to launch a physical security division.
Of course, this issue has more than surveillance in it. We have a data protection Q&A that turned out rather interesting in terms of the calibre of people and companies that responded. In a few years there will not be a physical security manager, IT security processes or even a compliance policy because it will all be under the watchful eye of a risk manager who will probably hold a position on the board, with all the associated perks – my CV is ready to be sent out, drop me an e-mail.
Unfortunately, unlike a banker, the risk manager will have enormous responsibilities for delivery and will be held accountable for failures, intrusions, information loss and the resulting global recessions. Those perks had better be good.
To cement the fact that this is surveillance month, Hi-Tech Security Solutions also held its first webinar – a presentation over the Internet – in partnership with VideoIQ on the topic of intelligent surveillance. Imagine attending a full presentation from your computer without having to go through the trauma of traffic or having to justify your time out of the office. That is what we did.
Look out for the next issue when we will delve a little deeper into the meat of the webinar and provide the Web link where you can listen to the webinar. Unfortunately, since it is a recording you will not be able to interact and ask questions. Watch this space.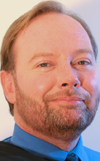 Andrew Seldon
Editor
Credit(s)
Further reading:
Unrecoverable encrypted data
News Cyber Security
Cybersecurity research indicates that 76% of organisations admit to paying ransomware criminals, however, one-third are still unable to recover data.
Read more...
---
Kaspersky invests in development of neuromorphic processors
News IT infrastructure
Neuromorphic processors' field of application is acceleration of the hardware used in the latest generation of artificial intelligence systems, which are based on spiking neural networks (SNN) training, which is more akin to biological interactions.
Read more...
---
Security BIS named AxxonSoft's Distributor of the Year 2021
News CCTV, Surveillance & Remote Monitoring
With its focus on AxxonSoft solutions and technical support, Security BIS secured the title of AxxonSoft Distributor of the Year again for 2021.
Read more...
---
Infinidat enhances channel support
News IT infrastructure
Infinidat drives go-to-market strategy with new global partner portal and expands channel sales with Storage-as-a-Service in ArrowSphere.
Read more...
---
The Handbook of Security's third edition has been published
News
The third edition of the Handbook of Security, edited by Perpetuity Research director Martin Gill, has been published, containing 45 contributions from leading global scholars.
Read more...
---
GJD announces new SMT Machine
News Perimeter Security, Alarms & Intruder Detection
GJD will now be able to complete the manufacture of its products in-house, and thereby significantly decrease the business' carbon footprint while increasing employment opportunities.
Read more...
---
Smart home devices market growing across META
Smart Home Automation News
The Middle East, Turkey, and Africa (META) smart home devices market continues to register significant gains on the back of increasing awareness and improving end user experiences, according to the latest insights from International Data Corporation.
Read more...
---
How to react in an armed robbery or home invasion
Fidelity Services Group Security Services & Risk Management News
How you react when faced with a nervous, gun-toting criminal can save your life, or cost you your life; all family members need to know what to do in such circumstances.
Read more...
---
To be or not to be, is that the objective?
Iris AI Editor's Choice CCTV, Surveillance & Remote Monitoring News
Gerhard Furter joins a discussion on the nature of sentience in artificial intelligence. Do we actually know what sentience is, or are we overestimating our human capabilities?
Read more...
---
From the editor's desk: The last CCTV Handbook
Technews Publishing News
Welcome to the CCTV Handbook 2022, I hope the headline caught your eye. This really is the last CCTV Handbook Hi-Tech Security Solutions will ever produce, but it is not the last handbook about surveillance ...
Read more...
---