printer friendly version
Well, most will survive
March 2010
News
The question of security during the FIFA Soccer World Cup is one that does not seem to want to die in the international media with questions being raised in Europe primarily as to the safety of soccer tourists. Even with the latest responses to media queries bordering on paranoid with accusations of racism or Eurocentrism, the saga does not seem to want to go away. Personally I do not see what the issue is about.
We all know that with the millions being spent on VIP security services, nobody in the ANC or FIFA is going to have any chance of meeting the rampant criminal element in South Africa, so what's the problem? As has been said on many occasions, the rest of the tourists take their chances and we know the vast majority will get out alive.
On a serious note, the SAIS (South African Institute of Security) annual black tie event was held recently (we will be reporting on it in the next issue) and assistant commissioner Ben Groenewald from SAPS was honoured at the event. The commish, being the one responsible for the World Cup safety and security plan said a few words in which he conveyed his positive sentiment regarding preparations and the country's ability to deal with any type of problem. "We are ready", was his short and sweet summation.
And since the police are spending R1,3 billion (around Euro 125 million) on safety during the World Cup, one should hope so.
Having seen a snippet of some of the plans in place, I have to say that I would bet that Groenewald has covered all potential issues. The only niggling caveat, and one that was brought out recently in Carte Blanche as well as on www.eblockwatch.co.za, is that there are some members of the police that do not seem to hold the law or civil rights in high esteem and surmise their uniform allows them to do as they wish, safe in the knowledge that their colleagues and the courts will support them.
No matter how good your planning is, if you do not have the feet on the ground to carry it out, something has gotta give.
The good news is those soccer tourists booking into the better hotels in SA are going to be spoiled rotten. Leigh Yorke-Smith put on her Sherlock Holmes hat for this issue and asked a couple of hotel chains what they had done to secure their guests for the World Cup and she then took a furtive look into casino security for a low-down on securing our luxurious gambling dens. My advice, just do not kick the slot machines.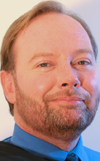 Andrew Seldon
Editor
Credit(s)
Further reading:
A contact-free hotel experience
Issue 7 2020, Technews Publishing , Access Control & Identity Management
Check-in and go straight to your room without stopping at the reception desk at Hotel Sky in Sandton and Cape Town.
Read more...
---
New hires at iPulse
Issue 7 2020, iPulse Systems , News
iPulse has welcomed two new employees into its ranks. Shai Weil has been appointed as operations director, while Corneli Botha is the new customer sales liaison.
Read more...
---
HID Global acquires Access-IS
Issue 7 2020, HID Global , News
HID Global acquires provider of miniaturised reader devices that combine key technologies for mission-critical markets.
Read more...
---
Securing digital transformation
Issue 7 2020 , News
Schneider Electric partners with Fortinet to strengthen ability to secure operations across the business lifecycle and unlock the advantages of a secure IIoT.
Read more...
---
Suprema integrates with Paxton's Net2 access control
Issue 7 2020, Suprema , News
Suprema has announced it has integrated its devices with Paxton's access control system, Net2.
Read more...
---
Free cybersecurity courses
Issue 7 2020 , News
Check Point Software partners with Harvard and MIT-founded edX to deliver free online courses to help close the cybersecurity skills gap.
Read more...
---
Fidelity partners with Auto & General Insurance
Issue 7 2020, Fidelity Security Group , News
Fidelity Services Group in partnership with Auto & General Insurance has launched Fidelity InSure, a comprehensive vehicle, home, and building insurance offering.
Read more...
---
More apps for open camera OS
Issue 7 2020 , News
The App Challenge will result in 21 new apps running on the Security & Safety Things' camera OS, based on the Android Open Source Project.
Read more...
---
Milestone Systems announces Thomas Jensen as new CEO
Issue 7 2020, Milestone Systems , News
Milestone Systems announced that its board of directors has appointed Thomas Jensen as chief executive officer. Jensen will assume the role on October 1, 2020.
Read more...
---
Suprema announces its first virtual event
Issue 7 2020, Suprema , News
Suprema will be hosting its first virtual event, Suprema Connect 2020, which is scheduled to take place over one month from September 15.
Read more...
---