printer friendly version
Back to the future, again
August 2009
News
Having spent some time in the IT world, both doing IT stuff and writing about it, I realised recently that the security industry is going through a change similar to what happened in the IT world 15 or so years ago.
Back then there was an almighty commotion about total cost of ownership (TCO). If I recall correctly, the research company Gartner was to blame for the TCO frenzy. This marked the beginning of the acknowledgement from IT (and to a degree business, although business had known it for a long time) that IT products were not solutions, but only components of solutions. It also marked the time when people realised that the cost of IT was not the cost of the product but also the maintenance and other ongoing costs over however many years it would be used for.
Hence TCO and ROI (return on investment) became the acronyms of choice for every fashionable IT manager. They started having weird notions that IT should deliver value and benefits to the whole organisation, not only to IT. This was obviously a communist plot as it cut out a lot of the fun that made people choose to be in IT in the first place.
Seriously, who in their right minds wants to service a customer? Nobody in IT, I can assure you.
In the security market we are seeing similar movements right now. Buying security products as standalone solutions is a dying talent. Corporate buyers today want to see their security systems integrating with each other to form a comprehensive security solution delivering value to the organisation.
Moreover, they want to see security solutions integrated into business solutions. Our most recent Access Control Handbook is a case in point. We all know how biometric technology can make access control and the time and attendance function easier, faster and more accurate, cutting out the massive potential for fraud inherent to old card-based systems, but what about integrating these solutions into your back office business applications – payroll being the most obvious.
It is no longer enough to install a system and proudly proclaim that the customer now hears a noise when something is tripped or can see nice images on his screen. Security sales are moving into the business world and being sold according to the value they deliver. In a retail environment, value would be determined by how much each store's shrinkage shrunk after installing the system and by how much it stayed down over time. In an industrial setting, doing away with buddy-clocking and increasing productivity gets the nod.
A recent example of a value-added biometrically controlled access control solution showed that after installation the customer gained an average of 15 minutes of additional productivity from each worker per day. This amounted to millions of rand per month gained – that is value you can sell to an accountant.
Of course, just as in the IT world, the best intentions are always tempered with the hot reality of sales people who do not know enough about their customers to create a solution of value; or customers who think they know they need some security stuff, but do not know enough about their business environment to accurately specify what the stuff is comprised of.
So there will still be product and technology sales for some time to come, but those in the know who are able to deliver value are setting themselves up for a prosperous future.
Personally, I will stick with playing with products, there is enormous value in it for me. I did say I was trained in IT.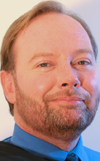 Andrew Seldon
Editor
Credit(s)
Further reading:
Olarm launches the Olarm LINK
Olarm Perimeter Security, Alarms & Intruder Detection News Products
Building on the success of smart-enabling, monitoring and controlling alarm panels and electric fences, Olarm has a new solution for customers to integrate gates, garage doors, pumps and other electrical products with the Olarm APP and Olarm PRO communicator.
Read more...
---
Ultimate smart monitoring and reliability
Olarm Perimeter Security, Alarms & Intruder Detection News Products
Olarm is gearing up to unveil its latest product, the Olarm MAX, set to be available in late 2023, which will redefine smart monitoring by offering unparalleled connectivity options and functionality.
Read more...
---
Insights from the 2023 Cloud Security Report
News Cyber Security
Increased costs, compliance requirements, hybrid and multi-cloud complexities, reduced visibility, and a lack of skilled practitioners cause organisations to slow or adjust their cloud adoption strategies.
Read more...
---
New algorithm for OT cybersecurity risk management
Industrial (Industry) Cyber Security News Commercial (Industry)
OTORIO's new risk management model and attack graph analysis algorithm technology, calculates OT cybersecurity threats and provides risk mitigation actions, prioritised according to actual exposure and potential impact on operations.
Read more...
---
Robots: a security opportunity or a threat?
Editor's Choice News Conferences & Events
Professor Martin Gill, Director of Perpetuity Research & Consultancy International and the School of Criminal Justice at the University of South Africa (UNISA), will be holding a Global Thought Leadership Security webinar on 22 June 2023 to discuss the contentious issue of robots operating in the security industry.
Read more...
---
UNISA sponsors Securex seminars
Editor's Choice News Conferences & Events
As part of UNISA's 150-year birthday celebrations, UNISA has sponsored the Securex Theatre Seminar Programme, which will include a number of prominent industry specialists, academics and security practitioners focusing on a number of themes.
Read more...
---
Facilities Management Seminar Theatre
Securex South Africa News
The free-to-attend Facilities Management Seminar Theatre, powered by Broll, delivers information on the latest market trends, thereby keeping attendees up to date on solutions and technology centred on increasing facility system optimisation.
Read more...
---
The latest security trends at Securex South Africa 2023
Securex South Africa News Conferences & Events Training & Education
Security technology evolves at a blistering pace, so it's important to keep up to date with changing trends in order to ensure maximised safety of human and personal assets. The Securex Seminar Theatre, powered by UNISA, is the place to be.
Read more...
---
Sustainability School opens for enrolment
Education (Industry) News Security Services & Risk Management
Three-part programme, first developed for Schneider Electric employees, is now available for free for companies worldwide. Attendees learn how to future-proof their businesses and accelerate their decarbonisation journeys.
Read more...
---
From the editor's desk: Get Smart
Technews Publishing News
Welcome to the fourth issue of Hi-Tech Security Solutions for 2023, which is also the first issue of Smart Security Solutions. As noted in previous issues, Hi-Tech Security Solutions has been rebranded to Smart Security Solutions.
Read more...
---