printer friendly version
Back to the future, again
August 2009
News
Having spent some time in the IT world, both doing IT stuff and writing about it, I realised recently that the security industry is going through a change similar to what happened in the IT world 15 or so years ago.
Back then there was an almighty commotion about total cost of ownership (TCO). If I recall correctly, the research company Gartner was to blame for the TCO frenzy. This marked the beginning of the acknowledgement from IT (and to a degree business, although business had known it for a long time) that IT products were not solutions, but only components of solutions. It also marked the time when people realised that the cost of IT was not the cost of the product but also the maintenance and other ongoing costs over however many years it would be used for.
Hence TCO and ROI (return on investment) became the acronyms of choice for every fashionable IT manager. They started having weird notions that IT should deliver value and benefits to the whole organisation, not only to IT. This was obviously a communist plot as it cut out a lot of the fun that made people choose to be in IT in the first place.
Seriously, who in their right minds wants to service a customer? Nobody in IT, I can assure you.
In the security market we are seeing similar movements right now. Buying security products as standalone solutions is a dying talent. Corporate buyers today want to see their security systems integrating with each other to form a comprehensive security solution delivering value to the organisation.
Moreover, they want to see security solutions integrated into business solutions. Our most recent Access Control Handbook is a case in point. We all know how biometric technology can make access control and the time and attendance function easier, faster and more accurate, cutting out the massive potential for fraud inherent to old card-based systems, but what about integrating these solutions into your back office business applications – payroll being the most obvious.
It is no longer enough to install a system and proudly proclaim that the customer now hears a noise when something is tripped or can see nice images on his screen. Security sales are moving into the business world and being sold according to the value they deliver. In a retail environment, value would be determined by how much each store's shrinkage shrunk after installing the system and by how much it stayed down over time. In an industrial setting, doing away with buddy-clocking and increasing productivity gets the nod.
A recent example of a value-added biometrically controlled access control solution showed that after installation the customer gained an average of 15 minutes of additional productivity from each worker per day. This amounted to millions of rand per month gained – that is value you can sell to an accountant.
Of course, just as in the IT world, the best intentions are always tempered with the hot reality of sales people who do not know enough about their customers to create a solution of value; or customers who think they know they need some security stuff, but do not know enough about their business environment to accurately specify what the stuff is comprised of.
So there will still be product and technology sales for some time to come, but those in the know who are able to deliver value are setting themselves up for a prosperous future.
Personally, I will stick with playing with products, there is enormous value in it for me. I did say I was trained in IT.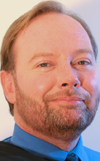 Andrew Seldon
Editor
Credit(s)
Further reading:
From the editor's desk: A new start
Technews Publishing News
      Welcome to the first issue of the Smart Access & Identity handbook, Smart Access & Identity 2023. While this is the first issue, it's also a continuation of Hi-Tech Security Solutions' long-standing ...
Read more...
---
Spend on cloud to accelerate across Africa in 2023
News
More than two-thirds of companies using cloud computing across major African markets plan to increase their spending on cloud services in 2023.
Read more...
---
ChatGPT's impacts will be social, not technical
News
ChatGPT is truly a remarkable achievement, an artificial intelligence (AI) that you can have a conversation with and ask to do everything from writing essays to coding computer programs.
Read more...
---
Artificial intelligence in Africa: levelling the narrative
News
While AI can benefit multiple industries, in Africa the key sectors that stand to gain are financial services (specifically fintech) and agriculture.
Read more...
---
Improving data security for a hybrid society
News
Researchers from Tokyo University of Science develop a method that can perform computations with encrypted data faster and at a lower cost than conventional methods, while also improving security.
Read more...
---
Cybersecurity in 2023: The latest trends and developments
News
In 2023, experts predict that several trends will shape the cybersecurity landscape, including the growing use of artificial intelligence (AI), the increasing focus on the Internet of Things (IoT), and the rise of quantum computing.
Read more...
---
SAN market set for growth
Technews Publishing News IT infrastructure
Storage-area network (SAN) market to hit US$ 26,86 billion in revenue by the end of 2029 due to factors like widespread adoption of Hybrid SAN-NAS solutions.
Read more...
---
Enterprise threats in 2023
News Cyber Security
Large businesses and government structures should prepare for cybercriminals using media to blackmail organisations, reporting alleged data leaks, and purchasing initial access to previously compromised companies on the darknet.
Read more...
---
Trends in the proptech industry for 2023
News
By mixing real estate with technology to optimise industries, create new ones, and generate efficiencies or capabilities that improve revenue generation, something as fundamental as the concept of parking has been turned on its head.
Read more...
---
31 percent of all IoT SIMs managed with third-party IoT CMPs
News Integrated Solutions
Berg Insight recently released new findings about the market for IoT connectivity management platforms (CMPs), a standard component in the value proposition from mobile operators and IoT MVNOs around the world.
Read more...
---