printer friendly version
Back to the future, again
August 2009
News
Having spent some time in the IT world, both doing IT stuff and writing about it, I realised recently that the security industry is going through a change similar to what happened in the IT world 15 or so years ago.
Back then there was an almighty commotion about total cost of ownership (TCO). If I recall correctly, the research company Gartner was to blame for the TCO frenzy. This marked the beginning of the acknowledgement from IT (and to a degree business, although business had known it for a long time) that IT products were not solutions, but only components of solutions. It also marked the time when people realised that the cost of IT was not the cost of the product but also the maintenance and other ongoing costs over however many years it would be used for.
Hence TCO and ROI (return on investment) became the acronyms of choice for every fashionable IT manager. They started having weird notions that IT should deliver value and benefits to the whole organisation, not only to IT. This was obviously a communist plot as it cut out a lot of the fun that made people choose to be in IT in the first place.
Seriously, who in their right minds wants to service a customer? Nobody in IT, I can assure you.
In the security market we are seeing similar movements right now. Buying security products as standalone solutions is a dying talent. Corporate buyers today want to see their security systems integrating with each other to form a comprehensive security solution delivering value to the organisation.
Moreover, they want to see security solutions integrated into business solutions. Our most recent Access Control Handbook is a case in point. We all know how biometric technology can make access control and the time and attendance function easier, faster and more accurate, cutting out the massive potential for fraud inherent to old card-based systems, but what about integrating these solutions into your back office business applications – payroll being the most obvious.
It is no longer enough to install a system and proudly proclaim that the customer now hears a noise when something is tripped or can see nice images on his screen. Security sales are moving into the business world and being sold according to the value they deliver. In a retail environment, value would be determined by how much each store's shrinkage shrunk after installing the system and by how much it stayed down over time. In an industrial setting, doing away with buddy-clocking and increasing productivity gets the nod.
A recent example of a value-added biometrically controlled access control solution showed that after installation the customer gained an average of 15 minutes of additional productivity from each worker per day. This amounted to millions of rand per month gained – that is value you can sell to an accountant.
Of course, just as in the IT world, the best intentions are always tempered with the hot reality of sales people who do not know enough about their customers to create a solution of value; or customers who think they know they need some security stuff, but do not know enough about their business environment to accurately specify what the stuff is comprised of.
So there will still be product and technology sales for some time to come, but those in the know who are able to deliver value are setting themselves up for a prosperous future.
Personally, I will stick with playing with products, there is enormous value in it for me. I did say I was trained in IT.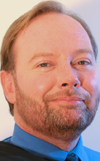 Andrew Seldon
Editor
Credit(s)
Further reading:
Unrecoverable encrypted data
News Cyber Security
Cybersecurity research indicates that 76% of organisations admit to paying ransomware criminals, however, one-third are still unable to recover data.
Read more...
---
Kaspersky invests in development of neuromorphic processors
News IT infrastructure
Neuromorphic processors' field of application is acceleration of the hardware used in the latest generation of artificial intelligence systems, which are based on spiking neural networks (SNN) training, which is more akin to biological interactions.
Read more...
---
Security BIS named AxxonSoft's Distributor of the Year 2021
News CCTV, Surveillance & Remote Monitoring
With its focus on AxxonSoft solutions and technical support, Security BIS secured the title of AxxonSoft Distributor of the Year again for 2021.
Read more...
---
Infinidat enhances channel support
News IT infrastructure
Infinidat drives go-to-market strategy with new global partner portal and expands channel sales with Storage-as-a-Service in ArrowSphere.
Read more...
---
The Handbook of Security's third edition has been published
News
The third edition of the Handbook of Security, edited by Perpetuity Research director Martin Gill, has been published, containing 45 contributions from leading global scholars.
Read more...
---
GJD announces new SMT Machine
News Perimeter Security, Alarms & Intruder Detection
GJD will now be able to complete the manufacture of its products in-house, and thereby significantly decrease the business' carbon footprint while increasing employment opportunities.
Read more...
---
Smart home devices market growing across META
Smart Home Automation News
The Middle East, Turkey, and Africa (META) smart home devices market continues to register significant gains on the back of increasing awareness and improving end user experiences, according to the latest insights from International Data Corporation.
Read more...
---
How to react in an armed robbery or home invasion
Fidelity Services Group Security Services & Risk Management News
How you react when faced with a nervous, gun-toting criminal can save your life, or cost you your life; all family members need to know what to do in such circumstances.
Read more...
---
To be or not to be, is that the objective?
Iris AI Editor's Choice CCTV, Surveillance & Remote Monitoring News
Gerhard Furter joins a discussion on the nature of sentience in artificial intelligence. Do we actually know what sentience is, or are we overestimating our human capabilities?
Read more...
---
From the editor's desk: The last CCTV Handbook
Technews Publishing News
Welcome to the CCTV Handbook 2022, I hope the headline caught your eye. This really is the last CCTV Handbook Hi-Tech Security Solutions will ever produce, but it is not the last handbook about surveillance ...
Read more...
---