printer friendly version
Improving nuclear power plant security
May 2009
Access Control & Identity Management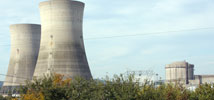 Customised bar-coded access control solutions manages the movements of staff in US nuclear facilities.
In response to the increased potential of terrorist attacks against key infrastructures facilities, the USA's Nuclear Regulatory Commission (NRC) has raised security standards for nuclear power plants.
American Barcode & RFID (AB&R), a Zebra Card Printer Solutions partner created a custom ID verification application to help a major power provider meet the NRC's new security requirements, increase efficiency and reduce costs.
The US NRC is serious about safety. It erects nuclear power plants to very high safety standards, with complex safety features and redundant critical functions. For 50 years, these steps have kept the possibility of a catastrophic reactor accident from becoming a reality. However, the potential to deliberately create a catastrophe makes nuclear power plants attractive targets for terrorist attacks or sabotage.
It is with this potential threat in mind that the NRC now requires all nuclear power plant security programs to include access authorisation or ID verification measures. These measures must control access to the plant, monitor movement within the facility, and prevent unauthorised undesirable and unsafe intruders from penetrating areas where special nuclear material or key equipment are located.
When AB&R took on the task of helping a major nuclear power facility comply with the latest NRC regulations, they quickly saw that their client's legacy ID cards were going to be a problem. The cards lacked bar-coding, which hampered rapid ID verification. And their laminated coating was easy to peel off – an open invitation to tampering.
"The specific requirements of the application along with the critical timetable for implementation complicated the solution. NRC audit constraints dictated a wireless infrastructure for realtime verification along with a credential that was essentially tamper-proof", explained Steve Beck, AB&R's Strategic Account Manager for the project.
AB&R's solution to the client's ID verification issues was to create a custom application that would provide realtime verification of ID credentials and access authorisation using wireless portable data terminals and Zebra P640i card printers. The enhanced features of the P640i enabled the issuance of the highly secure ID badges that serve both as employee identification and access verification. While the current system utilises bar code technology to verify each distinctive credential, it is designed to accommodate migration to new ID cards armed with UHF RFID technology. UHF RFID credentials enhance ID verification by leveraging time and distance as factors in data recognition and retrieval.
AB&R deployed the new system and trained the security staff in its use faster than what was anticipated, with minimal disruption of daily plant and security operations. Within a few weeks of instalment the security staff issues tamper-proof, personalised Zebra card-print badges to plant's entire population – some 2500 employees, contractors and vendors.
Today, anyone seeking entry to the client's facility must first present their ID badge, printed and encoded by a Zebra Card Printer, to a security guard. Utilising a wireless portable data terminal, the guard then scans the card and receives instant confirmation of identity through the custom application developed by AB&R.
Given how the new control system helps plant security quickly identify and react to potential threats, it should come as no surprise that the client passed its subsequent NRC compliance audit. The director of security for the facility confirmed, "Not only did AB&R successfully meet all of the audit specifications, they completed installation and training ahead of schedule. We are very pleased with the application they developed and the professional support they continue to provide."
For more information contact Colin Roux, managing director, Spec Systems, +27 (0)11 682 1344, www.specsystems.co.za
Further reading:
Enhanced biometric technology for mines
September 2019, ZKTeco , Mining (Industry), Access Control & Identity Management
Biometric identification and authentication are currently used at various mines in South Africa and in the SADC region.
Read more...
---
Improving access in mines
October 2019, Astra Fasteners , Mining (Industry), Access Control & Identity Management, Products
The VP1 controller provides full access control and remote monitoring of intelligent locks without having to wire into a network or install, manage and maintain software.
Read more...
---
Invixium and Pyro-Tech partner in South Africa
October 2019 , News, Access Control & Identity Management
Invixium, a manufacturer of IP-based biometric solutions and Pyro-Tech Security Suppliers have announced a new distribution partnership.
Read more...
---
Suprema receives FBI PIV/FAP30 certification
October 2019, Suprema , News, Access Control & Identity Management
Suprema has announced that the company's BioMini Slim 3 has received FBI PIV (Personal Identity Verification) and Mobile ID FAP30 certification.
Read more...
---
Frictionless access with a wave
October 2019, IDEMIA , Access Control & Identity Management, Residential Estate (Industry)
IDEMIA was the Platinum Sponsor for the Residential Estate Security Conference 2019 and set up its MorphoWave Compact frictionless fingerprint biometric scanner at the entrance to the conference.
Read more...
---
Streamlined access and reporting
October 2019, Comb Communications , Access Control & Identity Management, Residential Estate (Industry)
The main focus of the Comb stand was its practical demonstration of the MK II Lite intercom system with third-party integrated products.
Read more...
---
Customised and integrated solutions
October 2019, Suprema , Access Control & Identity Management, Residential Estate (Industry)
iVisit offers both high-end and low-end residential complexes a cost-effective visitor management solution that is fully integrated into Suprema's offerings.
Read more...
---
Access solutions for every estate
October 2019, Impro Technologies , Access Control & Identity Management, Residential Estate (Industry)
Impro's flagship Access Portal solution comprises one of the most user-friendly software solutions on the market.
Read more...
---
Managing staff effectively
September 2019, dormakaba South Africa, iPulse Systems , Integrated Solutions, Access Control & Identity Management
Workforce management solutions allow organisations to track the relationship between productivity and the cost of employment, incorporating issues such as health and safety, T&A, rostering and more.
Read more...
---
Hennie Lategan joins Centurion as head of exports
September 2019, Centurion Systems , News, Access Control & Identity Management
Centurion Systems has announced the appointment of Hennie Lategan as the head of the company's exports department.
Read more...
---