printer friendly version
Uncontaminated access
May 2009
Access Control & Identity Management

An abattoir also needs access control and time and attendance systems controlled by biometrics technology that is able to tell a hoof from a thumb.
Vencor Holdings, an abattoir located in Polokwane, required a solution to better control its access, mainly for security and health reasons. The company, which employs dozens of workers, needed a solution to better control access to the building and also to restrict certain areas to employees.
The abattoir; which had no previous access solution installed, thought long and hard about what type of access solution it would use. It had to be one that was robust, simple to use and manage, and overall something that was quick to install – thereby keeping disruptions to the day-to-day operations of the business to a minimum.
After careful consideration and by recommendations by its clients, Vencor Holdings opted for Sagem MA 500, 200 and 100 fingerprint readers and Turnstar turnstiles for access control.
Vencor's focus when implementing this solution was to address the issues of security and health. A company spokesperson said that Vencor Holdings mainly deals with two types of employees: those involved with slaughtering the animals and those working with the meat once it has been removed from the animal. "It is absolutely imperative that these two groups of employees be confined to their associated working areas, should an employee move from his or her designated work area to the other, meat could be contaminated, costing us thousands."
By installing fingerprint readers along with turnstiles supplied by CI Polokwane, Vencor Holdings was able to implement a solution that not only improved security but also enforced the strict health laws abattoirs have to adhere to. According to Vencor Holdings, absolutely no convincing was needed, the company knew what it needed to do and it experienced absolutely no obstacles when having the installation installed.
Added HR benefits
Once the solution was implemented and operational, Vencor Holdings found that the tight integration of this solution with its existing payroll package meant that it could more closely monitor the work times of its employees. Once the solution was installed, each employee had to scan his or her finger in order to gain access. This had a positive pay off as the company is now also able to monitor staff's working hours much closer than before.
Although the solution implemented by CI Polokwane at Vencor Holdings was rather small, it is effective. The solution comprised a total of two turnstiles and three gates. The gates and turnstiles along with the necessary software in order to operate them was installed in one week. The turnstiles, gates and fingerprints were installed over the weekend, software was loaded onto the various machines on the Monday and Tuesday and the finger enrolment took the rest of the week.
When asked what Vencor Holdings would do differently, the company merely stated that it was satisfied with the solution and would recommend that companies looking for a similar solution look for a completely integrated one.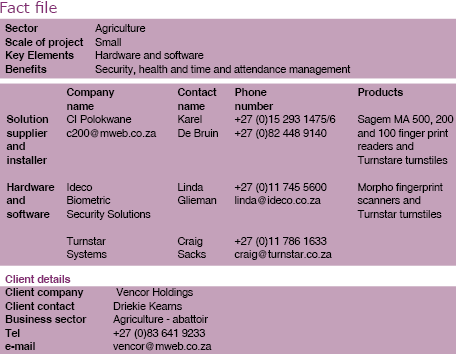 For more information contact Karel de Bruin, CI Polokwane, +27 (0)15 293 1475/6, c200@mweb.co.za
Further reading:
Enhanced biometric technology for mines
September 2019, ZKTeco , Mining (Industry), Access Control & Identity Management
Biometric identification and authentication are currently used at various mines in South Africa and in the SADC region.
Read more...
---
Improving access in mines
October 2019, Astra Fasteners , Mining (Industry), Access Control & Identity Management, Products
The VP1 controller provides full access control and remote monitoring of intelligent locks without having to wire into a network or install, manage and maintain software.
Read more...
---
Invixium and Pyro-Tech partner in South Africa
October 2019 , News, Access Control & Identity Management
Invixium, a manufacturer of IP-based biometric solutions and Pyro-Tech Security Suppliers have announced a new distribution partnership.
Read more...
---
Suprema receives FBI PIV/FAP30 certification
October 2019, Suprema , News, Access Control & Identity Management
Suprema has announced that the company's BioMini Slim 3 has received FBI PIV (Personal Identity Verification) and Mobile ID FAP30 certification.
Read more...
---
Frictionless access with a wave
October 2019, IDEMIA , Access Control & Identity Management, Residential Estate (Industry)
IDEMIA was the Platinum Sponsor for the Residential Estate Security Conference 2019 and set up its MorphoWave Compact frictionless fingerprint biometric scanner at the entrance to the conference.
Read more...
---
Streamlined access and reporting
October 2019, Comb Communications , Access Control & Identity Management, Residential Estate (Industry)
The main focus of the Comb stand was its practical demonstration of the MK II Lite intercom system with third-party integrated products.
Read more...
---
Customised and integrated solutions
October 2019, Suprema , Access Control & Identity Management, Residential Estate (Industry)
iVisit offers both high-end and low-end residential complexes a cost-effective visitor management solution that is fully integrated into Suprema's offerings.
Read more...
---
Access solutions for every estate
October 2019, Impro Technologies , Access Control & Identity Management, Residential Estate (Industry)
Impro's flagship Access Portal solution comprises one of the most user-friendly software solutions on the market.
Read more...
---
Managing staff effectively
September 2019, dormakaba South Africa, iPulse Systems , Integrated Solutions, Access Control & Identity Management
Workforce management solutions allow organisations to track the relationship between productivity and the cost of employment, incorporating issues such as health and safety, T&A, rostering and more.
Read more...
---
Hennie Lategan joins Centurion as head of exports
September 2019, Centurion Systems , News, Access Control & Identity Management
Centurion Systems has announced the appointment of Hennie Lategan as the head of the company's exports department.
Read more...
---