printer friendly version
Keeping street children safe
Access & Identity Management Handbook 2009
Access Control & Identity Management

The Salesian Institute, a charitable organisation working with Cape Town's street children, is one of the latest converts to biometrics.
The organisation, a Roman Catholic religious order, was founded in the mid nineteenth century by Saint John Bosco to care for the young and poor children of the industrial revolution and has a global community of over 34 000 priests and sisters in some 130 countries.
The first community members arrived in Cape Town in 1896 and the institute's current home was built in 1910. It currently runs a series of initiatives for street children including Learn to Live, which provides a full school educational programme for between 80 and 120 students at any time. The institute also has an 18-month residential skills workshop for young men to provide rehabilitation and skills training.
Following a mid 2007 audit by the Department of Social Services, the institute was advised to improve the time and attendance system used for its 45 staff.
This presented the institute with a dilemma. While it needed to comply with government regulations, purchasing a time and attendance system would draw money from budgets allocated to its educational projects, thus disadvantaging the street children it supports.
Father Naughton, bursar for the Salesian Institute, comments: "We reconciled ourselves to the fact that we needed to implement a new system. We researched the different solutions on the marketplace and decided that a fingerprint time and attendance system would be more effective than a conventional clock card system."
The Salesian Institute contacted SuperVision's Cape Town office to ask for advice on which biometric technology was the most appropriate for its environment.
Charlie Stewart, SuperVision's sales and marketing manager, says, "As soon as we heard about the Salesian Institute's work we decided that this was one project we must support. This feeling was reinforced when we met with Father Naughton and his team and saw the wonderful work the institute is doing for some of the most underprivileged members of society."
SuperVision contacted ADI International, which supplies it with Sagem biometric terminals, to ask if it would be interested in contributing to the project. The two companies agreed to donate a complete time and attendance system to the Salesian Institute.
ADI provided an MA100 reader with a Sagem Verif dongle and Maci software licence, while SuperVision donated an enrolment reader, its time and attendance software and its services to install the system.
The biometric terminal is installed next to the guardroom at the main entrance to the Salesian Institute's building in Seapoint and is used by all staff when they arrive at and leave work.
A network connection allows the terminal to upload profiles and download clocking information to the institute's HR PC from where clockings are checked and salaries paid.
Father Naughton comments, "As we are almost entirely funded by charitable donations, it is incredibly difficult for us to justify expenditure on infrastructure or any activity which is not directly related to our guiding mission to care for the young and poor. We were delighted that SuperVision and ADI share our vision and were willing to provide us with a worldclass time and attendance system."
If any readers would like to make a donation to the Salesian Institute, they can contact Father Naughton on +27 (0)21 425 1450.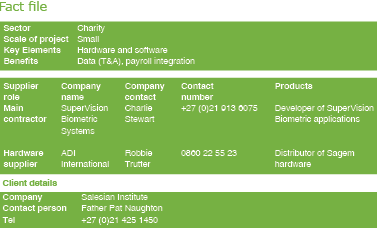 For more information contact Charlie Stewart, SuperVision Biometric Systems, +27 (0)21 913 6075.
Further reading:
Elvey exclusive Aiphone distributor
Issue 3 2020, Elvey Security Technologies , Access Control & Identity Management
Aiphone has appointed the Elvey Group as its official distributor in South Africa with effect from 1 April 2020.
Read more...
---
HID Global unveils new line of readers
Issue 3 2020, HID Global , Access Control & Identity Management
HID Global announced the launch of HID Signo, its signature line of readers that creates an adaptable, interoperable and secure approach to access control.
Read more...
---
Secure cash with biometrics
Issue 3 2020, Suprema , Access Control & Identity Management
Instead of relying solely on PINs, keys and passwords, integrate biometrics into cash handling solutions, such as cash vaults, safes, cash drawers, ATMs and cash-in-transit vehicles.
Read more...
---
The future of biometrics
Issue 3 2020, ViRDI Distribution SA , Access Control & Identity Management
Deon Janse Van Rensburg discusses the impact of COVID-19 on the biometric market and how it may change biometrics in the future.
Read more...
---
Frictionless access control
Issue 3 2020, IDEMIA , Access Control & Identity Management
IDEMIA integrates MorphoWave Compact with Digicon dFlow speedgates to secure employees' access with contactless fingerprint recognition.
Read more...
---
A door to fresh produce
Issue 3 2020 , Access Control & Identity Management
Maxiflex's electrically operated sectional doors, swing lip dock levellers and strip curtains streamline traffic flow and deliver temperature control at Evergreens Fresh Market.
Read more...
---
Facial recognition in under one second
Issue 3 2020, ZKTeco , Access Control & Identity Management
The upgraded ProFace product line is designed to deal with all kinds of scenarios, powered by the latest ZKTeco customised CPU.
Read more...
---
Are your employees at work?
Issue 3 2020, Secutel Technologies , Access Control & Identity Management
Organisations, big or small, often find that managing the time and attendance of their employees is a tedious, time-consuming and costly exercise.
Read more...
---
SALTO KS reaches 100 000 access points
Issue 3 2020, Salto Systems Africa , Access Control & Identity Management
SALTO Systems has reached a milestone of 100 000 access points for its cloud-based KS Keys as a Service solution.
Read more...
---
XDS offers Web-based facial recognition
Issue 3 2020 , Access Control & Identity Management
Xpert Decision Systems has launched a web-based facial recognition customer on-boarding solution, reducing the potential of third-party fraud.
Read more...
---