printer friendly version
Keeping street children safe
Access & Identity Management Handbook 2009
Access Control & Identity Management

The Salesian Institute, a charitable organisation working with Cape Town's street children, is one of the latest converts to biometrics.
The organisation, a Roman Catholic religious order, was founded in the mid nineteenth century by Saint John Bosco to care for the young and poor children of the industrial revolution and has a global community of over 34 000 priests and sisters in some 130 countries.
The first community members arrived in Cape Town in 1896 and the institute's current home was built in 1910. It currently runs a series of initiatives for street children including Learn to Live, which provides a full school educational programme for between 80 and 120 students at any time. The institute also has an 18-month residential skills workshop for young men to provide rehabilitation and skills training.
Following a mid 2007 audit by the Department of Social Services, the institute was advised to improve the time and attendance system used for its 45 staff.
This presented the institute with a dilemma. While it needed to comply with government regulations, purchasing a time and attendance system would draw money from budgets allocated to its educational projects, thus disadvantaging the street children it supports.
Father Naughton, bursar for the Salesian Institute, comments: "We reconciled ourselves to the fact that we needed to implement a new system. We researched the different solutions on the marketplace and decided that a fingerprint time and attendance system would be more effective than a conventional clock card system."
The Salesian Institute contacted SuperVision's Cape Town office to ask for advice on which biometric technology was the most appropriate for its environment.
Charlie Stewart, SuperVision's sales and marketing manager, says, "As soon as we heard about the Salesian Institute's work we decided that this was one project we must support. This feeling was reinforced when we met with Father Naughton and his team and saw the wonderful work the institute is doing for some of the most underprivileged members of society."
SuperVision contacted ADI International, which supplies it with Sagem biometric terminals, to ask if it would be interested in contributing to the project. The two companies agreed to donate a complete time and attendance system to the Salesian Institute.
ADI provided an MA100 reader with a Sagem Verif dongle and Maci software licence, while SuperVision donated an enrolment reader, its time and attendance software and its services to install the system.
The biometric terminal is installed next to the guardroom at the main entrance to the Salesian Institute's building in Seapoint and is used by all staff when they arrive at and leave work.
A network connection allows the terminal to upload profiles and download clocking information to the institute's HR PC from where clockings are checked and salaries paid.
Father Naughton comments, "As we are almost entirely funded by charitable donations, it is incredibly difficult for us to justify expenditure on infrastructure or any activity which is not directly related to our guiding mission to care for the young and poor. We were delighted that SuperVision and ADI share our vision and were willing to provide us with a worldclass time and attendance system."
If any readers would like to make a donation to the Salesian Institute, they can contact Father Naughton on +27 (0)21 425 1450.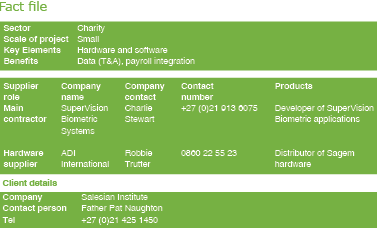 For more information contact Charlie Stewart, SuperVision Biometric Systems, +27 (0)21 913 6075.
Further reading:
Choosing the right biometric technology in the new normal
Issue 9 2020, IDEMIA , Access Control & Identity Management
Selecting the right biometric data that delivers according to your requirements is crucial to ongoing success. So, how do we select the appropriate biometrics to meet our needs?
Read more...
---
Keeping COVID in check
Issue 8 2020, Suprema , Access Control & Identity Management, Healthcare (Industry)
Suprema thermal camera solution helps prevent the spread of COVID-19 in South Korea in a focused healthcare approach from government.
Read more...
---
Scorpion Spike Barriers for St Helena Bay
Issue 8 2020, BoomGate Systems , Access Control & Identity Management
The Port of St Helena Bay, along the west coast of South Africa, gets a security upgrade in the form of the Scorpion High Security Spike Barrier.
Read more...
---
Gallagher unveils new T30 access reader
Issue 8 2020, Gallagher , Access Control & Identity Management
Gallagher has launched the new T30 card and PIN reader with two-factor authentication, designed to offer an extra layer of security without the display screen.
Read more...
---
Speeding into the office
Issue 8 2020, Turnstar Systems , Access Control & Identity Management
The Firs commercial property is situated in the heart of Rosebank – Johannesburg's second largest business centre – surrounded by new commercial, residential and retail property developments. Rosebank ...
Read more...
---
Paxton introduces Checkpoint Control
Issue 8 2020, Paxton , Access Control & Identity Management
Paxton's new Checkpoint Control feature supports COVID-secure sites and helps Net2 users protect employees and visitors by monitoring and approving people as they enter buildings.
Read more...
---
Turnstar secures MTN
Issue 8 2020, Turnstar Systems , Access Control & Identity Management
Turnstar Velocity barriers and Velocity Raptor spike vehicle barriers form part of the physical access solutions that secure the MTN head office in Johannesburg.
Read more...
---
Net2 integrates with additional thermal scanners
Issue 8 2020, Paxton , News, Access Control & Identity Management
Paxton has updated Net2 to include six new thermal temperature scanning integrations to assist in managing the pandemic.
Read more...
---
Touchless access control conference
Issue 8 2020, Hikvision South Africa, IDEMIA , Suprema, Technews Publishing , Access Control & Identity Management, Conferences & Events, Training & Education
Hi-Tech Security Solutions hosted an online conference in mid-August to highlight the new trend towards touchless access control. The conference hosted speakers with experience in the access control, ...
Read more...
---
VisionPass wins SIA award
Issue 8 2020, IDEMIA , News, Access Control & Identity Management
IDEMIA announced that VisionPass, its newly launched advanced facial recognition device, won the SIA New Product Showcase Award.
Read more...
---