printer friendly version
Library access to almost all
Access & Identity Management Handbook 2009
Access Control & Identity Management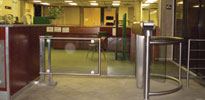 Ease of access to the appropriate people is critical for Medunsa's campus library.
The Medunsa Campus Library, situated in Pretoria, is a more specialised library in that its core business focuses on information services for approximately 4000 health and science students and faculty members. It is therefore not open to the general public and access has to be closely monitored.
In the past, the Medunsa Campus Library employed the services of a security guard standing at the entrance and checking student and staff cards. As can be imagined, this was not very effective as cards were regularly lost and students would often lend their cards to friends to allow them access to the library. In addition, the majority of the guard's time was taken up by him performing routine card checking rather than fulfilling his other job requirements.
In addition to the above-mentioned, the Medunsa Campus Library was going through an overall equipment and facilities refurbishment and security was one of the issues to be addressed.
Access to the library by only bona fide students and faculty was imperative for security. Therefore, having an access solution that was easy to use, robust and secure was imperative and would benefit the campus as a whole. Furthermore, the installation of the new access control solution meant the appearance of the entrance foyer also improved. With the removal of the old glass panes and the installation of an attractive security desk meant that the Medunsa Campus Library looked more inviting, and up-to-date.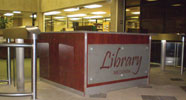 After consultation with CI Polokwane, the Medunsa Campus Library settled on a Morpho access control fingerprint system, combined with Turnstar stainless steel and glass turnstiles.
Now that a solution had been agreed upon, it was time to convince the relevant decision makers. In the case of the Medunsa Campus Library, these decision makers were the executive director and deputy director. According to a spokesperson, this was not really a problem.
"In terms of the implementation, we did not really hit any hurdles, although, funding was a limiting factor. Because of the lack of funding, the choice of components to use in the system was rather limited.
"Time constraints were also limiting. The entire solution had to be installed and up and running by the end of 2008."
When choosing which solution the library would go with, quotations were requested from interested companies, and the lowest quotation that met the specifications was selected. CI Polokwane was chosen in this case. The actual solution that the library chose was not based on referrals, but instead on a similar solution installed at the Turfloop Campus Library which impressed the management.
The installation was completed within a week. The registration of staff and students started in January 2009 and was completed by the end of March 2009. The library could have adopted an 'everyone needs to register now' approach, but instead opted for a more gradual, less invasive approach – thus avoiding any disruption.
The project achieved what the Medunsa Campus Library wanted – an effective and attractive access system at reasonable cost and suitable for a library environment. The library was also looking for something that was easy to operate, secure and robust – the Sagem MA 500 fingerprint access control system along with the Turnstar turnstiles achieved just that and more.
The library is happy with the solution so far and the only advice it can offer other libraries is that the systems available differ in their suitability for specific environments; and libraries should consider a variety of systems before selecting one.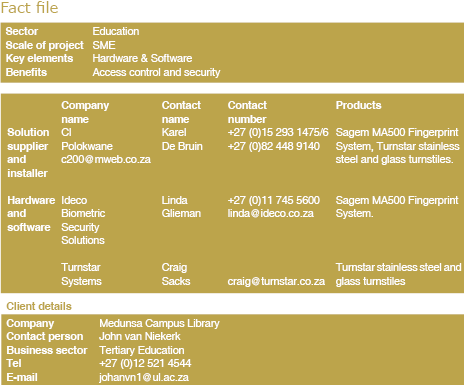 For more information contact Karel de Bruin, CI Polokwane, +27 (0)15 293 1475/6, c200@mweb.co.za
Further reading:
Elvey exclusive Aiphone distributor
Issue 3 2020, Elvey Security Technologies , Access Control & Identity Management
Aiphone has appointed the Elvey Group as its official distributor in South Africa with effect from 1 April 2020.
Read more...
---
HID Global unveils new line of readers
Issue 3 2020, HID Global , Access Control & Identity Management
HID Global announced the launch of HID Signo, its signature line of readers that creates an adaptable, interoperable and secure approach to access control.
Read more...
---
Secure cash with biometrics
Issue 3 2020, Suprema , Access Control & Identity Management
Instead of relying solely on PINs, keys and passwords, integrate biometrics into cash handling solutions, such as cash vaults, safes, cash drawers, ATMs and cash-in-transit vehicles.
Read more...
---
The future of biometrics
Issue 3 2020, ViRDI Distribution SA , Access Control & Identity Management
Deon Janse Van Rensburg discusses the impact of COVID-19 on the biometric market and how it may change biometrics in the future.
Read more...
---
Frictionless access control
Issue 3 2020, IDEMIA , Access Control & Identity Management
IDEMIA integrates MorphoWave Compact with Digicon dFlow speedgates to secure employees' access with contactless fingerprint recognition.
Read more...
---
A door to fresh produce
Issue 3 2020 , Access Control & Identity Management
Maxiflex's electrically operated sectional doors, swing lip dock levellers and strip curtains streamline traffic flow and deliver temperature control at Evergreens Fresh Market.
Read more...
---
Facial recognition in under one second
Issue 3 2020, ZKTeco , Access Control & Identity Management
The upgraded ProFace product line is designed to deal with all kinds of scenarios, powered by the latest ZKTeco customised CPU.
Read more...
---
Are your employees at work?
Issue 3 2020, Secutel Technologies , Access Control & Identity Management
Organisations, big or small, often find that managing the time and attendance of their employees is a tedious, time-consuming and costly exercise.
Read more...
---
SALTO KS reaches 100 000 access points
Issue 3 2020, Salto Systems Africa , Access Control & Identity Management
SALTO Systems has reached a milestone of 100 000 access points for its cloud-based KS Keys as a Service solution.
Read more...
---
XDS offers Web-based facial recognition
Issue 3 2020 , Access Control & Identity Management
Xpert Decision Systems has launched a web-based facial recognition customer on-boarding solution, reducing the potential of third-party fraud.
Read more...
---