printer friendly version
Transparent control
Access & Identity Management Handbook 2009
Access Control & Identity Management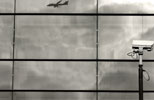 Integrating biometric access control with business applications need not be a fragile affair.
Until recently one of South Africa's largest glass product manufacturers relied heavily on its ageing security system that combined various outdated security and access control systems that still used clock-in cards.
The glass manufacturer faced a number of challenges with its security and access systems, and began to look for a new system to replace the old. The main challenge for the company was that the solutions it had in place were initially provided by a myriad of solution providers and were not able to fully integrate with its existing SAP ERP system, in addition to which continuity and maintenance of the existing systems had become an ongoing issue.
Another reality facing the company was that much of the existing equipment they had in place was proprietary technology and had not been developed using an open standards framework. As a result they were extremely cumbersome to manage and whenever third party integration was required costs would spiral out of control.
The company specified it was looking for a SAP certified solution that integrated Sagem technology into the systems architecture. It was then that we began looking for partners to assist, and after looking at what was available in the market, Bytes Systems Integration (Bytes SI) became the obvious choice because it had already designed a solution that catered for the company's needs.
After winning the tender, Bytes SI began designing a new solution for the company that would resolve its integration problems by implementing a Honeywell EBI system with biometric access control that integrated into the SAP Time and Attendance module, chosen by the company as its preferred application.
SAP integration
As an existing SAP user, the glass manufacturer wanted to be able to have a single access point into its SAP system and required that its employee master file data be automatically transferred to the EBI system. Additionally, the clocked data for time and attendance purposes needed to be automatically loaded into SAP. The company also required that the system use Sagem Biometric readers at all access and clock-in points, because of its ease of use and high success rate as far as successful transactions was concerned as well as its ability to integrate into third party systems such as the Honeywell EBI system.
Bytes SI installed the Honeywell EBI system on a central server at the head office, which was then also rolled out to its manufacturing facilities in the Western Cape and Gauteng. The entire system is run over the existing WAN with IP-based TEMA controllers deployed at each of the sites, and Sagem MA500 and MA100 readers connected back into the Tema Controllers via Wiegand convertors. Staff are enrolled onto the system through SAP and then automatically transferred to the EBI system via the HR-PDC interface.
Should any badge holder be suspended or dismissed they are automatically removed from the SAP system, which filters to all access points in the premises, ensuring that there is never a gap in the workflow process and that people who are no longer employed by the company do not have access to buildings.
Logical and physical access
All staff including contractors enter plants through turnstiles and vehicle barriers and use Sagem biometric readers to gain access. Once at their place of work they will clock in on their workstation Sagem reader, this time is then transferred up to SAP as a time event. The system also makes use of standard access control rules such as zoning which restricts certain areas to certain staff such as server rooms and anti-passback which monitors sequential clocking.
A single point of entry for data, further secures the network and results in all provisioning controlled by SAP is 'fed' down to the EBI system, while Sagem readers ensure the entrance to the plant and clocking on and off of shift is of the highest integrity. The ultimate benefit of Honeywell EBI being a fully certified solution means that the EBI system will always stay current and up to date with future SAP releases.
"The system has met the criteria laid out in the scope of work by the glass manufacturer and was delivered on time, in budget and met with all of the client's tailored technical specifications. A live successful payroll run has already been done and so far two of the four sites have gone live with this solution and we expect to have the next two sites live within the next six months," says Mike Ellison, technical manager, Bytes Systems Integration.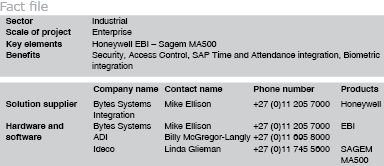 \For more information contact Dana Jedrisko, divisional manager, marketing and communications, Bytes Systems Integration, +27 (0)11 205 7000, dana.jedrisko@btgroup.co.za
Further reading:
Econz Wireless Timecard assists with employee screening
Issue 4 2020 , Access Control & Identity Management
Essential workers across a wide range of sectors are using Econz' Timecard application to check employees' current wellness status before starting work.
Read more...
---
WizzPass COVID-19 screening solution
Issue 4 2020 , Access Control & Identity Management
WizzPass provides COVID-19 screening solution for both staff and visitors in one system.
Read more...
---
Foot operated door opener
Issue 4 2020 , Access Control & Identity Management
Pro-Tech and Falcon Security have launched the new Foot Operated Door Opener (FODO), aimed at assisting in the creation of touchless 'hands-free' access control solutions.
Read more...
---
Infection control access solutions
Issue 4 2020, Gunnebo Africa , Access Control & Identity Management
With many organisations planning to resume operations, the implementation of social distancing and infection control in these environments is a challenge.
Read more...
---
Weatherproof Bluetooth padlock
Issue 4 2020, ASSA ABLOY South Africa , Access Control & Identity Management
The new ABLOY BEAT locking solution includes a novel digital key, a mobile app and an IP68-rated, weatherproof Bluetooth padlock.
Read more...
---
Touch-free face recognition terminals
Issue 4 2020, Hikvision South Africa , Access Control & Identity Management
Hikvision announces touch-free MinMoe face recognition terminals for easier access control and time and attendance.
Read more...
---
Contactless T&A
Issue 4 2020, LD Africa , Access Control & Identity Management
Matrix COSEC APTA is a mobile-based employee portal, allowing COSEC users to monitor and manage all their time and attendance, total working hours and leave options.
Read more...
---
New touchless upgrades
Issue 4 2020 , Access Control & Identity Management
Invixium upgrades touchless biometrics technology and introduces fever detection enhancement kit.
Read more...
---
Expanded entrance control
Issue 4 2020, Gunnebo Africa , Access Control & Identity Management
Gunnebo entrance control solutions are now available with body temperature control and building capacity management functionality.
Read more...
---
Entrance control from Axis
Issue 4 2020, Axis Communications SA , Access Control & Identity Management
Access control solutions from Axis offer flexibility, agility and open platforms that are fit for both today's needs and tomorrow's.
Read more...
---