printer friendly version
A power development for Serengeti
May 2009
Integrated Solutions
Reliable security is an essential element that must be strategically integrated into the development plans of upmarket estates.
The Serengeti Golf & Wildlife Estate, consisting of residential homes, a 27-hole Jack Nicklaus Signature golf course, wildlife, a shopping centre, restaurants, school, nursery, hotel and commercial office complex, was conceived as a modern digital, safe and secure lifestyle centre where the concept of live, work and play can be achieved. The estate is situated midway between Tshwane and Johannesburg on the R21, a stone's throw from O.R. Tambo International Airport.
The present national situation with respect to crime gives rise to the requirement of ensuring a safe and secure environment for residents, their children, shoppers, golfers, hotel visitors and staff. The challenge was to ensure safety via an integrated world-class product.
Most security systems deployed at estates today fail in achieving the above because they are based on:
* Card-only access control systems – resulting in ghost cards enrolled for easy bypass of the systems, or even cards stolen or forced from the owner/domestic/contractor for criminal purposes.
* Access, CCTV surveillance, perimeter protection and alarm monitoring security systems are implemented as individual components, without consideration of future integration and expansion requirements. They are also installed without considering the direction the technologies are taking internationally.
* Most IT and communications solutions deployed are implemented with different, disparate access networks deployed for telecommunications services, Internet access and intercom systems without any planning or consideration for future technologies such as true broadband Internet access, video on demand, IPTV or any value-added services.
Power Developments understood the needs of Serengeti Estate and was able to ensure the required security level. The solution was designed according to the estate's strategic needs, which determined the functional specifications to achieve the operational requirement. The company also provided a single access network for all IT, communications and security requirements for the estate.
"From the outset of the strategic planning phase, we considered our customers' requirements over the next 25 years and future-proofed any investments made in our estate by implementing leading-edge technology and solutions," says Shaun Barkhuizen, electronic systems consultant, Power Developments.
The objective was to implement the following:
* A perimeter that is impossible to breach.
* The best possible security systems to control and manage access at the contractor gates during the construction phases.
* The best possible security systems to control and manage access at the main gates for residents, staff, visitors, golfers, shoppers and hotel visitors.
* Further internal security access and surveillance systems were to cover the internal villages, the shopping centre, school, hotel, commercial offices.
* To provide one single multiservices access network that was fully managed, robust, low in maintenance and that could provide for any future services for at least the next 25 years.

Access control at one of the entrances to Serengeti
Integrated solutions
According to Barkhuizen, the solution designed for the estate included:
Access control: Impro Technologies IXP400 access control system with an Ethernet capable ECII controller, with Sagem biometrics controlling access. All this was integrated into the ImproNet suite of software modules.
CCTV monitoring and surveillance system: Honeywell DVM (digital video manager) centrally controlled and managed CCTV system, Axis Ethernet streaming components and Samsung CCTV cameras. These were integrated into the Honeywell EBI (Enterprise Building Management) system. In addition, Honeywell alarm intrusion monitoring, with application-specific software controls and management system by S.A. Digital Villages was also implemented.
Multizone perimeter intrusion detection systems: Honeywell DVM CCTV surveillance utilising motion detection (and soon video analytics), Axis streaming, Samsung fixed and high-speed PTZ cameras; fibre optic motion detection systems based on vibration detection for under-dig, break-through and climb-over all linked to the central control room; and an intelligent electrified palisade.
S.A. Digital Villages, in consultation with Exys Security Systems, also developed application specific control and management software to allow for the management of golfers, shoppers and visitors.
IT and communications: Throughout the estate, SA Digital Villages installed and commissioned a full fibre-to-the-home (FTTH) solution providing a single access network to provide a complete triple play solution with all the necessary operational and management objectives met. Triple Play can be defined as voice, video and data, including telecommunication services, full TV signal distribution from a central station, Internet access and various value-added services, such as a content portal, video on demand, gaming and estate management functions integrated into a central billing platform to manage these services.
The primary objective for the professional team of consultants was to ensure they understood and appreciated the current and future security challenges of the estate, and had the vision to provide the security backbone and systems required to meet these. It was also important to find a solution that integrated all the security components into one management system.
"The initial objective to ensure a safe and secure living, recreational and working environment has been achieved by implementing the systems on a modern, high-tech security platform, ensuring the required security levels were met, while catering for seamless and functional expansion of the system if required," adds Barkhuizen. "In this deregulating environment we have in South Africa, combined with the constantly increasing threat of crime and the current squeeze on the property market, we believe we have created a product that differentiates itself from the norm; providing unprecedented security for residents with world-class broadband and communications services that secures everyone's investment for many years to come.
"The benefits for both the homeowner and estate management in deploying this FTTH solution are all in the provision of services. At the end of the day it is all about the services provided to the customer."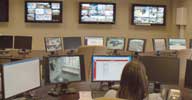 Serengeti control room
The Serengeti Golf & Wildlife Estate consists of the following elements all within a secure boundary:
* 1700 Residential stands.
* 27-hole Jack Nicklaus Signature Golf Course with 7000-square-metre clubhouse.
* Serengeti Hotel and Wellness Centre.
* Office Park.
* Serengeti Academy.
* Retail centre for convenience shopping for residents.
* Gym.
* Conservation area.
Serviced with security systems for:
* EMC (estate management centre), incorporating a modern high technology control room.
* 5 km of perimeter wall and 9 km of electrified smart palisade..
* Two x main entrance gates, 9-lanes each, of which two are dedicated contractor lanes.
* Five x internal village gates.
* Serengeti Hotel, Conference Centre and Retail Village.
Credit(s)
Further reading:
Intelligent analytics and the brains to match
September 2019, Bosch Building Technologies , CCTV, Surveillance & Remote Monitoring, Integrated Solutions
What if the brains behind our security cameras could be trained to improve their cognitive ability to pay attention, learn, and problem-solve according to specific rules and situations?
Read more...
---
AI-powered autonomous Drone-in-a-Box
September 2019 , CCTV, Surveillance & Remote Monitoring, Integrated Solutions
Organisations in the mining, energy and industrial, oil and gas, ports and terminals sectors can optimise security and business operations, whilst reducing risks and operational costs
Read more...
---
A platform approach to innovation and value
September 2019, Technews Publishing , Editor's Choice, CCTV, Surveillance & Remote Monitoring, Integrated Solutions, IT infrastructure
Moving to the platform model of doing business holds tremendous advantages for end users and smaller developers, but also for the whole technology supply chain.
Read more...
---
Open does not always mean easy integration
September 2019, VERACITECH, Technews Publishing , Editor's Choice, CCTV, Surveillance & Remote Monitoring, Integrated Solutions
Customers who opt for best-of-breed solutions will have to rely on their integrators to develop customised integrated solutions for them.
Read more...
---
Video analytics and AI
September 2019, Axis Communications SA, Dallmeier Electronic Southern Africa , Hikvision South Africa, Technews Publishing, Dahua Technology South Africa , Editor's Choice, CCTV, Surveillance & Remote Monitoring, Integrated Solutions
Artificial intelligence has the potential to deliver real benefits in the world of video analytics and many companies are already delivering customer benefits.
Read more...
---
Cloudy with a chance of AI
September 2019 , Editor's Choice, CCTV, Surveillance & Remote Monitoring, Integrated Solutions
One local company has developed an AI solution that can be added to existing surveillance installations, offering 24-hour intelligence.
Read more...
---
Integration insights
September 2019, Gijima Electronic and Security Systems (GESS), Technews Publishing, neaMetrics , Integrated Solutions
The security industry would be a vastly different place if installers and integrators were not able to make a range of different products work together.
Read more...
---
Video and audio analytics
September 2019, Wisenet CCTV - Hanwha Techwin , CCTV, Surveillance & Remote Monitoring, Integrated Solutions
Viewing many monitors and cameras simultaneously can lead to an increased probability of missing critical situations due to viewing fatigue. Analytics has the answer.
Read more...
---
Enhance video analytics with Augmented Vision
September 2019, IDEMIA , Technews Publishing , CCTV, Surveillance & Remote Monitoring, Integrated Solutions
Augmented Vision is a video analytics application from IDEMIA designed to enhance security in public and private places.
Read more...
---
A tangible return on investment
September 2019, Bidvest Protea Coin, Technews Publishing , CCTV, Surveillance & Remote Monitoring, Integrated Solutions
The key to a successful security solution for any environment is the strategy and processes that define what you need, where, when, how and why.
Read more...
---