printer friendly version
Better T&A for engineers
Access & Identity Management Handbook 2009
Access Control & Identity Management
Bearing Man Group turned to Dengard Systems to upgrade its surveillance and time and attendance systems.
With its doors first opening in 1974, the Bearing Man Group (BMG) is said to be Africa's largest specialist distributor of engineering components. With a combined force of over 100 outlets in southern Africa, BMG is strategically positioned to service all sectors of industry including agriculture, mining, petrochemical, sugar, paper and general engineering, as well as the automotive and domestic sectors.
The company strives to be a part of the productivity and operations of each customer's business. It accomplishes this by providing technical solutions that optimise productivity.
The immediate availability of a comprehensive range of quality branded products sets the company apart in a highly competitive industry.
Since 1974 the company's workforce has expanded tenfold, so a decent security and time and attendance solution was critical to keep day to day operations running smoothly. Thus the company looked to Dengard Systems to implement newer, more reliable access control and CCTV systems.
BMG decided to go for this upgrade a few months ago, as part of a complete overhaul of its main warehouse. Apart from upgrading the current CCTV system, the group was looking for a better way of controlling time and attendance and thus shifted its focus towards biometrics.
"Our previous time and attendance solution worked well when we employed a smaller workforce, however, with the growing number of employees, numerous problems such as buddy-clock-in occurred," a company spokesperson said. Furthermore, the company faced endless security problems. The previous time and attendance system was also very outdated and was completely unserviceable.
The overall reward the company was looking for when the solution was operational was that of an effective access control system. Furthermore, it wanted detailed, accurate time and attendance reports to curtail unauthorised overtime and unauthorised access to the factory.
When BMG approached Dengard Systems with our needs it proposed we install a series a Sagem biometric fingerprint readers all connected to an Impronet backbone. However, before things could get underway, BMG's executive committee had to be convinced that the proposed solution was the best way to go and would deal with all the shortcomings of the previous access control solution.
BMG's Anton Kritzinger specified the needs and the entire project was then left up to Dengard Systems. The project was not put up for tender, nor were additional companies called in to work on the installation.
After the installation was complete, BMG's time and attendance records were accurate and up-to-date, security improved and overall the employees are now experiencing a much healthier working environment.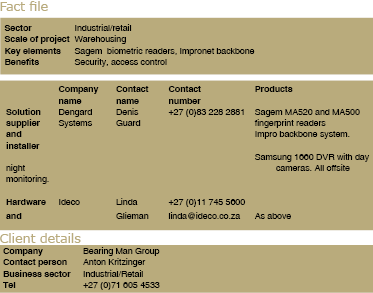 For more information contact Denis Guard, Dengard Systems, +27 (0)83 228 2881.
Further reading:
Elvey exclusive Aiphone distributor
Issue 3 2020, Elvey Security Technologies , Access Control & Identity Management
Aiphone has appointed the Elvey Group as its official distributor in South Africa with effect from 1 April 2020.
Read more...
---
HID Global unveils new line of readers
Issue 3 2020, HID Global , Access Control & Identity Management
HID Global announced the launch of HID Signo, its signature line of readers that creates an adaptable, interoperable and secure approach to access control.
Read more...
---
Secure cash with biometrics
Issue 3 2020, Suprema , Access Control & Identity Management
Instead of relying solely on PINs, keys and passwords, integrate biometrics into cash handling solutions, such as cash vaults, safes, cash drawers, ATMs and cash-in-transit vehicles.
Read more...
---
The future of biometrics
Issue 3 2020, ViRDI Distribution SA , Access Control & Identity Management
Deon Janse Van Rensburg discusses the impact of COVID-19 on the biometric market and how it may change biometrics in the future.
Read more...
---
Frictionless access control
Issue 3 2020, IDEMIA , Access Control & Identity Management
IDEMIA integrates MorphoWave Compact with Digicon dFlow speedgates to secure employees' access with contactless fingerprint recognition.
Read more...
---
A door to fresh produce
Issue 3 2020 , Access Control & Identity Management
Maxiflex's electrically operated sectional doors, swing lip dock levellers and strip curtains streamline traffic flow and deliver temperature control at Evergreens Fresh Market.
Read more...
---
Facial recognition in under one second
Issue 3 2020, ZKTeco , Access Control & Identity Management
The upgraded ProFace product line is designed to deal with all kinds of scenarios, powered by the latest ZKTeco customised CPU.
Read more...
---
Are your employees at work?
Issue 3 2020, Secutel Technologies , Access Control & Identity Management
Organisations, big or small, often find that managing the time and attendance of their employees is a tedious, time-consuming and costly exercise.
Read more...
---
SALTO KS reaches 100 000 access points
Issue 3 2020, Salto Systems Africa , Access Control & Identity Management
SALTO Systems has reached a milestone of 100 000 access points for its cloud-based KS Keys as a Service solution.
Read more...
---
XDS offers Web-based facial recognition
Issue 3 2020 , Access Control & Identity Management
Xpert Decision Systems has launched a web-based facial recognition customer on-boarding solution, reducing the potential of third-party fraud.
Read more...
---