printer friendly version
Better T&A for engineers
Access & Identity Management Handbook 2009
Access Control & Identity Management
Bearing Man Group turned to Dengard Systems to upgrade its surveillance and time and attendance systems.
With its doors first opening in 1974, the Bearing Man Group (BMG) is said to be Africa's largest specialist distributor of engineering components. With a combined force of over 100 outlets in southern Africa, BMG is strategically positioned to service all sectors of industry including agriculture, mining, petrochemical, sugar, paper and general engineering, as well as the automotive and domestic sectors.
The company strives to be a part of the productivity and operations of each customer's business. It accomplishes this by providing technical solutions that optimise productivity.
The immediate availability of a comprehensive range of quality branded products sets the company apart in a highly competitive industry.
Since 1974 the company's workforce has expanded tenfold, so a decent security and time and attendance solution was critical to keep day to day operations running smoothly. Thus the company looked to Dengard Systems to implement newer, more reliable access control and CCTV systems.
BMG decided to go for this upgrade a few months ago, as part of a complete overhaul of its main warehouse. Apart from upgrading the current CCTV system, the group was looking for a better way of controlling time and attendance and thus shifted its focus towards biometrics.
"Our previous time and attendance solution worked well when we employed a smaller workforce, however, with the growing number of employees, numerous problems such as buddy-clock-in occurred," a company spokesperson said. Furthermore, the company faced endless security problems. The previous time and attendance system was also very outdated and was completely unserviceable.
The overall reward the company was looking for when the solution was operational was that of an effective access control system. Furthermore, it wanted detailed, accurate time and attendance reports to curtail unauthorised overtime and unauthorised access to the factory.
When BMG approached Dengard Systems with our needs it proposed we install a series a Sagem biometric fingerprint readers all connected to an Impronet backbone. However, before things could get underway, BMG's executive committee had to be convinced that the proposed solution was the best way to go and would deal with all the shortcomings of the previous access control solution.
BMG's Anton Kritzinger specified the needs and the entire project was then left up to Dengard Systems. The project was not put up for tender, nor were additional companies called in to work on the installation.
After the installation was complete, BMG's time and attendance records were accurate and up-to-date, security improved and overall the employees are now experiencing a much healthier working environment.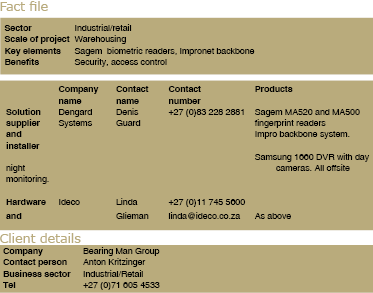 For more information contact Denis Guard, Dengard Systems, +27 (0)83 228 2881.
Further reading:
Choosing the right biometric technology in the new normal
Issue 9 2020, IDEMIA , Access Control & Identity Management
Selecting the right biometric data that delivers according to your requirements is crucial to ongoing success. So, how do we select the appropriate biometrics to meet our needs?
Read more...
---
Keeping COVID in check
Issue 8 2020, Suprema , Access Control & Identity Management, Healthcare (Industry)
Suprema thermal camera solution helps prevent the spread of COVID-19 in South Korea in a focused healthcare approach from government.
Read more...
---
Scorpion Spike Barriers for St Helena Bay
Issue 8 2020, BoomGate Systems , Access Control & Identity Management
The Port of St Helena Bay, along the west coast of South Africa, gets a security upgrade in the form of the Scorpion High Security Spike Barrier.
Read more...
---
Gallagher unveils new T30 access reader
Issue 8 2020, Gallagher , Access Control & Identity Management
Gallagher has launched the new T30 card and PIN reader with two-factor authentication, designed to offer an extra layer of security without the display screen.
Read more...
---
Speeding into the office
Issue 8 2020, Turnstar Systems , Access Control & Identity Management
The Firs commercial property is situated in the heart of Rosebank – Johannesburg's second largest business centre – surrounded by new commercial, residential and retail property developments. Rosebank ...
Read more...
---
Paxton introduces Checkpoint Control
Issue 8 2020, Paxton , Access Control & Identity Management
Paxton's new Checkpoint Control feature supports COVID-secure sites and helps Net2 users protect employees and visitors by monitoring and approving people as they enter buildings.
Read more...
---
Turnstar secures MTN
Issue 8 2020, Turnstar Systems , Access Control & Identity Management
Turnstar Velocity barriers and Velocity Raptor spike vehicle barriers form part of the physical access solutions that secure the MTN head office in Johannesburg.
Read more...
---
Net2 integrates with additional thermal scanners
Issue 8 2020, Paxton , News, Access Control & Identity Management
Paxton has updated Net2 to include six new thermal temperature scanning integrations to assist in managing the pandemic.
Read more...
---
Touchless access control conference
Issue 8 2020, Hikvision South Africa, IDEMIA , Suprema, Technews Publishing , Access Control & Identity Management, Conferences & Events, Training & Education
Hi-Tech Security Solutions hosted an online conference in mid-August to highlight the new trend towards touchless access control. The conference hosted speakers with experience in the access control, ...
Read more...
---
VisionPass wins SIA award
Issue 8 2020, IDEMIA , News, Access Control & Identity Management
IDEMIA announced that VisionPass, its newly launched advanced facial recognition device, won the SIA New Product Showcase Award.
Read more...
---