printer friendly version
The move to high-def performance
CCTV Handbook 2009
CCTV, Surveillance & Remote Monitoring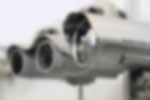 High-definition systems will be the preferred surveillance systems of the future and we are already seeing the intention to not only upgrade from traditional CCTV platforms, but also from the current IP solutions to high-definition surveillance.
In the UK there is presently estimated to be one camera for every 14 people. In a day's travels you will be filmed by numerous systems and the footage recorded for a number of weeks until an incident perhaps requires the playback and its use as evidence in a court case. In about 95% of cases the playback footage on conventional CCTV cameras is of insufficient quality to enable a successful prosecution without hours and hours of additional time and effort to find corroborating evidence.
Sandton-based Vision Catcher is now able to offer products that provide footage at a quality resolution enabling effective prosecution, the Avigilon High Definition Surveillance Solution.
Avigilon offers a range of High-Definition Megapixel cameras in 1/3" and 35 mm specifications with varying pixel resolutions. The cameras use a JPEG 2000 compression algorithm that permits full control from the Avigilon Central Server Software offering compressed images through to visually lossless images. Unlike MPEG, MJPEG and Wavelet algorithms, JPEG 2000 offers the ability to provide general overviews of an image that improves resolution as more data comes through and at the same time provides a specific detailed image of a particular area of interest as illustrated below. This layered compression permits accurate review of key areas using very little bandwidth, a regular comment made against ordinary megapixel cameras.
The Avigilon Control Centre permits full control of multiple cameras over multiple NVRs providing streams of data as required, letting you choose the right images to manage. The multicast streams permit various users to be viewing the same footage simultaneously and each operator to manipulate the image ie zoom in or out, as required concentrating on different items or areas of interest. The same live footage can be simultaneously compared to recorded footage on side by side frames enabling quick and effective comparisons. The recorded footage can be searched through motion, pixel or even thumbnail event sequences with full bookmarking.
Considerations
Let us take a conventional CCTV setup involving a street scene, parking area, shopping mall or corporate environment; the requirement is often to cover large areas. This can be achieved by fixed cameras with a known focal length to the object focal point or in cases where there are multiple items to view by using a pan, tilt and zoom (PTZ) dome camera or a pan and tilt (PT) head and a camera with a zoom lens. In the case of the PT head, the lens can be changed for any configuration and for the PTZ the lens is normally given as x25, x26 or x35 ratio of the automatic vari-focal lens that in the case of the x36 setting runs from approx 3–108 mm. What this means is that a number plate of 450–500 mm for example can be seen and manually identified at full zoom (108 mm) at approx 85 m, but anything further than that and you will not be able to identify the plate. The actual field of view at this point is approx 2,5 m. That is the limitation of the lens and therefore the limitation of the PTZ camera.
With your ordinary PTZ camera within a parking area you can, at any point in time, zoom into any vehicle at less than 85 m and identify its plate. When you zoom in you can view that particular vehicle but all other plates or incidents that might be happening within the PTZ camera's range are lost. This then requires you to methodically work your way through the parking area to capture each plate, however while you are doing this who is monitoring the area for a break-in to a vehicle or an accident which has taken place? The answer to both of these questions is self explanatory, the PTZ camera missed both incidents.
The conventional and typical answer to the problem of the PTZ camera is to replace it with fixed cameras that will monitor each and every bay as the camera will need to view 2,5 m at its set distance resulting in a requirement for 50 or more fixed cameras.
We do not agree with this conventional and typical answer for the following reasons. Can you imagine the cost for installing this hardware not to say the manpower to monitor these cameras and the amount of storage for all the visuals?
Solution
The Avigilon top end camera is the 16 MP 14 bit CCD chip day/night camera. It has various lens options according to requirements. The 16 MP camera using a similar rated lens will provide number plates across a 30–40 m field of view over multiple rows covering at least 50 vehicles. The parking area, as illustrated below is taken at a lower point than what is available using a 200 mm lens which has a 10° arc compared to an 85 mm lens of 24°. The recording is at 10% of full lossless resolution. Take a look at the SKX561GP plate which is 150 m from the camera. Now go back to your PTZ camera which could not identify a plate further than 85 m and only one plate at a time. Here you have one Avigilon camera covering what multiple conventional CCTV fixed cameras could do, or a PTZ which still will not read the number plates clearly from a distance.
What has this Avigilon system got that gives it the edge over other systems? It has the ability to record high quality images, which can be enhanced and measured against live or recorded information from other cameras. The 14-bit CCD chip provides a single global image in high detail that allows visuals within low light areas and the contrast within bright areas, without any loss of picture quality. The Avigilon system reduces the number of cameras required to cover a large area. Now refer back to the first, fuzzy blue image and you will notice that you cannot even make out the number plates, yet with Avigilon which has this high resolution digital zoom capability we can provide a clear image of each and every plate (refer to Image 2).

Image 1 and Image 2
When considering IP solutions people emphasise the small recording file, yet what about the quality of the actual image captured? With the Avigilon which is a high-definition IP system, we focus on the quality of picture by allowing you to pull across what is relevant, without losing the big overview image, thus not missing that theft or accident while focusing on a number plate.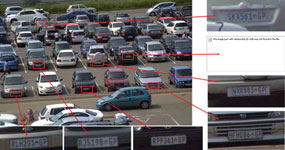 Image 3
Take another public area like the Glasgow Train Station. It presently has 250 conventional CCTV cameras installed, which cost them approximately R15 million. When they heard about the Avigilon camera and system they did a comparison to cover the same areas as the conventional CCTV cameras. To their shock, had they gone with the Avigilon System it would have cost a third of the price ie, R5 million in total. That is to install; you can imagine the cost saving on personnel monitoring the system instead of the large number of security personnel presently employed.
Avigilon provides a realistic and viable alternative to the numerous PTZ cameras being installed at road intersections, motorways, stadia, stations and parking areas. An easy way to consider this is that Avigilon:
* Does not need external controls or an operator to capture an incident.
* Is not limited by range or field of view, choose the right lens for the job.
* Uses a JPEG 2000 codec providing improved streaming options, choose the detail required.
* Can be installed and running at a third of the price of a conventional CCTV system.
* Is a state-of-the-art system providing a quality image that will be used in a court of law.
* Can handle a multitude of applications including licence plate recognition.
For more information contact Niall Beazley, Vision Catcher, +27 (0)11 463 9797, [email protected], www.visioncatcher.co.za
Credit(s)
Further reading:
Mount Nelson opts for cloud surveillance
CCTV, Surveillance & Remote Monitoring Entertainment and Hospitality (Industry)
IOT Revolution Technologies, in partnership with MeyCom, will be implementing over 250 cloud driven Verkada cameras at the Belmond Mount Nelson Hotel.
Read more...
---
Avoiding human error at ports
LD Africa Transport (Industry) CCTV, Surveillance & Remote Monitoring Products Logistics (Industry)
LD Africa introduced a local port to the AxxonSoft Port Security System ,a solution that helps overcome the element of human error and eliminate paperwork.
Read more...
---
Compact, lightweight bullet cameras with support for analytics
Axis Communications SA Products CCTV, Surveillance & Remote Monitoring
Axis Communications announced two new outdoor-ready bullet-style cameras featuring deep-learning processing units for analytics based on deep learning on the edge.
Read more...
---
Numerous challenges for transport and logistics
Transport (Industry) CCTV, Surveillance & Remote Monitoring Security Services & Risk Management Logistics (Industry)
Operators are making significant investments in automation and digitalisation in order to address security concerns, improve loss prevention as well as efficiency, and reduce unit order costs.
Read more...
---
A key to urban transport challenges
Axis Communications SA Transport (Industry) CCTV, Surveillance & Remote Monitoring Integrated Solutions Logistics (Industry)
There are many enabling technologies that can impact transportation in South Africa, but a good place to start is by considering the applications for smart physical technology with the ability to collect and respond to data.
Read more...
---
Hikvision aims for solutions
Technews Publishing Hikvision South Africa Editor's Choice CCTV, Surveillance & Remote Monitoring News Integrated Solutions Conferences & Events
Hikvision recently held a roadshow titled Industry X, where the company highlighted its latest products and solutions, supported by partners and distributors.
Read more...
---
Reliable, low-maintenance video appliances
Technews Publishing Editor's Choice CCTV, Surveillance & Remote Monitoring News IT infrastructure Products
Symetrix, part of the Agera Group, has added the AES range of video recording servers, storage appliances and workstations to its portfolio.
Read more...
---
A new full-colour era
Dahua Technology South Africa CCTV, Surveillance & Remote Monitoring
Traditionally, there have been two options for using surveillance cameras in the dark: flooding the scene with visible light, or alternatively using infrared (IR) illumination.
Read more...
---
AIoT delivers dynamic digital platforms
Hikvision South Africa CCTV, Surveillance & Remote Monitoring
Many stadiums or venues are seeking new, smart solutions that can help venue operators to stay on top of real-time situations dynamically on digitally driven platforms, and to achieve more efficient and sustainable venue management.
Read more...
---
Upgraded security and AI monitoring at upmarket estate
Watcher Surveillance Solutions Editor's Choice CCTV, Surveillance & Remote Monitoring Integrated Solutions Residential Estate (Industry)
Estate upgrades and enhances its security through a partnership between surveillance specialist Watcher and the incumbent guarding company.
Read more...
---