printer friendly version
Sophistication and functionality in the control room
March 2009
CCTV, Surveillance & Remote Monitoring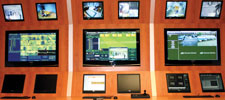 Console design can have a significant impact on long-term operator performance.
Historically, security operations centres and call centres were hidden away in the depths of buildings or nondescript backrooms where they were seldom, if ever, seen by the public. Because of this, the focus of security console design in particular was mostly function over form. Consoles were rarely things of beauty. No one cared what a console looked like, as long as it was functional and held the equipment necessary to get the job done. Indeed, far less importance was given, and attention paid, to the conditions under which that equipment was being used.
Today's consoles are smaller, more attractive and more functional than ever before. From aesthetics to ergonomics, there is no shortage of influences effecting this transformation. Increased public awareness, the emergence of digital technology, system integration, flat panel screens, touch-screen technology and new ergonomic standards are all responsible for the profound effects on recent security console design.
Security has transitioned into a primary concern of governments, corporations and the general public with security operations moving very much to the forefront of people's minds. In an effort to increase a sense of security, organisations are choosing to make security operations in their facilities extremely visible. As a result, the technical furniture industry's approach to security console design is changing to include aesthetic considerations.
Penny Bond of ProGroup argues that this is a crucial area as it allows operators to maintain unfailing concentration throughout their shifts. "Each console has to be tailor-made, taking account of who will be using it – wheelchair-bound operators, for example, will need a lower than normal desk top – and how much hardware it will have to accommodate."
Bond goes on to stress that, "Adequate investment must also be made in chairs. Subjected to shifting weight for many hours, they must be fully adjustable and of robust construction, especially if each is used at a workstation manned by several operators over a 24-hour period.
"Trying to save money by investing in cheap materials and construction methods for workstations will prove to be misguided, especially in 24/7 control rooms. Wear and tear will soon see consoles and chairs having to be replaced, which involves further financial outlay and, even worse, will mean interrupting the operation of the control room while new consoles are installed."
Touch-screen technology is also beginning to affect the ergonomics of new console designs, especially in high security and high-attention environments. Case studies show when people get extremely nervous under high-stress situations, they have trouble operating a computer mouse and finding an emergency icon to click on, which adds to delayed response times.
Studies also show that people have less trouble pointing with their finger at touch-screens to increase accuracy and quicker response times. As a result, touch-screens are becoming more and more prevalent in high security, high stress applications.
Consoles incorporating touch-screen technology feature shorter distances between the operator and the monitor screen, so operators can comfortably touch screens while sitting in the relaxed position. With these changing trends happening concurrently, technical furniture manufacturers are rising to the challenge and reacting quickly to create new security consoles that are ergonomic, aesthetically pleasing and functionally superior.
More often than not, security operations centres are designed for day-to-day normal operation procedures. They include just enough consoles to accommodate operators in such work routines and very little more. When upgrading or creating a new environment, consider crisis situations for your command and/or control security operations centres and your clients' as well.
It has become apparent that crisis situations are not always imagined scenarios created for the sole purpose of training security personnel. Regardless of your security installation, facilities are going to grow. Security is not getting simpler; it is becoming increasingly more complex.
Credit(s)
Further reading:
Securing Savannah Hills Estate
August 2019, Rhyco Risk Projects , CCTV, Surveillance & Remote Monitoring, Perimeter Security, Alarms & Intruder Detection
Savannah Hills Estate in Midrand planned a security upgrade which was awarded to Rhyco Risk Projects. The project started in March 2019 and was completed in May 2019.
Read more...
---
10 things to consider when shopping for a VMS
August 2019, Genetec , CCTV, Surveillance & Remote Monitoring, Integrated Solutions
Today's video management systems (VMS) provide a wide range of tools and capabilities that help make security personnel more efficient by allowing them to focus on what really matters.
Read more...
---
How far are we really at with artificial intelligence?
August 2019, Axis Communications SA , Editor's Choice, CCTV, Surveillance & Remote Monitoring, IT infrastructure, Residential Estate (Industry)
Justin Ludik unpacks exactly how far AI has come and what it potentially can do for society and more importantly, surveillance.
Read more...
---
Enhancing security with AI
August 2019, Hikvision South Africa , CCTV, Surveillance & Remote Monitoring
Hikvision explains how residential estates can revolutionise their security strategies and outcomes with artificial intelligence.
Read more...
---
More than simply a camera
August 2019, Forbatt SA, Secutel Technologies , CCTV, Surveillance & Remote Monitoring, Residential Estate (Industry)
With the human element being the weakest link in all security solutions, Hi-Tech Security Solutions looks at the pros and cons of using body-worn cameras in estates.
Read more...
---
The importance of effective perimeter security
August 2019, Elf Rentals - Electronic Security Solutions, Stafix , Editor's Choice, CCTV, Surveillance & Remote Monitoring, Residential Estate (Industry)
Protecting the perimeter is critical for any residential estate; how does one go about making sure your perimeter is as secure as possible?
Read more...
---
Security playing speedcop
August 2019, Axis Communications SA, Hikvision South Africa , CCTV, Surveillance & Remote Monitoring, Residential Estate (Industry)
Estates now have a legal precedent to manage their traffic and fine people in the estate for violations of the rules; all they need do is find solutions that will support them.
Read more...
---
CathexisVision video management software
August 2019, Cathexis Technologies , Products, CCTV, Surveillance & Remote Monitoring
The CathexisVision IP video management software (VMS) helps clients get the most out of their surveillance investment and reap rewards for their companies.
Read more...
---
Capture every detail with Smart PIR kits
August 2019, Longse Distribution , Home Security, CCTV, Surveillance & Remote Monitoring, Residential Estate (Industry)
Longse Technology offers DIY smart security kits that are easy to install and offer a Wi-Fi range that can reach up to 300 metres.
Read more...
---
Future-facing cameras
August 2019, Bosch Building Technologies , Products, CCTV, Surveillance & Remote Monitoring
All FLEXIDOME IP starlight 8000i cameras feature built-in Intelligent Video Analytics, making them intuitive, and elevates their importance far beyond security alone.
Read more...
---