printer friendly version
Mobile DVR secures armoured trucks
CCTV Handbook 2009
CCTV, Surveillance & Remote Monitoring
With crime tactics becoming more diversified and intelligent, it is critical to use new technology to detect crime in armoured trucks in the banking industry. China Merchants Bank, one of the biggest state-owned commercial banks in China, has been using mobile surveillance products to guarantee the safety of its armoured trucks in Beijing.
China Merchants Bank
The priority for armoured trucks is to have a mobile surveillance system that adopts high-performance anti-shock technology and can function normally while DC input fluctuates in different operational situations, in order to help ensure security for the armoured truck and the cash and people it carries.
After a thorough investigation the head office of China Merchants Bank decided to use DS-8003HM-12 Network Mobile DVRs from Hikvision in its armoured trucks.
The DS-8003HM-12 Network Mobile DVR is designed for mobile applications. It uses H.264 video compression technology to enhance efficiency of data processing and supports realtime viewing and playback with the resolution up to 4CIF. One of the highlights of the product is its power management capability which protects the devices against fluctuation of voltage – the voltage is lowered to 7 V when the vehicle is accelerating and rises above 16 V when it is braking. If the device did not allow a wide range of DC input, it would restart when the voltage was low. The DS-8003HM-12 DVR, with a power input range between 6 V and 36 V is a good mobile surveillance solution for critical security applications.
In addition, the anti-shock technology of DS-8003HM-12 DVR makes the product function normally when the vehicle is operating. The GPS module embedded in the DVR can help security staff locate the truck via an e-map on the client software. An alert signal can be sent to security personnel who are able to take the necessary actions when an emergency strikes.
Hikvision's Mobile DVR has been providing surveillance and a secured environment for the armoured trucks of China Merchants Bank head office since 2006. Hikvision's Mobile DVRs have also served in various transportation departments, including the City Bus Surveillance System, the City Police Command Vehicle Surveillance System and the Traffic Police Vehicle Surveillance System in major cities, such as Shanghai, Hangzhou, Guangzhou, Shenzhen and Xi'an.
Hikvision secures Burger King in UK
Burger King, one of the biggest worldwide fast food chains, has over 11 300 restaurants in 69 countries. In Glasgow, United Kingdom, approximately 90% of Burger King Restaurants are operated by independent franchisees in different locations. Ensuring the security of restaurants as well as offering unified management for this food chain, therefore, is critical for Burger King.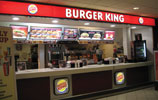 The priority in security for Burger King is to have a management platform that supports realtime viewing and high-definition retrieval in order to centrally manage the surveillance systems in different restaurants, keeping security staff in the surveillance centre up to speed on the security status in realtime. In addition, night surveillance is also crucial when there are no employees on site.
Burger King decided to use the DS-8000HCI Series DVRs from Hikvision. These new generation digital surveillance products have a maximum 16-channel video and audio input, with optional 12-channel, 8-channel and 4-channel inputs. Using the H.264 ACE (advanced code efficiency) video compression algorithm, the products offer high-definition video quality with the resolution up to 4CIF.
For more information contact Finn Wu, Hangzhou Hikvision Digital Technology, +86-571-8807-5998, wulin@hikvision.com
Further reading:
Drones and cybersecurity?
October 2019 , CCTV, Surveillance & Remote Monitoring
Hacker drones can eavesdrop electronically on conversations, can perform network attacks, or can create fake wireless access points.
Read more...
---
Body-worn cameras transforming security
October 2019 , CCTV, Surveillance & Remote Monitoring, Security Services & Risk Management
Police Service Northern Ireland now has over 7 000 officers using 2 500 cameras covering approximately 173 000 incidents each year.
Read more...
---
Camera Selection Guide 2019
CCTV Handbook 2019 , CCTV, Surveillance & Remote Monitoring
The Camera Selection Guide 2019 includes a range of IP, analogue, thermal and speciality cameras aimed at a broad range of surveillance functions.
Read more...
---
Intelligent analytics and the brains to match
September 2019, Bosch Building Technologies , CCTV, Surveillance & Remote Monitoring, Integrated Solutions
What if the brains behind our security cameras could be trained to improve their cognitive ability to pay attention, learn, and problem-solve according to specific rules and situations?
Read more...
---
AI-powered autonomous Drone-in-a-Box
September 2019 , CCTV, Surveillance & Remote Monitoring, Integrated Solutions
Organisations in the mining, energy and industrial, oil and gas, ports and terminals sectors can optimise security and business operations, whilst reducing risks and operational costs
Read more...
---
Cybersecurity for video surveillance systems
September 2019, Mobotix , Cyber Security, CCTV, Surveillance & Remote Monitoring
Video surveillance systems are increasingly accessible over any IP network, which has led to the rise of potential cyberattack.
Read more...
---
What are the cybersecurity issues in video surveillance?
November 2019, Axis Communications SA , Editor's Choice, CCTV, Surveillance & Remote Monitoring, Cyber Security
he importance of the data captured by surveillance cameras – and what can be done with it – has led to a new breed of cybercriminals, looking for insights to steal and sell.
Read more...
---
The safe city and its need for interoperability
November 2019 , Integrated Solutions, CCTV, Surveillance & Remote Monitoring
Interoperability continues to present one of the greatest challenges, particularly with video management systems, video recording devices and cameras.
Read more...
---
A platform approach to safer and smarter cities
November 2019, Milestone Systems , CCTV, Surveillance & Remote Monitoring
Selecting the right platform to manage the vast data collected from smart and safe cities is critical to the ultimate success of the project.
Read more...
---
Creating safe cities with smart technology
November 2019, Secutel Technologies , CCTV, Surveillance & Remote Monitoring
In a digital age, where resilience and responsiveness are paramount to fighting crime and creating a safer world, CCTV systems are becoming part of every city's infrastructure.
Read more...
---