printer friendly version
IP CCTV impacts crime in Latin America
CCTV Handbook 2009
CCTV, Surveillance & Remote Monitoring
IndigoVision's IP Video solution has been deployed across 17 cities in Latin America resulting in a significant decrease in local crime. The Serra beach area, near Vitoria in Brazil, has seen a dramatic drop in crime since the local authority implemented CCTV surveillance using IndigoVision's technology.
This is not an untypical situation as other cities in Brazil, Argentina, Peru, Chile and Mexico have found after installing IndigoVision systems.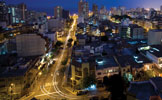 IndigoVision's complete IP Video solution has been deployed across 17 cities in Latin America
Implementing CCTV surveillance over large urban areas is technically very demanding. Whether it is to monitor criminal activity or manage traffic, remote wide-area monitoring creates a challenging environment for CCTV systems – even more so with the high crime rates found in many Latin American cities. What makes IndigoVision's technology work for these applications is its MPEG-4 and H.264 compression technology.
Evidential-quality video can be transmitted across standard IP networks over large distances with minimal bandwidth requirement – an important issue for developing countries that often lack a proper communication infrastructure. This ensures latency is kept to a minimum, which allows PTZ cameras to be controlled smoothly from a distance, and wireless networks to be deployed easily to overcome the cabling problems associated with wide-area surveillance.
CCTV operators in a number of the Latin American cities are using the fully synchronised high-quality two-way audio capability, which is transmitted alongside the video, to broadcast public announcements through camera-mounted speakers. This capability can also be used to deploy video intercom help-points for use by the public.
"The success of the projects in Latin America has been replicated in many other city-wide IP-CCTV monitoring systems around the world," said Dr Oliver Vellacott, IndigoVision's CEO. "Traditional analogue CCTV technology is not suited to the large distances involved in wide-area surveillance such as city centres, road and rail networks, ports and airports. IP-based systems are also ideal for extending existing CCTV installations and creating a hybrid solution that utilises existing investment and creates a foundation for migration to full IP Video in the future."
Analytics are becoming an increasingly important tool for CCTV operators to help monitor multiple cameras in urban environments. IndigoVision's end-to-end solution implements realtime analytics at the camera as well as in control centres, IndigoVision's IP video and alarm management software, for post event-analysis. Realtime analytics such as motion detection or virtual tripwires automatically create a control centre alarm that can trigger a number of events such as displaying a camera salvo, panning a nearby camera or start recording. Automating the realtime detection of incidents frees up valuable operator resource and having the same set of tools available to analyse large volumes of recorded footage dramatically reduces the time to locate critical events, enabling timely response to emergencies.
IndigoVision's distributed architecture allows any system component to be located at any point on the IP network, including network video recorders (NVRs). IndigoVision's NVRs record camera video directly from the network and can be distributed around the network to minimise bandwidth usage and create a fault tolerant solution by removing the single point of failure associated with analogue/DVR systems. This means that the system is very flexible and scalable allowing existing cameras to be easily relocated or new cameras to be inexpensively added – an important benefit in the ever-changing surveillance landscape of city centres.
The distributed nature of the system also allows Control Centre workstations to be located anywhere on the network allowing different agencies and authorities access to live and recorded video.
Bandwidth requirement and NVR storage is further reduced by the implementation of a unique feature called Activity Controlled Frame rate (ACF), which is deployed at the camera. ACF controls the amount of video that is transmitted on to the network from a specific camera. When the scene is inactive, the frame rate is reduced, but as soon as any motion is detected in the scene the frame rate is automatically set to maximum. This particular feature is very relevant for city-centre monitoring as many areas at night are often quiet.
For more information contact Michelle Korff, marketing/HR manager, Norbain, +27 (0)11 887 1546, www.norbain.co.za
Credit(s)
Further reading:
Drones and cybersecurity?
October 2019 , CCTV, Surveillance & Remote Monitoring
Hacker drones can eavesdrop electronically on conversations, can perform network attacks, or can create fake wireless access points.
Read more...
---
Body-worn cameras transforming security
October 2019 , CCTV, Surveillance & Remote Monitoring, Security Services & Risk Management
Police Service Northern Ireland now has over 7 000 officers using 2 500 cameras covering approximately 173 000 incidents each year.
Read more...
---
Camera Selection Guide 2019
CCTV Handbook 2019 , CCTV, Surveillance & Remote Monitoring
The Camera Selection Guide 2019 includes a range of IP, analogue, thermal and speciality cameras aimed at a broad range of surveillance functions.
Read more...
---
Intelligent analytics and the brains to match
September 2019, Bosch Building Technologies , CCTV, Surveillance & Remote Monitoring, Integrated Solutions
What if the brains behind our security cameras could be trained to improve their cognitive ability to pay attention, learn, and problem-solve according to specific rules and situations?
Read more...
---
AI-powered autonomous Drone-in-a-Box
September 2019 , CCTV, Surveillance & Remote Monitoring, Integrated Solutions
Organisations in the mining, energy and industrial, oil and gas, ports and terminals sectors can optimise security and business operations, whilst reducing risks and operational costs
Read more...
---
Cybersecurity for video surveillance systems
September 2019, Mobotix , Cyber Security, CCTV, Surveillance & Remote Monitoring
Video surveillance systems are increasingly accessible over any IP network, which has led to the rise of potential cyberattack.
Read more...
---
What are the cybersecurity issues in video surveillance?
November 2019, Axis Communications SA , Editor's Choice, CCTV, Surveillance & Remote Monitoring, Cyber Security
he importance of the data captured by surveillance cameras – and what can be done with it – has led to a new breed of cybercriminals, looking for insights to steal and sell.
Read more...
---
The safe city and its need for interoperability
November 2019 , Integrated Solutions, CCTV, Surveillance & Remote Monitoring
Interoperability continues to present one of the greatest challenges, particularly with video management systems, video recording devices and cameras.
Read more...
---
A platform approach to safer and smarter cities
November 2019, Milestone Systems , CCTV, Surveillance & Remote Monitoring
Selecting the right platform to manage the vast data collected from smart and safe cities is critical to the ultimate success of the project.
Read more...
---
Creating safe cities with smart technology
November 2019, Secutel Technologies , CCTV, Surveillance & Remote Monitoring
In a digital age, where resilience and responsiveness are paramount to fighting crime and creating a safer world, CCTV systems are becoming part of every city's infrastructure.
Read more...
---